These cozy Ground Beef Tacos are hearty, filling, and so delicious. Just a few ingredients and about 15 minutes to make this amazing Taco dinner.
You'll sure love these easy homemade tacos with juicy taco meat and plenty of favorite toppings. This is one of the taco options that I like to use when making this Taco Dinner Board.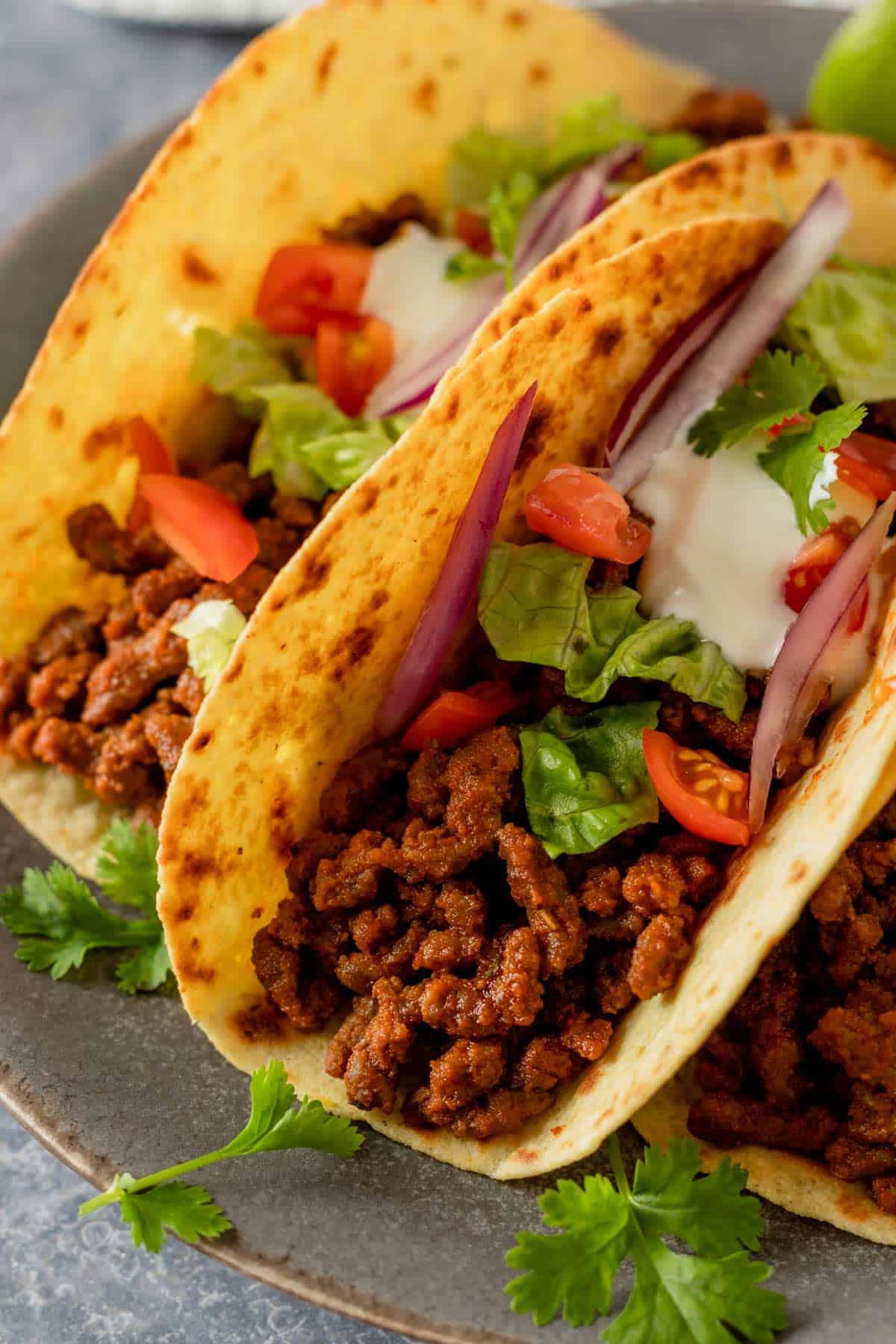 ⭐ If you are looking for more taco recipes check out my Shrimp Tacos and Steak Fajita Tacos or something different: Baked Cauliflower Tacos.
Jump To
Ingredients
My few comments on the ingredients + don't forget to read the Tips section!
The full recipe and ingredients can be found in the recipe card below this post.
Homemade taco meat - lean ground meat such as beef, or pork, or for a leaner version, use chicken or turkey. You can also make a vegan modification by using lentils or a combination of black beans and lentils, similar to my Vegan Meat Tacos.
Taco seasoning - you can also make your own taco seasoning or use pre-mixed taco seasoning packets. The main ingredients you need here are ground cumin, onion powder, garlic powder, ground chili or ground cayenne pepper, herbs + salt, and black pepper. Feel free to omit the peppers or use less so the whole family can enjoy them.
Tortillas - use corn or flour tortillas, depending on your preference. For a healthier low-carb option, you can also serve these in lettuce wraps (romaine or butter lettuce).
Add favorite taco toppings - I used classic toppings such as lettuce (use romaine for its nutrition (rather than iceberg as it has fewer health benefits), diced tomatoes, sour cream, and onion. Other popular toppings include shredded cheese, salsa, Pico de Gallo, sour cream, guacamole, and jalapenos.
Tomato sauce - a good rich tomato sauce, pasta sauce, or passata. Instead of tomato puree, you can use enchilada sauce, hot or mild canned or fresh salsa. If you want more flavor, you can always add 2-3 tablespoons of Italian (usually best in flavor) tomato paste.
📋 JULIA'S TIP Ground chicken and ground turkey are great substitutes for beef but these won't be as flavorful and the taste is slightly different than the original version.
Instructions
In a nonstick large skillet over medium-high heat, add olive oil and cook the beef until it is nicely browned.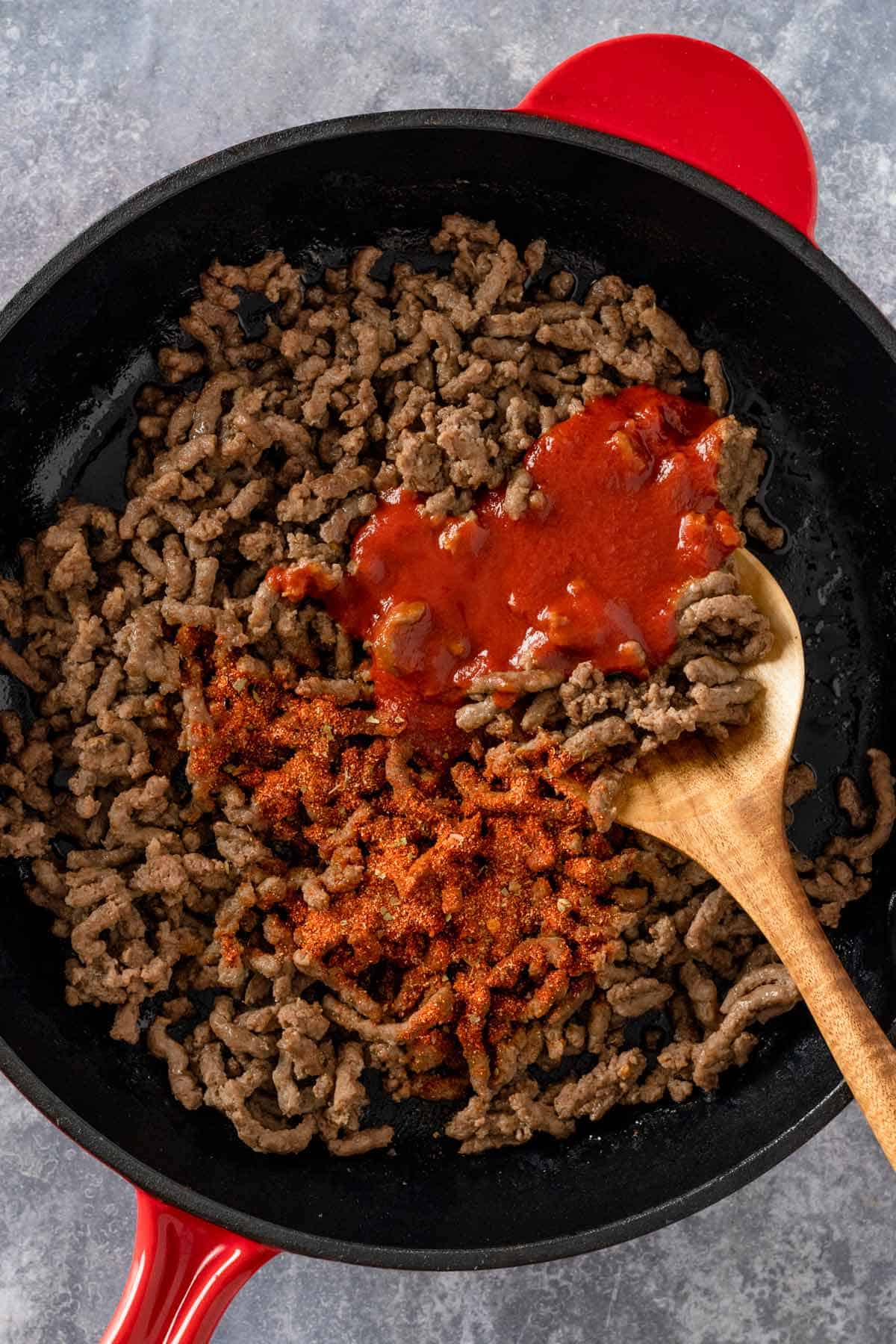 Drain any excess grease from the skillet. I prefer using lean ground meat for this.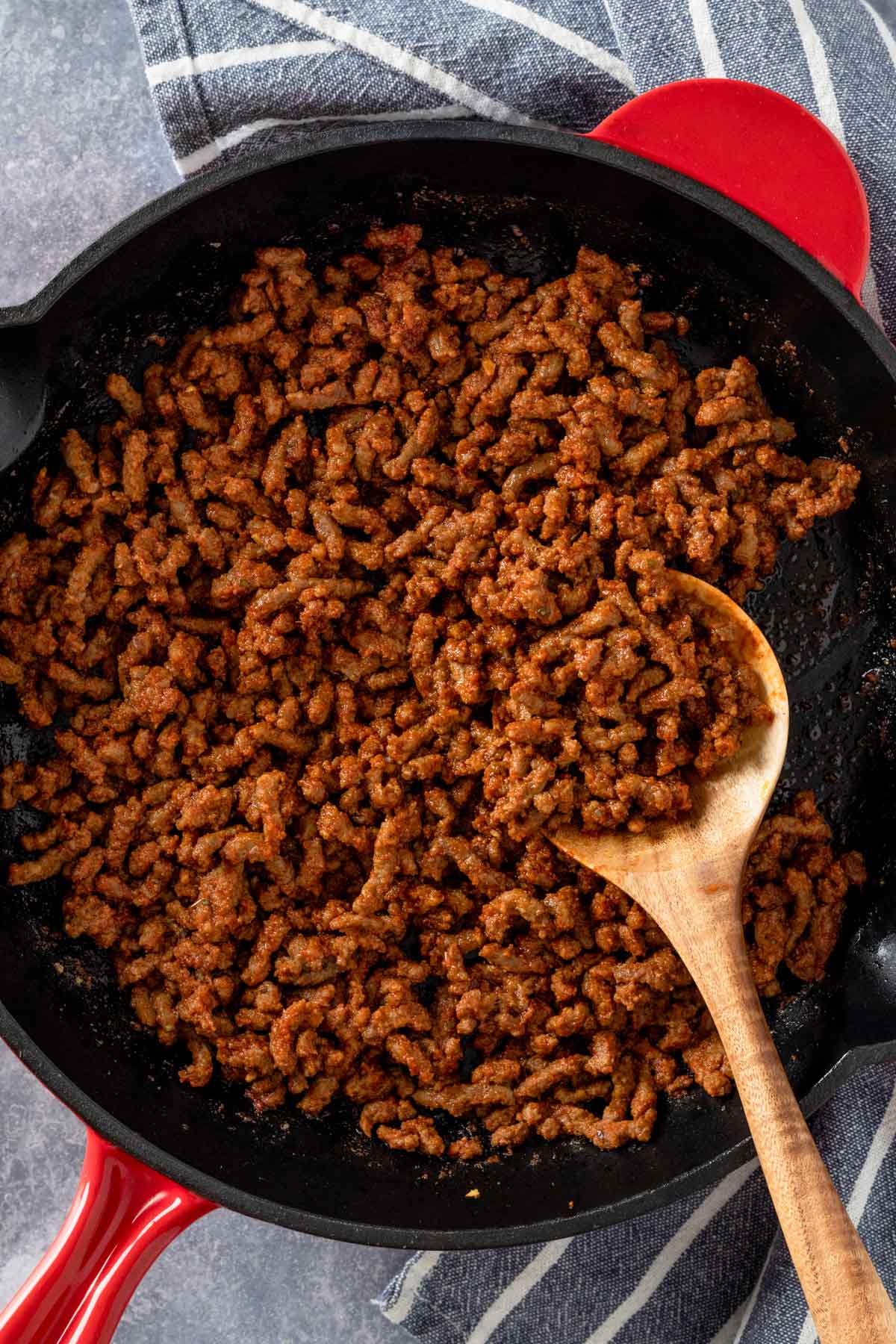 Return to the stove and add water, tomato puree, and seasonings. Take it to a simmer, reduce the heat, and cook for another 5-7 minutes.
Warm tortillas. Either on the same grill or in a skillet over medium heat until lightly charred and warm. Or place the tortillas wrapped in foil in a preheated oven for 5 minutes.
Assemble the tacos with some lettuce, diced tomatoes, onions, cilantro, cheese, and about 2 tablespoons of taco meat. Drizzle with fresh lime juice on top.
🥗Make It Better & Variations
Use homemade taco seasoning as it is low-sodium and without fillers.
Serve with lots of vegetables or a simple side salad or in lettuce wraps instead of tortillas for tacos. Or if possible, make your own homemade tortillas.
When choosing tomato puree/sauce, check for the ingredient list that there are no additional and ''not needed'' ingredients and fillers.
Tips
Don't overcook - cook the taco meat until it's fully browned and cooked through, but be careful not to overcook it. Overcooking may result in a dry and chewy texture, which can affect the overall taste and quality of the dish.
Add sauteed veggies similar to fajita steak tacos. Cut thinner veggie strips (bell pepper, onion is my go-to) and saute in a skillet separately with oil and salt, and black pepper. Cover with foil while you prep the beef. Assemble the beef tacos with freshly cooked veggies.
I like to use corn tortillas, which I prefer over gluten-free ones. Corn taco shells don't break that easily!
To add flavor to the taco meat and maintain its moisture, consider adding a modest amount of water or broth to the skillet. This helps to keep the meat juicy and tender, preventing it from becoming dry or tough. It depends on the meat you'll be using, you may need to add more than instructed in the recipe card.
Adjust the amount of seasonings, especially hot spices to suit your personal taste preferences.
Drain the fat - doing this can help make the dish healthier since the fat content in the meat can be reduced. The fat makes the ground beef taco meat too oily and greasy which will affect the taste later.
Use high-quality ingredients - if possible, use organic and lean meat or buy the meat from your local butcher. This can improve the flavor quite a bit and organic meat is generally a healthier option.
Vegetarian modification - you can use plant-based ground meat or crumbled tofu, tempeh, or lentils instead of meat.
⭐More Mexican cuisine-inspired dishes you'll love! Try these everyone's favorite Enchilada Stuffed Peppers, baked Taquitos, or veggie Tostadas.
Serving Suggestions
Serve in soft flour tortillas, corn wraps, or crunchy taco shells, with plenty of favorite taco toppings such as shredded cheese, fresh or pickled jalapenos, fresh tomato salsa, cabbage slaw, mango salsa, avocado slices or guacamole, sour cream, and tortilla chips. Or make a loaded Taco Salad.
For a complete dinner serve these beef tacos with refried beans, Mexican rice, or simple cilantro lime rice and tortilla chips.
Want to make it Mexican Fiesta night? Start your dinner with a little aperitive like this mouthwatering Skinny Watermelon Margarita or serve Frozen Watermelon Margaritas for dessert!
Freezing And Storing Instructions
To Store. Let the meat cool to room temperature and transfer to an airtight container or food-safe storage bag. Keep it separate from tortillas and toppings. Leftover taco meat should stay fresh for 3-4 days in the refrigerator.
To Freeze. You can also freeze it for up to 3 months. Let the meat cool, and transfer it to a freezer bag. When ready to reheat, allow the beef to thaw overnight in the fridge and reheat in the microwave or the stovetop.
Reheat tortillas as you go, and only as much as you'd consume right away. Keep the rest wrapped in plastic wrap in the fridge according to the package instructions.
To reheat the filling, add a little cooking oil to a nonstick skillet over medium-low heat. Add the filling and cook until it's piping hot. Or you can use the microwave.
Toppings
Traditionally Mexican tacos are served very simply, with just some salsa, onion, and cilantro. In Tex-Mex recipes, it has become very popular to add multiple toppings for tacos. Try these:
Salsa - if you used salsa for cooking the beef you can add a little bit of mild salsa when serving these beef tacos. I love to use fresh salsa such as chunky Pico De Gallo or smooth salsa for my toppings.
Guacamole - use my 3 ingredient guacamole or avocado crema instead.
Sour cream - or plain Greek yogurt, unsweetened. This creamy and tangy topping can help balance out the spices and other toppings.
Cheese - shredded cheese, such as cheddar or Monterey Jack, Pepper Jack, Colby or use crumbled queso fresco or cotija cheese for a more authentic Mexican flavor.
Lettuce - chopped lettuce will add a fresh and crisp texture.
Tomatoes - diced tomatoes, cherry tomatoes, or fresh tomato salsa if you have more time for prep. 
Onions - sliced or diced, we like the sharp and pungent flavor of red onions rather than using brown or sweet onions.
Jalapeños - fresh or jarred jalapenos or green chiles are the best here. If using fresh, remove the seeds and membrane first.
Cilantro and freshly squeezed lime juice for every taco we make!
FAQs
What are 3 ways to warm up the tortillas?
There are 4 ways...Oven, grill, stovetop, microwave.
What's the difference between a street taco and a regular taco?
A street taco is an authentic Mexican taco, which is typically served on small corn tortillas (4-5 inches) with grilled meat, onions, and cilantro. It comes as it is with no toppings or dipping sauces. However, it may be occasionally served with a drizzle of hot sauce.
What kind of cheese goes on street tacos?
Mexican street tacos generally don't come with cheese, but you can load these up with Monterey Jack cheese or crumbled Cotija on top.
I would appreciate it so much if you left a comment about this recipe below! Subscribe to join the TYB newsletter and receive free recipes straight to your inbox! Let's connect via Facebook, IG & Pinterest!
Recipe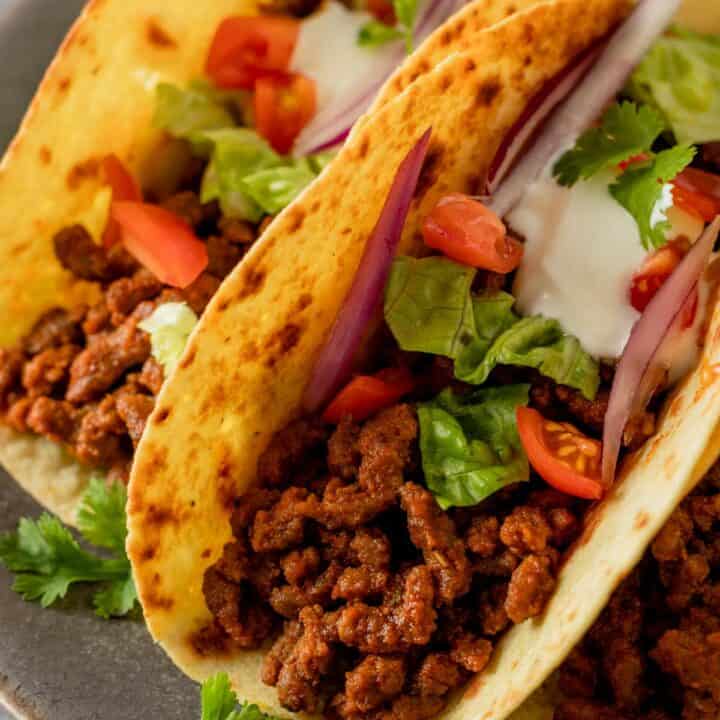 Ground Beef Tacos
These cozy Ground Beef Tacos are hearty, filling, and so delicious. Just a few ingredients and about 15 minutes to make this amazing Taco dinner.
Print
Pin
INGREDIENTS
Tacos
1

pound

of lean ground beef

½

cup

tomato sauce or puree

1

tablespoon

olive oil

3

tablespoon

water or beef broth

8-10

taco shells

3-4

tablespoons

homemade taco seasoning mix
Toppings (use your favorite combinations)
Cheddar cheese

Cherry tomatoes

Red onion

Lettuce

Sour cream
INSTRUCTIONS
In a nonstick large skillet over medium-high heat, add olive oil and cook the beef until it is nicely browned. Drain any excess grease from the skillet. I prefer using lean ground meat for this.

Return to the stove and add water, tomato puree, and seasonings. Take it to a simmer, reduce the heat, and cook for another 5-7 minutes.
PRIVATE NOTES
Nutrition Facts
Ground Beef Tacos
Amount Per Serving
Calories 298
Calories from Fat 189
% Daily Value*
Fat 21g32%
Cholesterol 54mg18%
Sodium 211mg9%
Potassium 337mg10%
Carbohydrates 13g4%
Protein 14g28%
Vitamin A 231IU5%
Vitamin C 3mg4%
Calcium 34mg3%
Iron 2mg11%
* Percent Daily Values are based on a 2000 calorie diet.
(Nutrition information is calculated using an ingredient database and should be considered an estimate.)