This post contains affiliate links, which means I receive a small commission, at no extra cost to you, if you make a purchase using these links. Please see my disclosure for more details.
How to start a food blog or any other type of blog - with this easy step-by-step instructions you will have a blog up and running in a week! Tips, step by step instructions, plugins explained and much more. Get a cup of coffee and a notebook and enjoy the read!
Do you want to Start A Food Blog or any other type of blog and make money?
But don't know where to start?
Don't worry, I got you covered!
I have been blogging for a couple of years now.
I had a lifestyle/motherhood blog before The Yummy Bowl, and I've had my fair share of experience with many services and products.
They all have played a huge role in my learning journey, starting a blog, maintaining a blog, and earning money through my blog.
And oh well, let's be honest it hasn't been easy for me!
Let's just say, I've learned the bad way.
With all those different resources, courses, blog posts showcased online it's veeery complicated to navigate your way through this crazy online world.
It's hard to find THE BEST resource that will not only guide you through the first steps but will also answer your future questions that will arise.
And oh boy, you'll have a ton of questions!
I want to help you not to feel lost and overwhelmed but to show how you can start a blog in just 8 steps and have an up and running blog in matter of days.
I hope this post will be helpful for you to turn your dream into reality.
You can always send me a message through email, social media, or leave a comment below my posts. I'll do my best to answer you as quickly as possible!
I know how you feel right now, I also started at 0!
So...let's dive right in!
Here you'll find the most essential steps on how to start a blog.
After reading this, you'll be able to start and successfully launch your blog in no time! Blogging takes time like anything else in this world. So please be patient - this is the KEY to success!
P.S. Don't have time now? Click on the pink button below to pin the post to your Pinterest Board and save for later!
The best new blogger course I've found so far
Suzi from StartAMomBlog.com has an extensive library with tons of super VALUABLE courses that are straight to the point. I can't thank and praise her enough for creating such an amazing signature course on How To Start A Blog called BLOG BY NUMBER. (And it's the best of the best for beginners!)
I highly recommend checking out her course for bloggers who are starting out and serious about changing their life and making money with their blog.
It helped me to launch a successful blog without spending HOURS researching each step online (and it's not even guaranteed that you'll end up finding all the answers). If you're a new blogger, then you NEED this course!
Find more info and her courses right here.
START A BLOG - Step By Step Process
THE FOUNDATION

- Brainstorm and decide on your blog topic/niche. Connect to a host and install WordPress.

BLOG IDENTITY

- Choose a name for your blog and design your logo.

THE BASICS

- Create essential first pages and install plugins.

BEAUTIFYING YOUR BLOG

- Making your blog pretty by choosing the right theme.
START BLOGGING
So without further ado, let's dive right into it!
---
Laying the foundation to your blog
---
Whether you want to start a food blog or don't know exactly what you want to blog about the first step is to sit down and compile all your ideas in one place - either a paper, your phone notes, a laptop, or anything you feel comfortable with.
Brainstorm ideas. Find a quiet place where no one will disturb you and really go deep into your thoughts, think what you want to blog about and the most important why you want to blog.
What is it that you can't stop talking about, or maybe you're really good at something? A really good way to find out is to ask your family and friends!
Gather all ideas and write everything down. This will kick start the process and help you to create a list of topics you are most interested in blogging.
[mailerlite_form form_id=17]
After that start shortlisting the categories, you are most interested in.
In order to Start a Food Blog and Make Money you'll need to define your niche aka blogging topic. Now after you have shortlisted the relevant topics, it's time to really decide what you want to blog about.
Choosing a broader niche is a great way to start with, but as you move further in the blogging world, you can later ''niche down'' and narrow your topic/topics.
Choosing A Reliable Host For Your Blog/Website
You can find different hosting companies like Bluehost, Siteground, Squarespace, Wix and many more.
But personally, for beginners, I would recommend Bluehost for their affordable and reliable service.
Their customer support is amazing - without their help, I would've given up a long time ago. Trust me!
If I had any questions (and I had a loooot of them) then I'd contact their online chat support (24/7, quick response).
Most often they were able to help me, if not they'd always point me in the right direction with plenty of resources.
Bluehost is a reliable and great web host that allows you to start your blog for cheap.
You can start a money-making blog for just a few dollars a month! You'll also receive a free blog name through my link which is here.
Installing WordPress
This is an essential step and is not complicated at it may first sound. Don't worry and read along!
First, let me explain what is WordPress. In short and speaking tech it's a Content Management System (CMS) but speaking human it's the air that you're blog needs to breathe. Without oxygen, there's no blog.
Let me explain. Your blog ''lives'' on a server aka host (Bluehost for example).
And WordPress (WP) is a system that helps you to navigate through your blog, install themes, post pages, use plugins and so much more.
Now it makes more sense, right?
And don't worry, you won't be doing this all by yourself. Because Bluehost makes it super easy to install WordPress with their step by step process during your registration with Bluehost.
---
CREATE YOUR BLOG IDENTITY
---
Now, as we have moved away from the ethical part it's time to get creative and have a bit of fun. Giving your blog a name and creating a logo!
Choosing a name for your blog.
If you have decided on your blog niche it's a bit easier to choose the right name.
Finding the right blog name that will sound amazing, easy to remember, and reflect your personality or the niche - it's a hard process.
What you need to remember, is that having a perfect blog name is NOT important at this point BUT creating amazing content is.
Disclosure: I am an affiliate for Bluehost, and will receive a commission if you sign up through my referral link. This is at no additional cost to you, and you will get great pricing and a free domain name through my link.
If you don't have any idea what you would call your blog, then don't panic. You actually don't have to even do this now.
In addition, with Bluehost, you can choose the name later (if you signed up with Bluehost through my link as will be described more in this blog post later).
Start brainstorming ideas and listing down the maximum amount of potential website names that you can think of.
On the other hand, you can just let it go for now and come back to it later when you already have started writing some content and have developed a plan for your blog growth.
The worst thing that can happen is choosing a name now and realizing very soon that you hate it and wish you had done it later.
Tools to help you in choosing the right blog name:
LeanDomainSearch - simply just enter one word and it will give you tons of combinations.
Shopify Website Name Generator - helps you to find cool word combinations for your domain.
Nameboy - one of the oldest name generators on the market. For better results enter two keywords into search and it will instantly generate suggested names.
KnowEm - check your potential name on all social networks.
Create and Design A Logo For Your Blog
If you have some skills in designing you're good to go. And if not, that's not a problem at all!
Thankfully there are tons of tools available for you to create a logo yourself or with a tiny bit of help.
My favorite tools for this are:
Canva - my number one place to go for any design!
Canva is a free graphic design platform that allows users to create social media graphics, presentations, posters, and other visual content.
You can even design almost anything on your phone through their app, how cool is that?
Or if you want something even easier then Tailorbrands or Brandcrowd logo maker websites are for you.
Super easy platforms to navigate. They guide you step-by-step in the logo making process adding only designs that match your taste.
You only pay if you're happy with the design and want to upload it on your computer.
Designing tools for more advanced:
Adobe Photoshop, Lightroom (monthly fee) - if you're planning to launch a food blog this is your number one tool (after your camera of course!). You get access to Adobe Creative Cloud where you have 20+ apps for mobile and desktop for editing your images, graphic designs, and many more.
Picmonkey - I use both Canva and Picmonkey on daily basis. Depending on my desired design I'll choose what is the best tool to use as they both have different features. Picmonkey has a free trial and then they charge you monthly fee according to the package you've chosen.
Finally, you can always hire a designer who will do the work for you. Websites like Fiverr.com and Upwork are a perfect place to start. You can even have a logo designed for only 5 USD!
---
STARTING A BLOG - THE BASICS
---
Creating Your First Blog Pages
Without pages, there's no blog! Pages are the structure of your blog, the skeleton that holds everything in place.
These are the 5 essential pages EVERY blog needs to start with (it doesn't matter food blog or not)
Homepage - one of the first pages your readers will come to.
About Me Page - Tell your readers who you are and what you do.
Legal Pages - Terms and Conditions Page, Privacy Policy Page, Disclaimer Page. Whenever you start a business, blog, or offer any kind of service there are legal risks involved. You will need to have legal pages with terms stated on your website. Thankfully Amira has got you covered with her awesome Legal Bundle Packages where she explains the importance of legal requirements for your blog, all the legal templates that you need for your blog. they are easily customizable and you'll get lifetime access!
Installing Essential Plugins
After you have installed WordPress you will need to install some essential plugins as well.
What's a plugin? Plugins are little ''pieces of code'' or software (similar to Apps on the phones) that allow the systems like WordPress customize any website.
For example, plugins help you to do all sorts of things on your site including well written SEO-friendly (aka Search Engine Optimization for ranking high in Google) blog posts, add forms, design, and more capability to your site + so much more!
However, keep in mind that it's not advisable to have tons of plugins on one site as it may slow down your site speed, performance and plugins can conflict between each other which may result in issues with the visual side of your blog.
Ohh, gosh this has given me a proper headache!
To make it super easy for ya, I've shortlisted the most essential plugins you'll need for your blog.
Few essential plugins that you'll need to start your blog:
Shortpixel - helps to optimize your images making them smaller but without losing quality or changing them visually. Number one plugin that is needed for a blog especially a food blog!
Sitekit by Google - track your site analytics, performance, and Google AdSense (ads) all in one place.
Yoast SEO - helps to increase your search engine traffic and rank high in Google
Cleantalk - block spam comments for free
PrettyLinks - make your affiliate links ''pretty'' for example I have a link for Bluehost that is automatically generated for my account but with PrettyLinks I can personalize it the way I like in just a few clicks.
Grow by Mediavine - this little plugin adds social sharing buttons throughout your site as a floating bar on the left and above or below your content. This is a must! More social shares = more traffic!
Pinit - simple Pinterest button that will display on every image you have on-site inviting your readers to pin your images to Pinterest.
WPRocket* - far the best plugin for site optimization. Very easy to use for beginners. *Yearly fee paid
Updraft plus - anytime you do some major changes it is important to backup your site data. This simple plugin helps you to do that.
SendOwl (not a plugin) - it is an easy way to sell your digital products all over the internet. And it's free to use but they take a commission from every purchase. After registering, you can upload your digital product (ebook, templates and etc) to their platform and get a unique link that you can insert basically anywhere and your followers will be able to safely purchase your products following your link.

Essential plugins for Food Bloggers.
WPTasty, WPRecipe Maker - you'll need a recipe plugin for your recipe ingredients and instructions. These two are rock solid and have different layout styles that you can easily customize according to your blog design. WPTasty has yearly fee, WPRecipe maker basic layout styles and functions are for free, but I highly recommend upgrading to a premium plan as soon as you have a chance!
In addition, not a plugin but its the best tool for managing and scheduling your Pinterest Pins.
Tailwind is a Chrome browser extension that helps you easily schedule pins (pin is an image with your blog post headline and a small description that you share on Pinterest to showcase your blog).
You'll need a minimum of 25-30 pins going out daily on your Pinterest account, pinning manually like this every day it's just .. not healthy!
Moreover, they offer up to 5 free Tribes (similar to Pinterest Group Boards, but 10x better, where you add your pins to Tribes, pin other people's content and they pin yours, that's it!).
My traffic instantly got a nice boost after I joined Tailwind and Tribes! They have a free trial so before buying, you can see the results for yourself!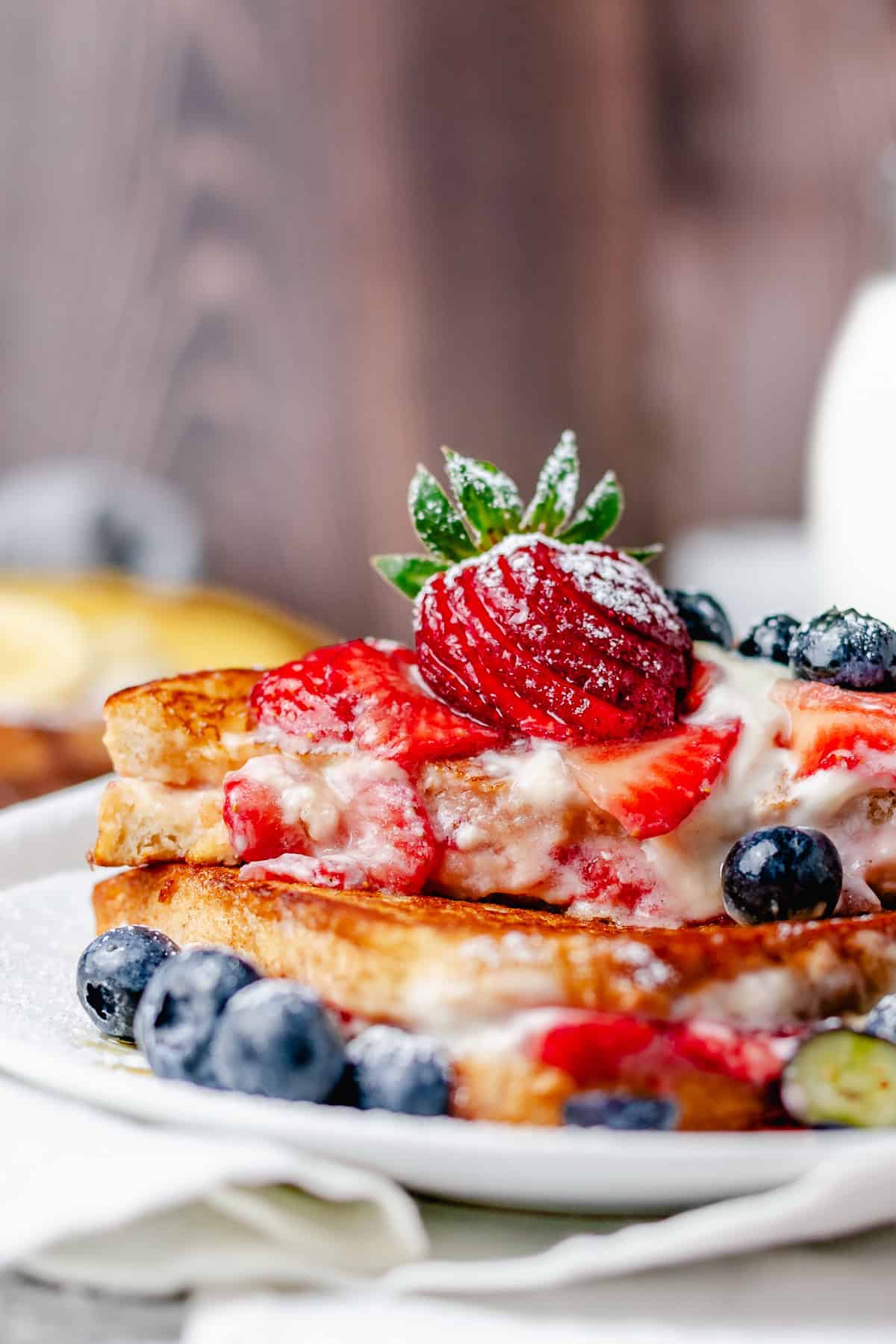 Beautifying your blog
Yay, finally the most interesting part! It's time to pick your theme and make your blog pretty!
Great design is vital for a blog to be successful. Poor web design will easily trump great content, so it's important to get it right from the start.
By default, WordPress comes with tons of themes that are free to choose from. However, after you have been blogging for a while you'll understand that you need something more advanced.
That's what Premium themes are made for.
I had the pleasure of testing out a good heap of themes and page builders (built-in theme ''builders'' that help to customize any theme, pages to your liking) before I finally found what I was looking for.
I am using Genesis Framework with a Foodie Pro child theme and I couldn't be happier about it.
So here are my top 2 Premium themes I can 100% recommend that will help you easily create gorgeous websites.
(Don't be scared by the name ''Premium'', they are way more affordable than you think!)
Divi theme by Elegant Themes - super easy to use with Drag & Drop features that are easily customizable. Their library includes plenty of ready-made page layouts for you to use. I love that you can create almost anything you like with your blog. Just let the imagination flow! Their customer support is great too!
The Genesis Framework - this is what The Yummy bowl currently is using, The Genesis Framework. It's a framework, a foundation that can have many different themes that you can choose from StudioPress.com.
(I use Foodie-Pro theme, which is one of the best themes recommended and is highly rated for Food Bloggers).
Genesis Framework has GORGEOUS, unique, easily customizable themes that work beautifully together.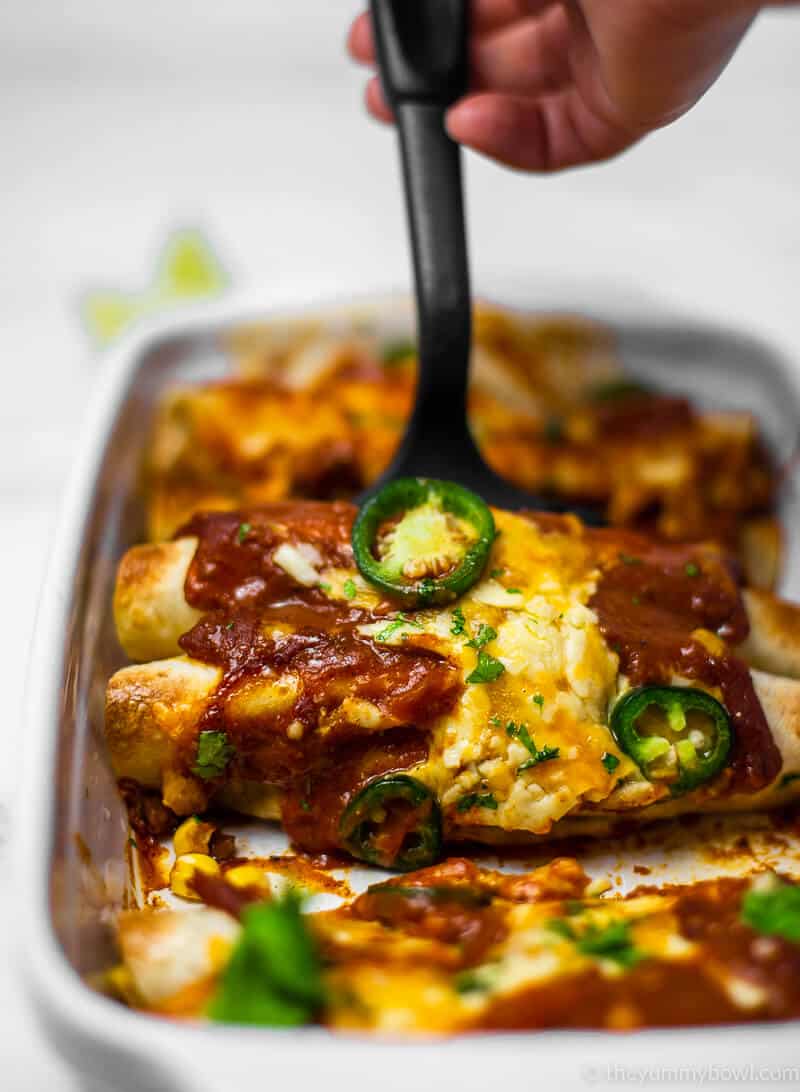 Vegetarian Enchiladas (with Black Bean and Sweet Corn)Extra Crispy Chicken Wrap
Wooohooo! I think you're all set now and congrats on your new fresh blog!
This is amazing, are you excited? You'll have to work on producing high-quality content, of course, but you can do it!
And you now what? It's time to celebrate! * champagne popping *
Finally, here you have it, you're shiny brand new blog. Congrats!
If you have any questions on how to set up your blog, feel free to reach out to me at julia@theyummybowl.com.
I love to talk about all things blogging so don't be afraid to message me, I will do my best to answer you in 48 hours. 🙂
General Tips for maintaining a successful blog
Blogging is not easy. It requires hard work, commitments and consistency.
Back then, when I was just starting out, I had no idea what I was getting myself into.
Since then, I learned there's so much more than writing a single blog post.
Blogging is building an email list, social networking, different ways of monetization, affiliates, sponsorships, creating your own products, selling your products, sales funnels...and sometimes even loneliness.
Therefore, it requires a big chunk of your personal input, but if you do everything right, you'll be rewarded later.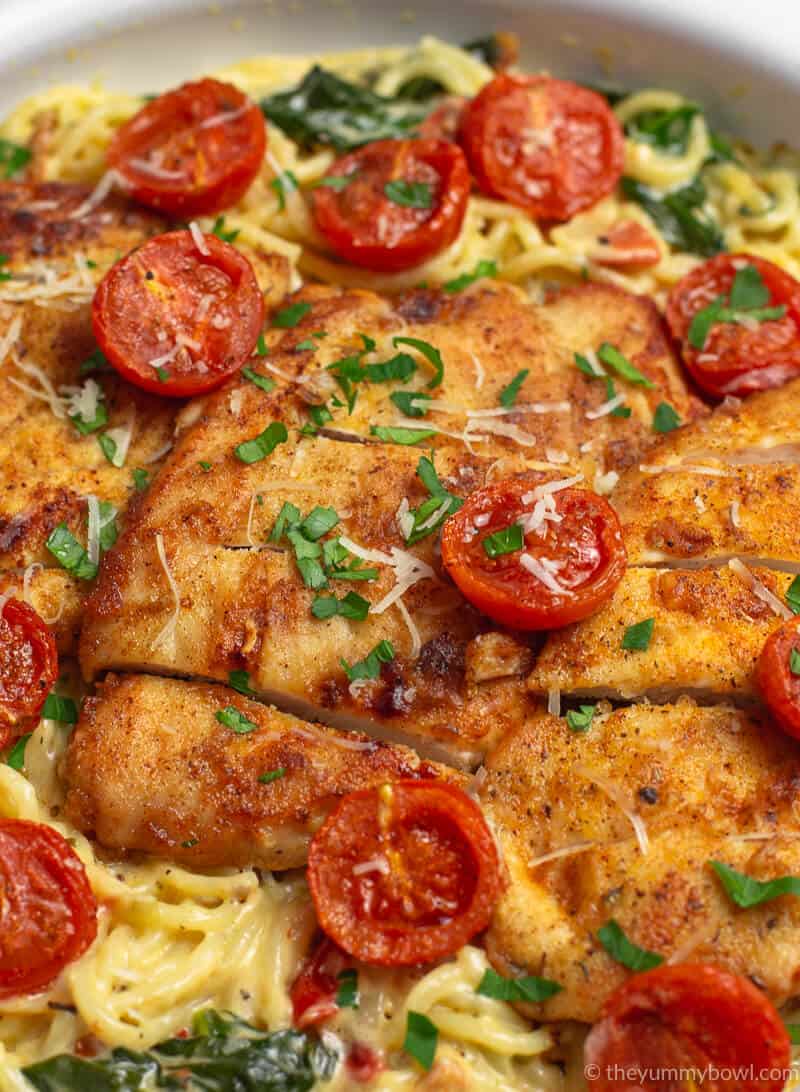 Italian Chicken Pasta in Creamy White Wine Parmesan Sauce
My best tips for you if you want to succeed in blogging.
Organize yourself - I like to keep things simple and app like Timekeeper and Pomodoro technique help me to stay on top of my things.
Start building an email list from day 1 - I can't stress enough how important it is to build a loyal community of readers and followers for your blog to be successful.
Your website optimization - Learn how to optimize your blog, images through best practices, and plugins. Plenty of articles on WPBeginner show you exactly how to do it.
Be personal - people follow people not blogs! Share your personal journey, a picture, video - anything that will show that there's a real person behind the blog. Your readers will appreciate you being open and are more likely to interact with your content. We share our lives on social media anyway, so why not share it through your blog as well?
Blogging is a never-ending learning game. There'll be always something new to learn, to experience, to test and etc.
So my best tip for you is DON'T GIVE UP!
So are you ready to Start a Food Blog and Make Money?
Stay consistent with whatever you do and rewards will come.
I hope you enjoyed reading this tutorial about starting a successful WordPress blog. Thank you so much for reading!
Have you started your blog? If no, why haven't you?
What's your biggest struggling in blogging so far?
Please let me know down below in the comments. I can't wait to hear from you.
Love,
Julia