Packed with crisp cabbage, refreshing cucumbers, scallions, crunchy pistachios, and wholesome Green Goddess dressing, this TikTok Green Goddess salad is bursting with fresh flavors and nutritious green goodness.
This salad has been all over social media and the internet and if you haven't tried it you for sure have heard about it. And at his point, it is hard to say which one was the original recipe for this viral tiktok recipe.
Jump To
Chopped Cabbage Salad
Today we are going to learn how to make a healthy green goddess salad with very few but healthy ingredients. Add some grilled chicken and you have a perfect summer salad meal!
This delicious salad works well with my low-carb salad dressing but don't limit yourself to trying other favorite creamy dressings.
During spring and summer months our family likes to switch up the menu to more healthy salads that are loaded with good-for-you wholesome ingredients and still taste great.
From our Raspberry salad, Spinach Strawberry salad, to berry Chicken salad, I have no doubt this green goddess salad too, will be a constant item in your menu rotation.
Ingredients
My few comments on the ingredients + don't forget to read the Tips section!
The full recipe and ingredients can be found in the recipe card below this post.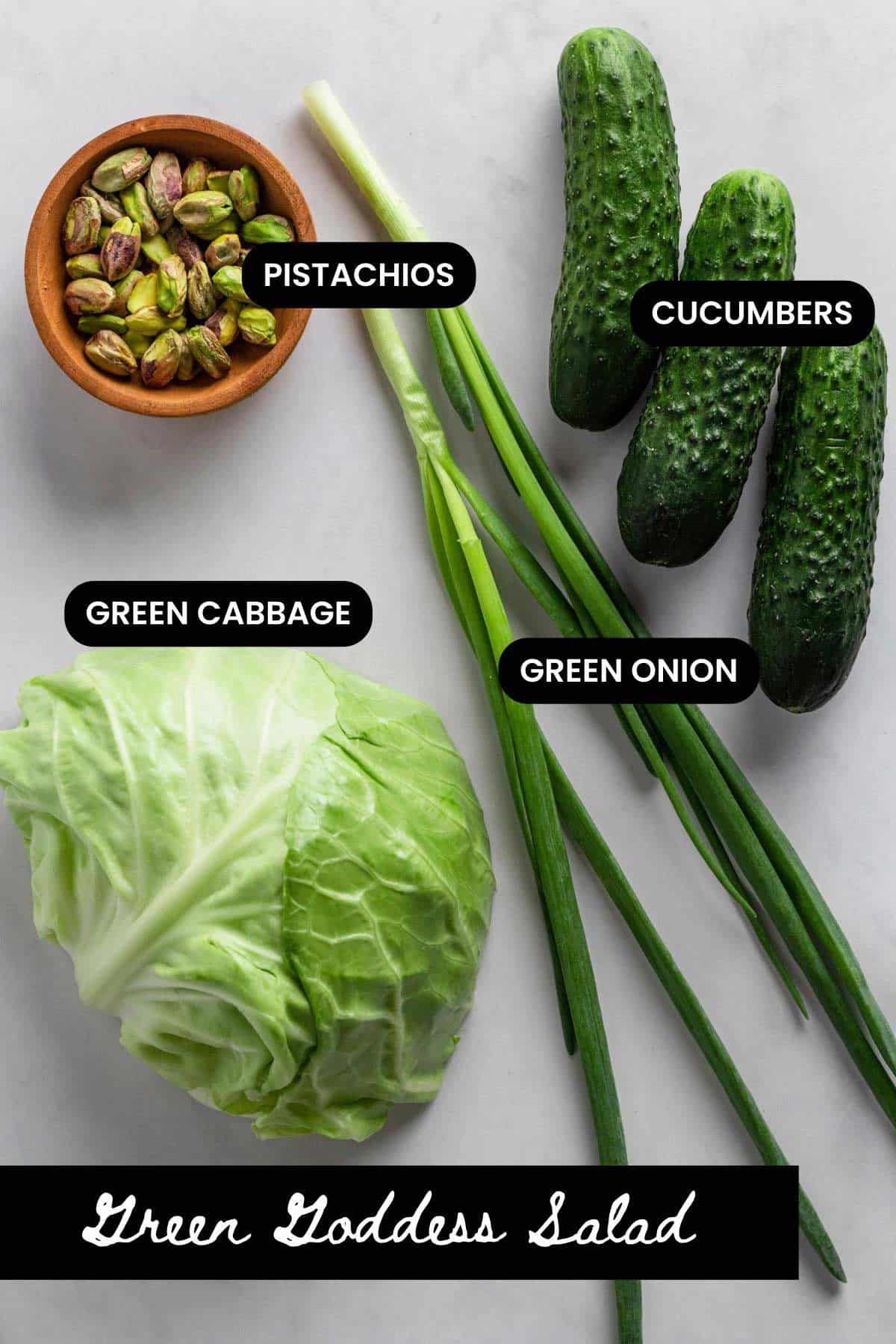 This recipe is vegetarian and has no anchovies compared to other popular green goddess salads. The salad can be made vegan by substituting the Greek yogurt in the dressing for plant-based yogurt or coconut cream.
The texture and flavor may slightly change but will taste delicious if you are used to plant-based products.
Cucumbers - Small cucumbers, Dutch, English cucumbers, and Persian cucumbers. Depending on your cucumbers, you can peel the skin off so the salad can taste even better and creamier. I purchase my small cucumbers from the local market and peel off the skin just slightly as it is not that bitter. However this being said, many smaller ones do have tougher and more bitter skin.
Green cabbage - young Green cabbage with softer leaves works best for this recipe. Alternatively, Napa cabbage or romaine lettuce can also be used.
Green onions - also called scallions, have a mild and slightly sweet flavor that compliments other ingredients. You can also add sweet onion here but I prefer green onions.
Pistachios - for an added crunchy texture that this salad is lacking. Unsalted and toasted pistachios rather than in their raw form. Or you can add a mix of different nuts and seeds for extra nutrition: sunflower, cashews, pumpkin seeds, sesame seeds, chia seeds, almonds, pecans, and hazelnuts. The nuts are totally optional and you can make this salad with no nuts as well.
Extra mix-ins - avocado will add a pleasant creaminess to the salad, red onion for more sharp ''zing'', or cherry/plum tomatoes for a boost of flavor. Feta cheese, goat cheese or creamy camembert will also add a yummy salty and tangy twist. Or leave it to serve separately as the salad dressing already contains salty capers.
Green Goddess Salad Seasoning - all the seasoning will come from the dressing and you don't have to add anything else.
📋 JULIA'S CUCUMBER TIP If you're not sure about which cucumbers to choose for a salad, actually long cucumbers are not as watery inside and have decent flavor. Too much water and cucumber juice will ruin the flavor and make the dressing diluted and hence resulting in less flavor.
Green Goddess Salad Dressing
This green dressing typically consists of creamy and tangy ingredients combined in a food processor: lemon or lime juice, yogurt, fresh herbs, garlic, and olive oil. But of course, many creamy or olive-based salad dressings will work here too.
Essentially, green goddess salad dressing is a healthy low-carb salad dressing with lots of herbs. You can find our recipe here.
It is my recipe for green goddess dip but it can also be used as a salad dressing. If you feel like you need to make it runnier, add more olive oil, milk, or water. Use the whole recipe which makes about 1 ¼ cups.
Quick tip: You can make a double batch and serve the dip with pita chips, corn chips, and veggie sticks, as a tasty sauce for BBQ meats or as a spread for sandwiches.
Instructions
Make my vegetarian green goddess salad dip for the dressing.
In a large mixing bowl, combine cabbage, cucumbers, and green onions.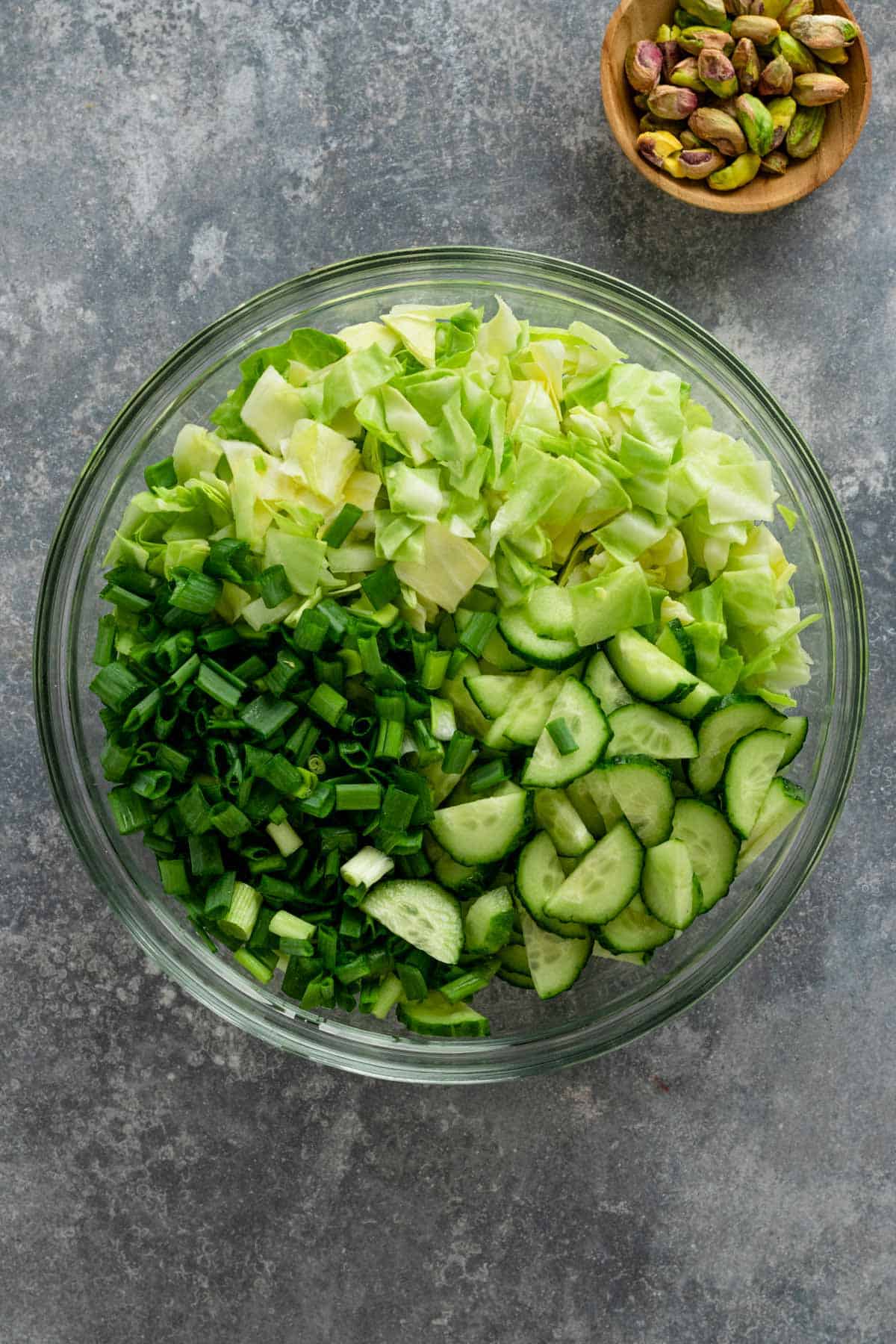 Add the dressing and mix to combine. Alternatively, you can serve the salad with the dressing on the side.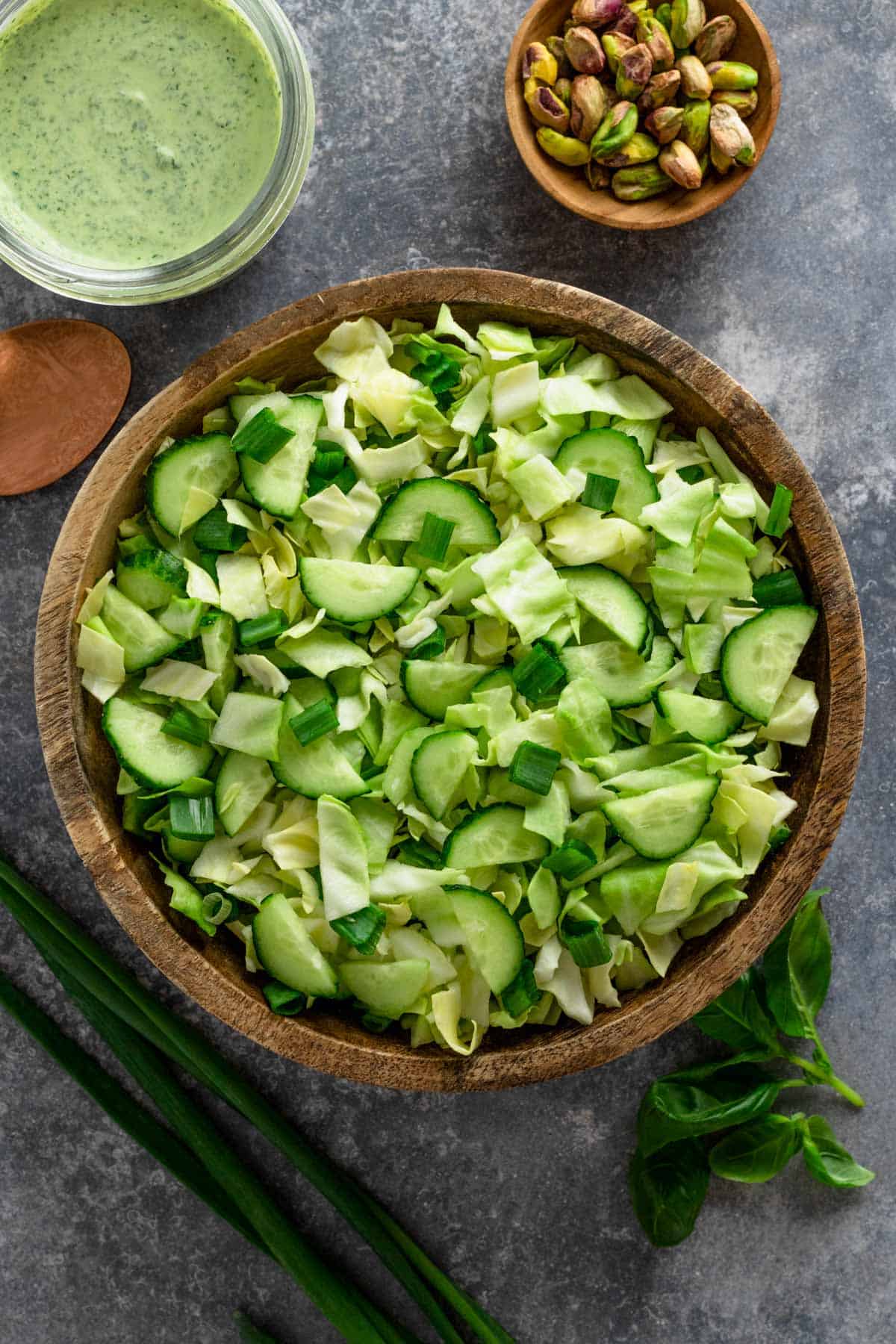 Garnish with pistachios.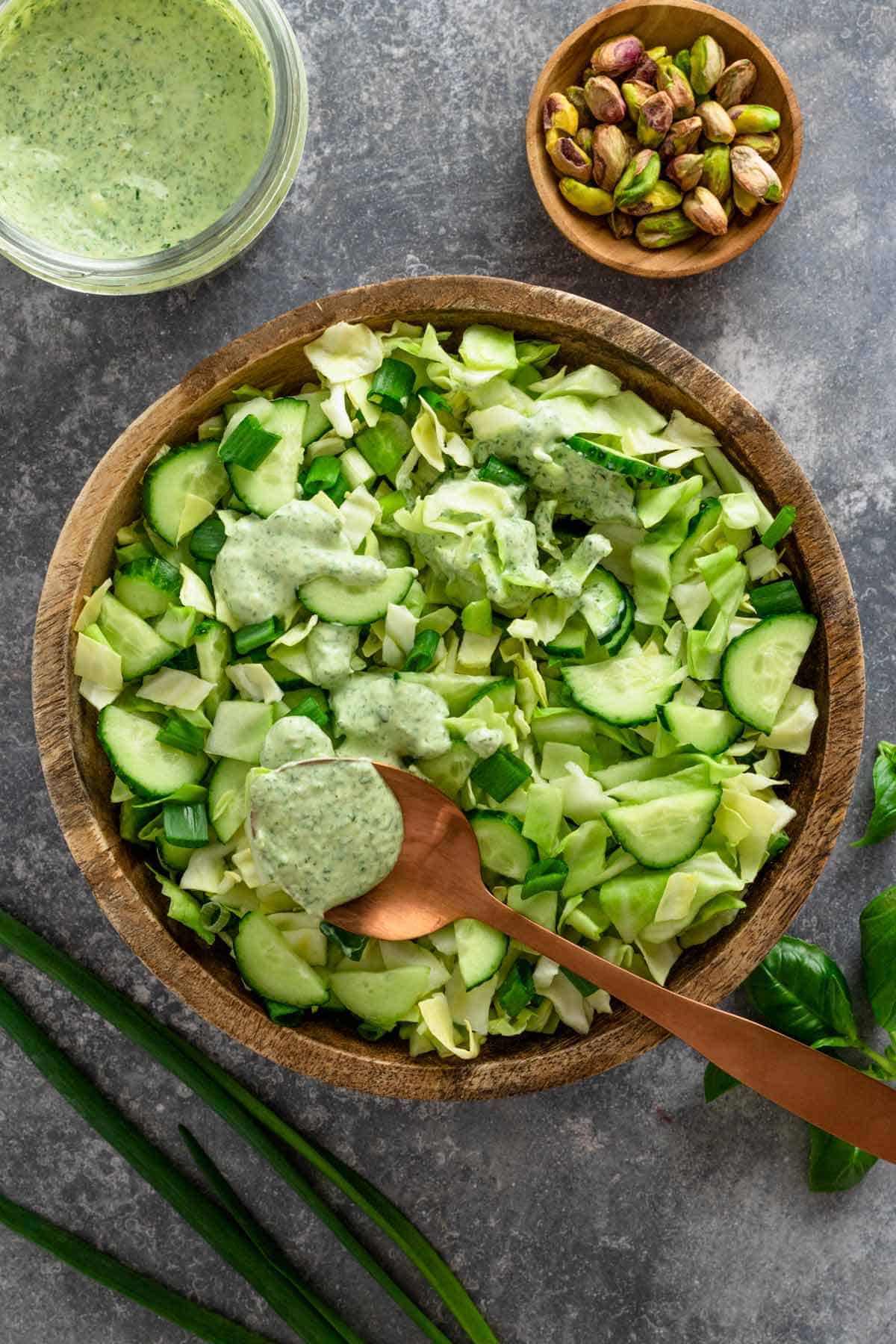 What Does the Green Goddess Dressing Taste Like?
Green goddess salad dressing typically consists of creamy and tangy ingredients such as lemon juice, yogurt, herbs, garlic, and olive oil.
The tasting notes are somewhat earthy, mostly bright and fresh flavors, bright, and lots of green herbal notes.
Tips
To keep your veggie salad crisp and fresh, add the dressing right before serving or serve it separately. This prevents the salad from getting soggy and lets you customize the amount of dressing for each individual serving.
Customize the consistency of the dressing to your liking. To make it thinner, simply add a bit of water or extra lemon juice. If you prefer a thicker dressing, increase the amount of yogurt or reduce the olive oil. Adjusting the consistency ensures the dressing suits your taste preferences perfectly.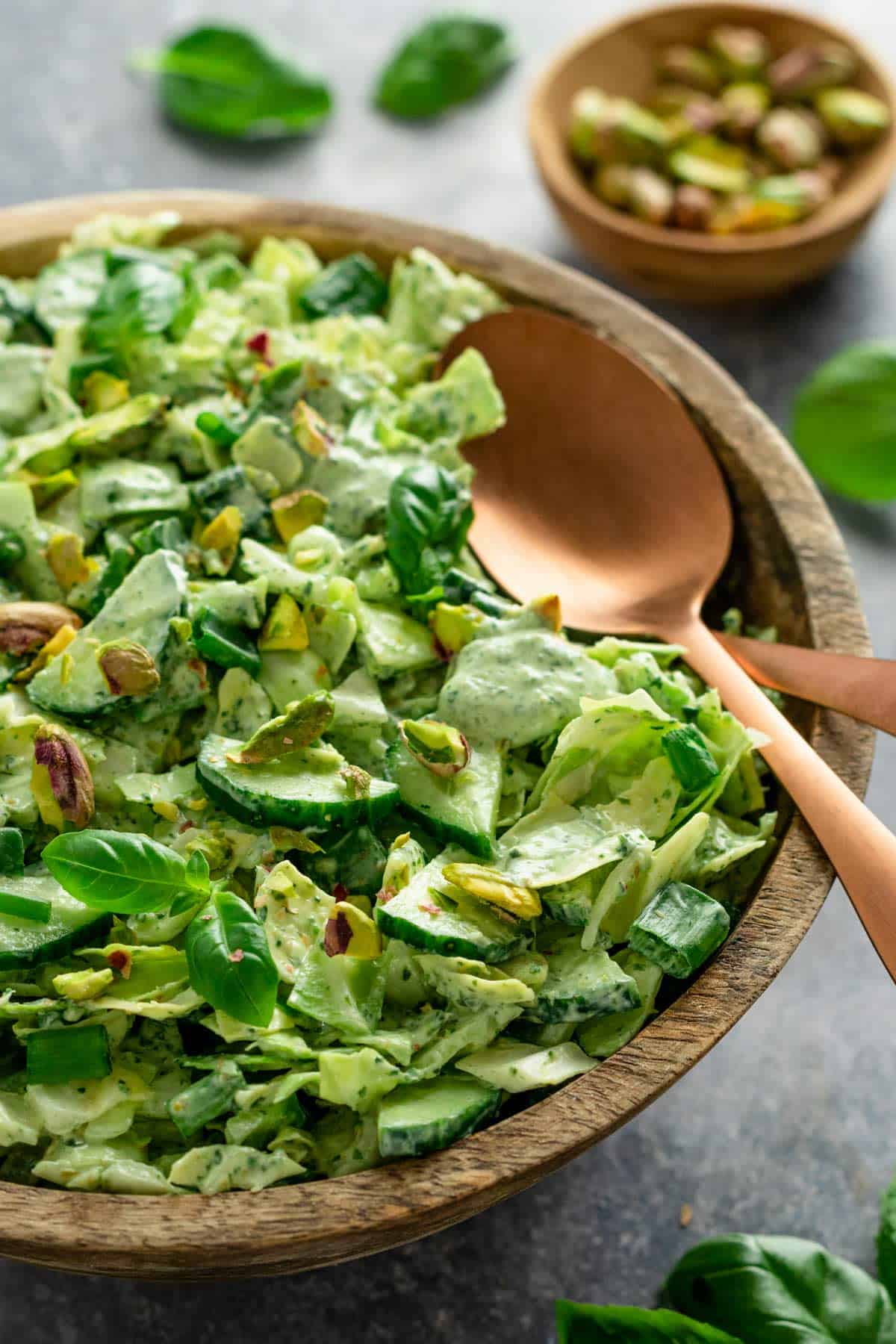 Green Goddess Salad Benefits
This vegetarian green salad is no doubt a nutritional powerhouse:
It's made with fresh herbs, that provide antioxidants that help your immune system fight off harmful toxins.
It contains veggies that give you essential vitamins and fiber for a healthy diet.
The dressing also contains good fats, like those found in avocado or olive oil, which are crucial for your heart and body in absorbing important vitamins.
Not to mention, the salad tastes absolutely delicious! You can customize it by adding grilled chicken or tofu for some extra protein.
Serving Suggestions
It's a great addition to the summer BBQ side salad table we often bring it for potlucks.
Feel free to switch up some ingredients or load it up with grilled chicken, tofu or ground beef to serve it as a main dish on its own.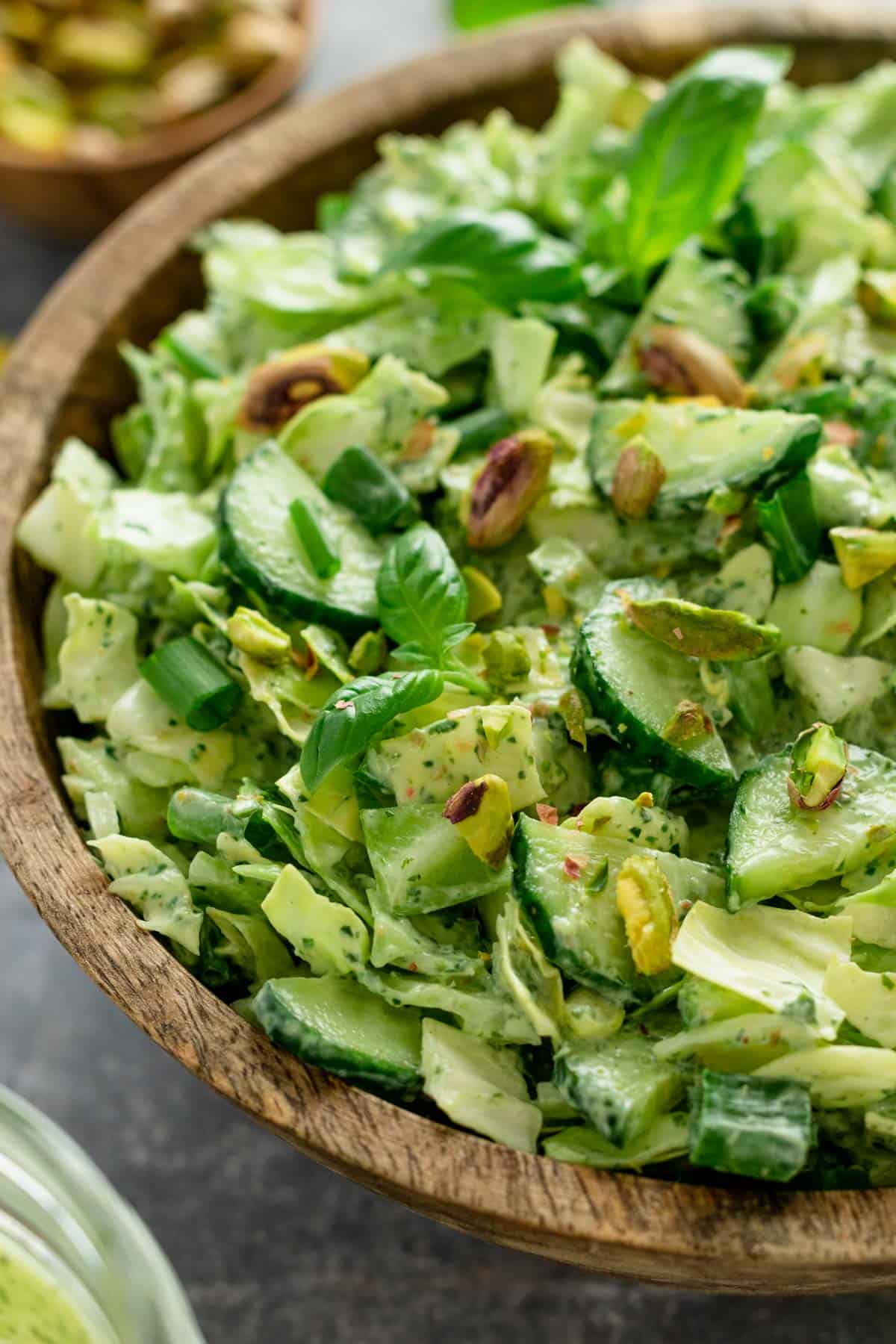 Freezing And Storing Instructions
To Store. This salad will keep fresh for 2-3 days in the fridge. Keep it tightly closed in an airtight container and make sure you keep it in the lower part of the fridge (or wherever you keep your vegetables) so the temperature is not overly cold as the cabbage tends to wilt fast if it gets too cols. I recommend keeping the salad and dressing separately.
To Make Ahead. You can mix all the veggies for the salad and prepare the green goddess dressing and keep everything separately in the fridge for up to 2-3 days.
Variations
Some popular variations for this viral recipe include:
Green Goddess Salad Without Spinach - in this salad recipe I don't use spinach, however, spinach is included in the dressing itself. You can substitute spinach with arugula (more bitter, earthy flavors), curly kale, watercress, and other leafy greens or simply increase the quantity of herbs if you don't have anything to replace spinach with.
Green Goddess Salad With No Nuts - we like the addition of crunchy elements like toasted pistachios, but these are optional or can be served on the side. Alternatively, if you still want some extra crispiness in the salad you can replace the nuts with seeds, croutons, nutritional yeast flakes for added cheesy flavor, crispy kale chips or homemade gluten-free breadcrumbs.
This salad can be made vegan if you use plant-based yogurt instead of Greek yogurt. We also like this salad with low-carb Tahini Dressing.
Add-Ons - for a more fulfilling salad add cooked crunchy bacon, parmesan cheese, feta cheese, or grilled or simply cooked chicken or taco meat (serve it similar to my taco salad). For vegetarians, scrambled or pan-fried tofu will add some great nutrition too.
Guacamole green goddess salad - add 1-2 cups of chopped ripe avocado or mix mashed avocado into salad dressing (in this case, you may need to add more olive oil or water to thin out the dressing).
Other veggies you can add - cooked Brussels sprouts (try my recipe for air fryer brussels sprouts), cauliflower, green bell pepper, kale, spinach, cucumbers, or cooked zucchini.
Like it hot? Add freshly chopped jalapenos for some serious spicy kick. Be sure to remove the seeds and the membrane from the jalapenos first.
Nutritional yeast flakes - you can make this salad vegan by using plant-based yogurt or sour cream and topping the salad with nutritional yeast flakes for added savory taste.
Roasted chickpeas - will add a delicious crunch to this healthy green salad.
FAQs
What is green goddess salad?
Essentially, this is a chopped cabbage salad with lots of extra green ingredients. It is usually dressed in a creamy and tangy salad dressing.
What can I use instead of cabbage?
If you don't have or like cabbage, you can substitute it with leafy greens, crunchy lettuce (iceberg or romaine), or kale.
How long will the green goddess dressing keep in the fridge?
The dressing should last up to 3 days in the fridge. Make sure to cover it tightly with a lid, store it in a glass container and give it a good stir before mixing it into the salad.
Is Green Goddess low fat?
It will depend on what dressing you'll be using. We used yogurt-based green goddess dressing which can be made low fat as well or use a dairy-free alternative to Greek yogurt such as plant-based yogurts (oat, soy or coconut).
What's the best dressing for a vegetarian green salad?
Essentially, it will depend on factors like diet, your preferences, fresh and other ingredients availability. You can keep it light with simple olive oil, lemon or vinegar, and herbs, or use a creamy yogurt-based herby dressing which can easily be made with low-fat dairy products or plant-based substitutions.
Tasty Cabbage Salad Recipes
For more sides hop on to our Salad recipe archives.
💗I hope you'll enjoy this tik tok green goddess salad recipe, please leave a rating on this recipe below and leave a comment, take a photo of your food and tag me on Instagram @theyummy_bowl. I love seeing your creations! 💗
Happy Cooking,
Love,
Julia
I would appreciate it so much if you left a comment about this recipe below! Subscribe to join the TYB newsletter and receive free recipes straight to your inbox! Let's connect via Facebook, IG & Pinterest!
Recipe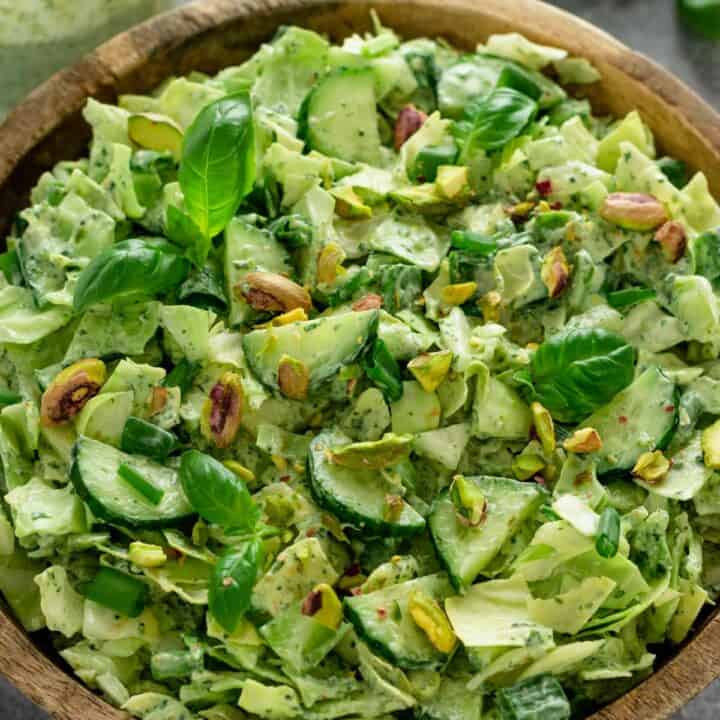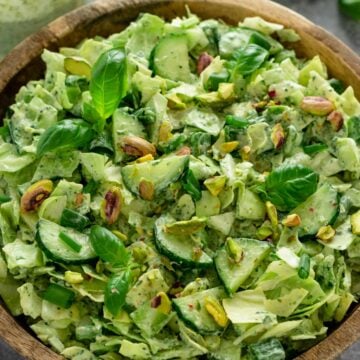 Vegetarian TikTok Green Goddess Salad Without Avocado and Anchovies
Packed with crisp cabbage, refreshing cucumbers, scallions, crunchy pistachios, and wholesome Green Goddess dressing, this TikTok Green Goddess salad is fresh flavors and nutritious green goodness.
Print
Pin
Servings:
4
side dish servings
INGREDIENTS
For the salad
4

cups

green cabbage

(shredded)

2

small cucumbers

(sliced into ¼ inch rounds and quartered)

2

green onions

(thinly sliced,)

2

tablespoons

toasted pistachios
INSTRUCTIONS
Make my vegetarian green goddess salad dip for the dressing.

In a large mixing bowl, combine cabbage, cucumbers, and green onions.

Add 1 recipe of green goddess salad dressing and mix to combine. Alternatively, you can serve the salad with the dressing on the side.

Garnish with pistachios.
PRIVATE NOTES
Nutrition Facts
Vegetarian TikTok Green Goddess Salad Without Avocado and Anchovies
Amount Per Serving
Calories 149
Calories from Fat 18
% Daily Value*
Fat 2g3%
Sodium 17mg1%
Potassium 378mg11%
Carbohydrates 9g3%
Protein 3g6%
Vitamin A 252IU5%
Vitamin C 32mg39%
Calcium 57mg6%
Iron 1mg6%
* Percent Daily Values are based on a 2000 calorie diet.
(Nutrition information is calculated using an ingredient database and should be considered an estimate.)