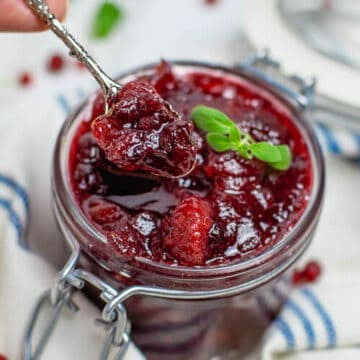 Berry Banana Jam (Without Pectin)
This Berry Banana Jam is made with all-natural ingredients, no additives or no pectin added and the aroma reminds you of a delicious combination of tropical fruits and forest berries. This homemade jam is guaranteed to wow everyone due to its uniqueness and beautiful spreadable texture that is perfect for breakfast muffins, french toasts, pancakes, waffles, ice cream and so much more!
2

lb

lingonberry or other sour berries*

fresh or frozen

2

lb

banana*

sliced in half circles

2

lb

granulated white sugar

1

teaspoon

cinnamon

powder

1

teaspoon

vanilla extract or paste*
Mix berries* with sugar in a bowl.

In a large pot/saucepan over low heat add the berries and sugar mixture, simmer (constantly stirring) until sugar is dissolved and berries have released their juice. (7-10min)

Increase the heat to medium and take it to a boil. After that, reduce the heat to low again, and simmer for 20-25 minutes.

Be sure to stir occasionally so the berries wouldn't burn in the bottom.

Add the sliced banana to the pot, cinnamon, vanilla and take it to a boil occasionally stirring.

Reduce the heat and cook for 10 minutes on low.

Let the jam cool a bit and transfer it into prepared glass containers/jars. Seal tightly and keep refrigerated (will last for about 6 months) or at room temperature, but once opened should be kept in the refrigerator.
This recipe makes about 5 cups of homemade banana berry jam.
Use fresh, dry, and not an overripe banana.
Use sugar as a thickener and setting agent rather than using additives like pectin.
Berries - if using fresh berries, wash and rinse them properly underwater, then pat dry with a towel.
Lingonberry (cowberry) - Use any sour taste berries like red, white currants, cranberries, gooseberries, cloudberries. Raspberries, blueberries, and strawberries should also work here, however, I haven't tried this myself but I think the taste will be fantastic! If you do try, please let me know in the comments how did it go? Thank you!
Bananas - use fresh a little bit green (not ripe or overripe) bananas for this jam. Overripe bananas don't give anything but a very sweet taste and not much of an aroma to the jam.
Bananas - sliced in half circles about ⅛ inch thick, if a bit thicker it's fine too.
Vanilla extract - you can use both, vanilla extract or paste. If using paste add only ½ teaspoon as it is stronger than vanilla extract. I usually prefer to add paste :)