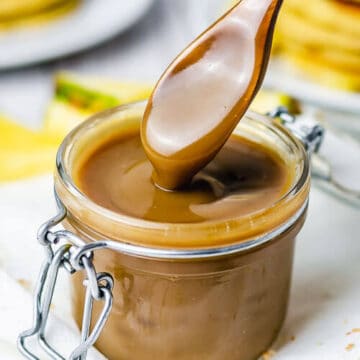 Vegan Coconut Caramel Sauce (Vegan Caramel)
This coconut caramel sauce is the easiest vegan recipe out there, you'll never want store-bought again. It comes together with only 5 ingredients that are all cooked in one pot until thickened to desired consistency. Easy, creamy, and healthier - made with all-natural ingredients, and goes with everything you pour it over!!
13.5

oz

can of coconut milk

unsweetened

⅔

cup

muscovado or coconut sugar

¼

teaspoon

fine sea salt or kosher salt

¼

cup

unsalted butter

I used lactose-free or sub with coconut oil or vegan butter

½

teaspoon

vanilla paste

or sub 1 teaspoon vanilla extract*
Melt the butter in a medium saucepan.

Combine all the rest ingredients in the saucepan and simmer over low heat, whisking constantly or until thickened and no longer watery. The sauce will reduce in volume and start thickening after about 30 minutes. Remove from heat once you'll see this result, usually in between 30-50 minutes, and set aside to cool. Keep in mind that the sauce will thicken even more as it cools.
Makes about ½ cups of sauce.
The texture - When you'll start cooking the sauce (especially if you haven't made any caramel sauce before) you won't see that much of a difference in the texture. But be patient, it requires a little time (about 30-50 minutes) to start seeing the result and when everything comes together. Plus as soon as it is already reduced twice in size and started to thicken it already means that you may finish the simmering and let the sauce cool. It will thicken even more once cooled and will turn thicker overnight.
Store - transfer the sauce to specialty store-bought kitchen squeeze bottles and refrigerate.
Vanilla paste - you can use both paste or extract, but if using a paste, ½ teaspoon is enough for this recipe as it is stronger than the vanilla extract. I prefer paste but it is not a big deal if you don't have this on hand.
Milk - I used coconut milk in this recipe, it is hands down, the best substitute for heavy cream or any cream I've found so far. But I understand not everyone is a fan. I have yet to try this recipe with cashew, soy, and almond milk. As I have researched so far, these alternative milk may require longer simmering times (unless they're homemade and thicker in texture).
Sugar - All-natural sugar of your choice. That can be coconut sugar, cane sugar, organic brown sugar, date sugar.
Vanilla - is optional but does enhance the flavor quite a bit!
Storing: Store Caramel Sauce refrigerated in an airtight container for up to 3 weeks. You will need to heat it up on the stovetop or microwave as it will be very thick.
Freezing: You can freeze Caramel Sauce in a ziplock bag (glass containers not advised as the cream may expand and break the glass) for up to 2-3 months.