Measuring ingredients accurately is one of the most important factors in baking, as even a small deviation can have a big impact on the final baked product. While there may be some wiggle room in other recipes to adjust ingredient proportions, in baking, precision is essential, as the chemical reactions that take place in the oven are very sensitive to the proportions of the ingredients.
This guide provides a deep dive into the different methods of measuring ingredients specifically for baking and how to do it the right way to ensure your baked goods turn out perfectly every time!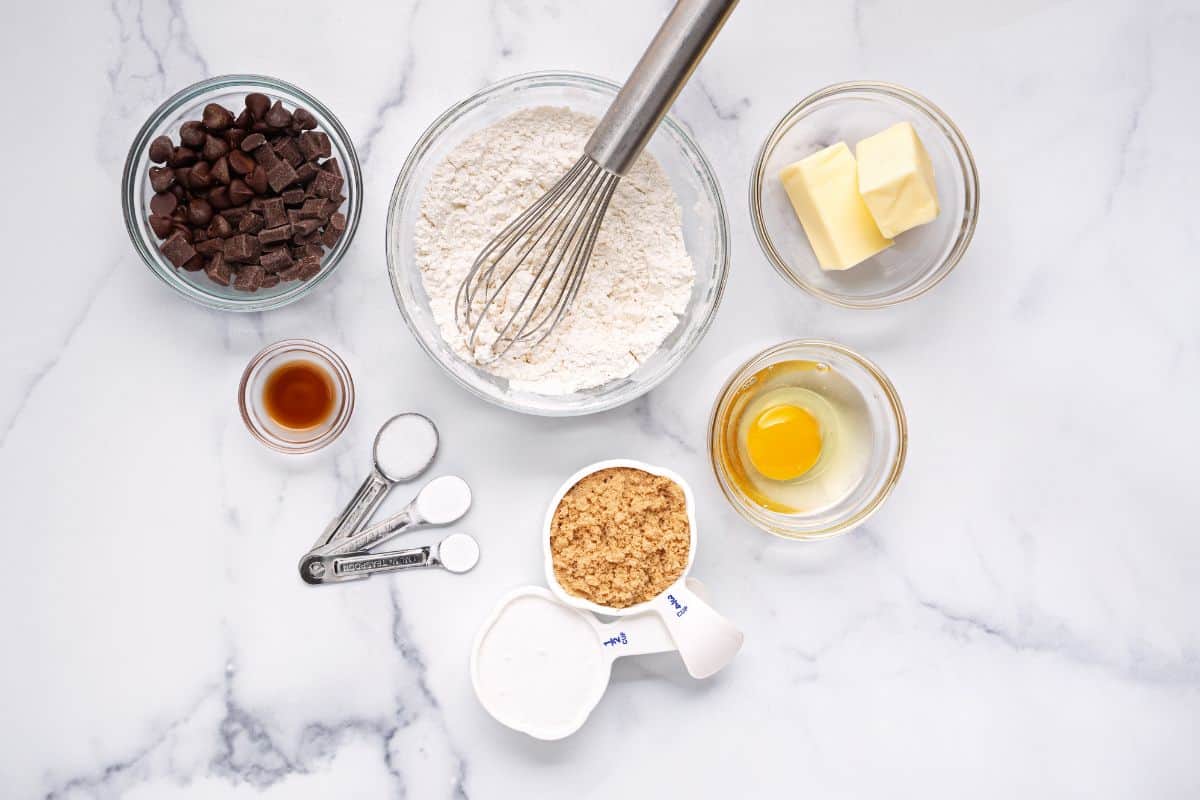 Jump To
How To Measure Baking Ingredients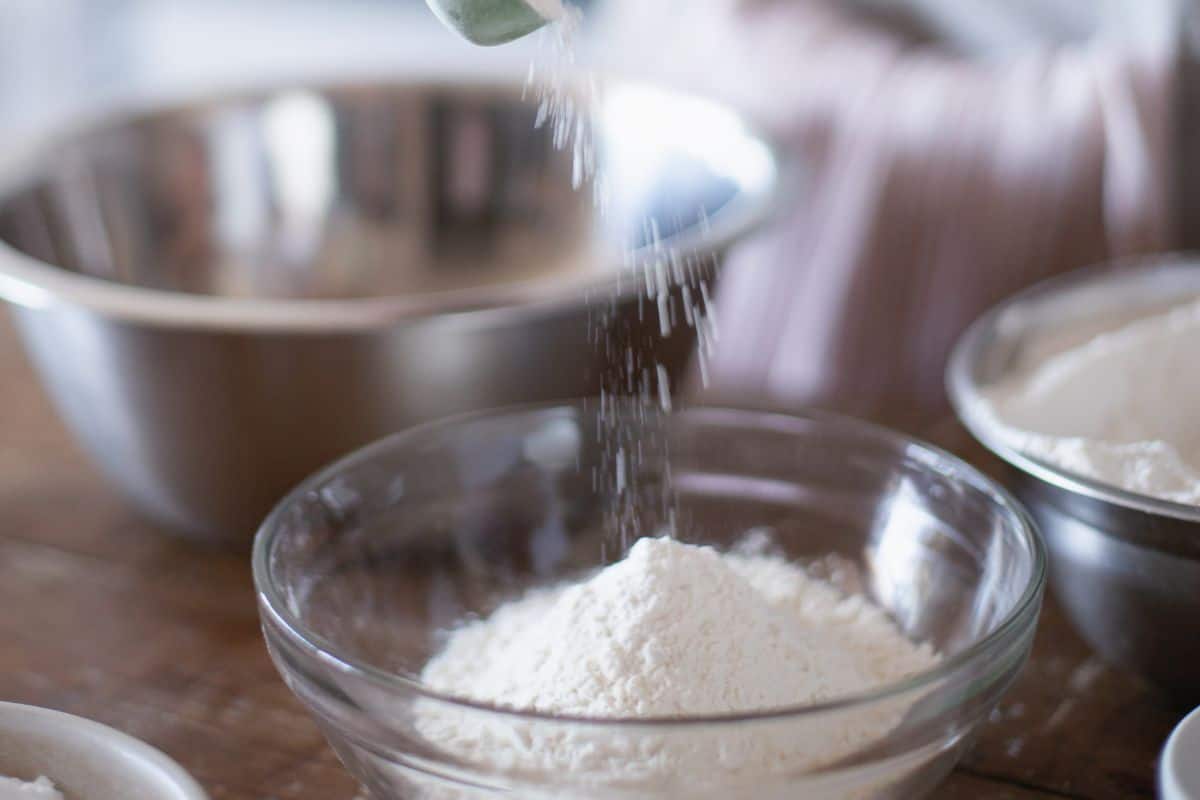 Dry Ingredients
Dry ingredients, such as flour, sugar, and baking powder, can be measured in two ways: by weight or by volume. Measuring by weight is considered the most accurate method, as it eliminates the possibility of compaction or air pockets, which can occur when measuring by volume.
A kitchen scale is an essential tool for measuring ingredients by weight, and it's especially useful for measuring large quantities of ingredients.
Includes: Ingredients that are in a solid form at room temperature and are not easily pourable.
Flour
Sugar
Oats
Baking powder
Baking soda
Salt
Cocoa powder
Spices
Dry yeast
Mix-ins such as nuts, dried fruit, and chocolate chips
By Weight: To measure dry ingredients by weight, simply place the bowl or container you're using on the scale and reset it to zero. Then, add the ingredients until you reach the desired weight. This method is especially useful for measuring flour, as it eliminates the possibility of over-packing the flour into a measuring cup, which can affect the final product.
By Volume: To measure dry ingredients by volume, use measuring cups specifically designed for dry ingredients. Scoop the ingredients into the measuring cup and level it off with a straight edge, such as a knife or spatula. It's important to use the correct measuring cup for each ingredient, as different ingredients have different densities, and using the wrong cup can result in incorrect measurements.
How To Measure Flour
To measure flour accurately, avoid common mistakes. Use the "spoon & level" method, regardless of the type of flour. Don't dip the measuring cup into flour and scoop directly from the container; instead, use a spoon to fill the measuring cup.
Fluff the flour in the container
Hold the cup above the container and use a spoon to fill the measuring cup until the flour is piled up and slightly above the rim.
Level off with a measuring knife (this usually comes together with measuring spoons/cups) or a regular knife.
Tips
How to measure sifted flour? Only sift your flour before measuring if the recipe explicitly instructs you to do so. Just pay attention to where "sifted" appears in the ingredient description. If it's before the ingredient name, sift before measuring; if it's after, sift after measuring.
Most people scoop the flour straight from the container and then level or shake off the excess flour. It is technically correct, but the amount in grams will be different than when using ''spoon and level method''. My best advice is to follow what is written in the recipe if the measuring is not specified then use the ''spoon and level''.
Related reading: How to make Almond Flour, Types of Gluten Free Flour, Almond flour substitutes.
Sugar
Unlike flour, sugar is your sweet, forgiving friend in the kitchen. Just scoop the measuring cup or spoon until it's overflowing, then level it off with a knife.
Sugar's not as clingy as flour, and it's open to your sweet discretion – your taste matters! Always stick to the recipe measurements. Sugar crystals play a crucial role in breaking down other ingredients, and they're the magic behind browning, texture, structure, and stability.
Brown sugar: In many recipes, you'll see ''packed brown sugar''. You can achieve this by scooping the sugar with measuring cups and pressing it against the side of the storage container to create a compact shape. When you turn it out, it should hold its shape for a brief moment.
Related reading: 9 Clever Substitutes for Brown Sugar
Confectioners' Sugar
Otherwise known as Icing Sugar or powdered sugar, can be measured the same way as the flour, using spoon and level method. If your sugar is clumpy, sifting is the way to go!
Oats
Ensure you're using the oats specified in your recipe. When measuring oats, employ the spoon & level method, just like you do for flour.
Cocoa Powder
Whether you're working with natural or Dutch-processed cocoa, keep it simple by using the spoon & level method, just like you would for flour and confectioners' sugar. Cocoa powder has a knack for clumping, so if sifting is in the recipe's playbook, don't skip it – it's worth the effort!
Wet Ingredients
Liquid ingredients, such as milk, eggs, and oil, can be measured by volume or weight.
Includes: Ingredients that are liquid at room temperature and can be easily measured using a liquid measuring cup.
Water
Milk
Eggs
Oil
Vinegar
Juice
Liquid sweeteners
Extracts - Vanilla, Almond
By Weight: Measuring by weight is less common for wet ingredients than dry ones, but it can still be done if desired. To measure wet ingredients by weight, use a kitchen scale and follow the same steps as dry ingredients.
By Volume: Measuring by volume is the most common method for wet ingredients, and it can be done using various tools, such as liquid measuring cups, spoons, or syringes. When measuring liquids, it's important to use a clear glass or plastic measuring cup with a spout, making it easier to pour the liquid into the mixing bowl without spilling.
Measure liquids at eye level to ensure an accurate measurement. This is because the liquid level in the measuring cup can appear different when viewed from above or below, leading to an incorrect measurement.
📋 Pro Tip: Regular measuring cups and liquid measuring cups differ. Regular ones have straight sides and flat tops, allowing you to scoop dry ingredients into the cup and level it with the straight edge of a knife or spatula. Liquid measuring cups have a spout and a handle for easy pouring. They have graduated markings (in milliliters, fluid ounces, or cups) on the side, allowing for precise measurements of liquids.
Semi-Wet Ingredients
Measuring semi-wet ingredients, such as molasses, honey, and syrup, is important in baking to ensure that your recipes come out correctly. While measuring by weight is considered more precise, as the density of liquids can vary, you can also measure semi-wet ingredients by volume.
Includes: Ingredients that are not completely liquid, but not solid either. They are thicker than water but thinner than solid ingredients.
Molasses
Honey
Syrups
Jam
Applesauce
Yogurt
Buttermilk
By Weight: Weigh the semi-wet ingredient on a kitchen scale. Most baking recipes will specify the weight in grams or ounces.
By Volume: Use a liquid measuring cup specifically designed for measuring liquids. Fill the measuring cup to the desired level, reading the measurement at eye level to ensure accuracy.
Semi-Solid Ingredients
Semi-solid ingredients can be measured by volume or weight. Measuring by weight is the most accurate method, but measuring by volume is more common. To measure semi-solid ingredients by volume, use a measuring cup specifically designed for fats, or use a ruler to measure the correct amount.
Spoon the ingredient in, but don't forget to gently press around the sides a few times to eliminate any potential air pockets, as they could lead to an under measurement, giving you less than required.
Includes: Ingredients that are soft and spreadable but are not as liquid as other wet ingredients.
Butter
Shortening
Cream cheese
Sour cream
Yogurt
Peanut butter
Nutella
📋 Pro Tip: When measuring by volume, it's important to make sure semi-solid ingredients are at room temperature, as this makes it easier to measure accurately. If they are too cold, it will be difficult to scoop them into the measuring cup, and if they are too soft, it will be difficult to get an accurate measurement.
Butter
It often comes in handy sticks, like the ½ cup (8 tablespoons) or ¼ cup (4 tablespoons) variety, which is super convenient. Just slice off what you need for your recipe.
But if your butter isn't stick-shaped (like in the EU), grab a dry measuring cup to get the right amount.
When a recipe calls for melted butter - measure it in its solid form first, then proceed with melting it.
Measurements for Frequently Used Baking Ingredients
These are the common ingredients you'll come across in my recipes. I found myself looking up these measurements often, so I made a handy reference here, which might be useful for you too.
1 cup all-purpose flour = 125 grams = 4 ½ ounces
1 cup bread flour = 130 grams = 4 ½ ounces
1 cup cake flour = 119 grams = 4 ounces
1 cup granulated or brown sugar = 200 grams = 7 ounces
1 cup powdered sugar = 120 grams = 4 ¼ ounces
½ cup cocoa powder = 41 grams =1.6 ounces
1 cup chocolate chips = 180 grams = 6 ¼ ounces
¼ cup cornstarch = 28 grams = 1 ounce
½ cup creamy peanut butter = 135 grams = 4 ¾ ounces
1 cup water or milk = 227 grams = 240ml; 8 ounces
½ cup vegetable oil = 112 grams = 4 ounces
1 cup sour cream = 227 grams = 8 ounces
1 cup oats = 80 grams = 3 ounces
½ cup butter = 1 stick = 115 grams = 4 ounces
½ cup shortening = 96 grams = 3 ½ ounces
Dry Ingredients Conversions
1 cup = 16 Tablespoons
¾ cup = 12 Tablespoons
⅔ cup = 10 Tablespoons + 2 teaspoons
½ cup = 8 Tablespoons
⅓ cup = 5 Tablespoons + 1 teaspoon
¼ cup = 4 tablespoons
⅛ cup = 2 tablespoons
1 Tablespoon = 3 teaspoons
Liquid Ingredient Equivalents
4 quarts = 128 fluid ounces = 1 gallon
8 cups = 64 fluid ounces = 4 pints
4 cups = 32 fluid ounces = 2 pints = 1 quart
2 cups = 16 fluid ounces = 1 pint
1 cup = 8 fluid ounces = ½ pint
Baking Equipment & Tools
These are a few of my favorite tools that I own and use often.
Common Baking Tips To Follow
By following these tips, you can improve your baking results and achieve delicious baked goods every time:
Read the recipe thoroughly before you start baking: Make sure you understand all the steps and ingredients before you begin.
Use the right equipment: Having the right tools, such as a kitchen scale, measuring cups, and mixing bowls, can make a big difference in the outcome of your baked goods.
Measure ingredients accurately: Baking is a science, and accurate measurements are crucial for achieving the desired outcome.
Room temperature ingredients: Room temperature ingredients, such as butter and eggs, mix together more easily and result in a better texture.
Don't overmix: Overmixing can result in a tough, dense baked good.
Preheat your oven: Preheating your oven ensures that your baked goods will cook evenly.
Line your pans: Lining your pans with parchment paper, silicone mats, or non-stick spray can make it easier to remove your baked goods from the pan and reduce the risk of burning.
Check for doneness: Use a toothpick or cake tester to check if your baked goods are fully cooked before removing them from the oven.
Let baked goods cool: Allowing your baked goods to cool before removing them from the pan helps to set the structure and makes it easier to remove them without breaking.
Store baked goods properly: Store baked goods in an airtight container to keep them fresh and prevent drying.
Ingredient Substitutions for Baking
Butter: If you're out of butter, you can substitute it with margarine, coconut oil, or shortening.
Milk: If you're out of milk, you can substitute it with almond milk, soy milk, or oat milk.
Eggs: If you're out of eggs, you can substitute with egg substitutes, such as mashed bananas or applesauce, for moisture and structure.
Flour: If you're out of all-purpose flour, you can substitute it with whole wheat flour, almond flour, or coconut flour.
Sugar: If you're out of granulated sugar, you can substitute it with brown sugar, maple syrup, or honey.
Baking Powder: If you're out of baking powder, you can substitute with baking soda and cream of tartar.
Vanilla extract: If you're out of vanilla extract, you can substitute it with almond extract, maple extract, or lemon extract.
These substitutions can be useful when you're in a bind and don't have the exact ingredients called for in a baking recipe. However, it's important to remember that substituting ingredients can affect the flavor, texture, and overall outcome of your baked goods.
When Is It Safe To Increase Recipe Quantities In Baking?
It is safe to increase recipe quantities in baking when the recipe is a simple mixture of ingredients, such as cookies, bars, and muffins. In these recipes, the ingredients can be easily scaled up or down without affecting the texture or flavor of the final product.
However, some baking recipes should not be increased in quantity, such as delicate cakes, pastries, and yeast breads. These recipes often rely on precise ratios of ingredients and specific baking techniques, and any changes to the recipe can result in an inconsistent texture or flavor.
If you do decide to double or triple a recipe, following these suggestions will help you to achieve the desired outcome:
Double the ingredients: Simply multiply all the ingredients by 2 or 3 to double or triple the recipe.
Check oven temperature and cooking time: When doubling or tripling a recipe, it may take longer to bake. Check the oven temperature and cooking time to ensure that your baked goods are cooking evenly and completely.
Use a larger pan: If you're doubling or tripling a recipe, you'll need a larger pan to accommodate the increased batter or dough.
Mix the batter or dough thoroughly: Mix the batter or dough thoroughly to ensure that the ingredients are evenly distributed.
Watch for overflow: When baking larger batches, keep an eye on the pans to ensure the batter or dough doesn't overflow.
Storing the second quantity: Some people prefer to make a second batch of an unbaked mixture and freeze it for later convenience. While this is possible for mixtures like cookie dough, remember that it won't be suitable for all recipes, and discretion must be applied.
Summary
Measuring ingredients accurately when baking is crucial to achieving the desired outcome in baking. It ensures the baked goods have the right texture, flavor, and consistency.
Plan ahead and take time to ensure that you have the right ingredients, appropriate tools, and understanding of techniques for the best possible results!
You Might Also Like...
I would appreciate it so much if you left a comment about this recipe below! Subscribe to join the TYB newsletter and receive free recipes straight to your inbox! Let's connect via Facebook, IG & Pinterest!