Many seek nut-free alternatives for peanut butter for dietary purposes - whether to reduce fat content in meals for weight loss and general health, or due to a peanut allergy.
In some instances, peanut butter may not be a preferred taste. If you find yourself identifying with any of these reasons, then you've come to the right place!
Today, I'm going to share the various nut-free alternatives for peanut butter, what they taste like, and when they are most suitable to use so that you can still enjoy those treats and meals that ordinarily contain peanut butter!
Jump To
Looking for a short answer?
Some common peanut butter alternatives without nuts include soy nut butter, seed butter, tahini, sunflower butter, cookie butter, chickpea butter, coconut butter, and almond butter. Read on to find out about them in depth!
What is Peanut Butter Exactly?
Depending on the consistency of a brand of peanut butter, it's either a paste or spread that is made from roasted peanuts.
Different types of commercial peanut butter will also contain additional ingredients such as sugar, salt, and preservatives. Natural peanut butter is an excellent choice both for spreads and baking. However, the consistency may vary across different brands.
Why Use Nut Free Alternatives For Peanut Butter?
The reason behind using nut-free alternatives for peanut butter will vary from household to household. Some people are looking for healthier options to suit their specific diets while others are having to avoid peanuts due to food allergies.
You may even choose to introduce a peanut butter alternative to your meals for variety alone!
Types of Peanut Butter Products
Peanut Butter - A paste or spread made from roasted peanuts and other ingredients. You get smooth peanut butter or the crunchy version.
Peanut Oil - This is oil made from peanuts. It has a strong peanut flavor and aroma and can be used to make a dressing, for stir-frying, deep-frying, and sauteing.
Powdered Peanut Butter - The powdered form of peanut butter that doesn't include fatty ingredients such as oil and is therefore lower in calories than peanut butter spread.
Raw Peanuts
Further Reading: How To Freeze Peanut Butter
Different Types of Nut Free Butter Alternatives
Sunflower Butter
Possibly the closest to peanut butter with similar texture and flavor. Sun butter has a nutty flavor, and smooth consistency, and can be found easily in your local grocery store.
How does it taste? Sunflower butter has a nutty and slightly earthy flavor. It's somewhat reminiscent of peanut butter but with a milder taste.
Pumpkin Seed Butter
Also known as pepita butter, is a creamy spread made from roasted pumpkin seeds.
How does it taste? Pumpkin seed butter has a rich, nutty flavor with a mild earthiness. It's not as sweet as some other nut or seed butters, making it a versatile ingredient for both sweet and savory dishes.
Tahini
Tahini has a nutty flavor, and creamy texture and doesn't contain sugar - great for those who enjoy less sweetness. You could combine it with sweet jam in a jelly sandwich.
How does it taste? Tahini has a rich, nutty flavor often compared to toasted sesame seeds, adding depth to dishes, and a creamy, versatile texture.
While some varieties can be slightly bitter due to more intense sesame seed roasting, its overall taste leans toward a mildly savory profile, suitable for a wide range of recipes.
Soy Nut Butter
Soy nut butter is a spread made from roasted soybeans. It is similar in texture to traditional nut butters. Soynut butter is loaded with protein and is gluten-free and dairy-free.
How does it taste? Soy nut butter has a mild, nutty flavor with a hint of roasted and earthy notes. It is generally less sweet compared to some nut butters, making it versatile for both sweet and savory applications.
Coconut Butter
Coconut butter, alternatively referred to as coconut manna or coconut cream concentrate, is a luscious and dense spread derived from the flesh of coconuts, distinct from coconut oil that originates from the coconut's fat content.
How does it taste? It has a sweet and robust coconut flavor. Coconut Butter's texture is creamy and thick and can become more liquid when heated and firm when cooled, and its texture may differ based on the brand and temperature.
Chickpea Butter
Chickpea butter is a creamy spread made from roasted chickpeas. It contains good dietary fiber and carbohydrates.
Some types of chickpea butter in stores come in different flavors, like chocolate or cinnamon-spiced variations, thanks to added ingredients like spices, sweeteners, or flavorings.
How does it taste? It has a nutty and slightly earthy flavor, similar to roasted chickpeas, and works well in sweet and savory dishes.
Granola Butter
Granola butter is a unique and delicious spread made from a combination of familiar granola ingredients, including rolled oats, nuts like almonds or cashews, various seeds, and sweeteners such as honey or maple syrup.
How does it taste? Granola butter has a sweet and nutty taste with hints of caramelized sweetness from the added sweeteners. It often has a crunchy texture due to the nuts and seeds used in its preparation
Biscoff Spread/Cookie Butter
Biscoff cookie spread, also known as Speculoos cookie spread, is a creamy and indulgent spread crafted from ground Biscoff or Speculoos cookies, vegetable oils, sugar, and spices. It is similar in texture to peanut butter or Nutella but has a distinct spiced cookie flavor.
How does it taste? The spread has a rich, caramelized flavor with a hint of warmth from spices like cinnamon and nutmeg. It's sweet but not overly so, making it an excellent option for those who enjoy a balance of sweetness and spice.
Maple Butter
Maple butter is primarily made from pure maple syrup, offering a rich, intense maple flavor with notes of caramel and a smooth, creamy texture. Some variations may include a touch of butter or cream for added richness, but the main ingredient is always maple syrup.
How does it taste? Maple butter has a rich and intense maple flavor that's both sweet and complex. It often carries notes of caramel, toffee, and woodsy undertones.
Pea Butter
It is primarily made from either brown peas or split yellow peas combined with that and is processed into a paste with additional ingredients, such as oils, salt, and sugar.
How does it taste? Brown pea butter has a nutty and slightly earthy flavor, somewhat reminiscent of roasted peanuts. It can be mildly savory with a touch of sweetness, depending on the specific brand and any added ingredients.
Mixed Seed Butter
Five-seed butter, also known as mixed-seed butter, is a nutritious spread made by blending a combination of various seeds. It typically includes a mix of seeds, such as sunflower seeds, pumpkin seeds, flaxseeds, sesame seeds, and chia seeds.
Some variations may also include additional seeds like hemp seeds or poppy seeds. These seeds are often roasted or toasted to enhance their flavor.
How does it taste? Essentially, the flavor will depend on the seeds used. It typically has a nutty and earthy taste. The texture is creamy and spreadable, similar to traditional peanut butter.
Tree-Nut Alternatives For Peanut Butter
The most popular alternatives to peanut butter that are made with tree nuts include almond butter, cashew butter, walnut butter, and pecan butter.
A few lesser-known alternatives include:
Homemade Peanut Butter As An Alternative
If you are seeking an alternative to commercial peanut butter as a means to reduce your calories instead of it being related to peanut allergies, why not first consider making your own peanut butter?
Homemade peanut butter is typically healthier than store-bought peanut butter since you can control the ingredients and reduce or eliminate ingredients such as added sugars, extra salt, oil, and preservatives.
Keep in mind that homemade peanut butter won't last as long as store-bought varieties with preservatives.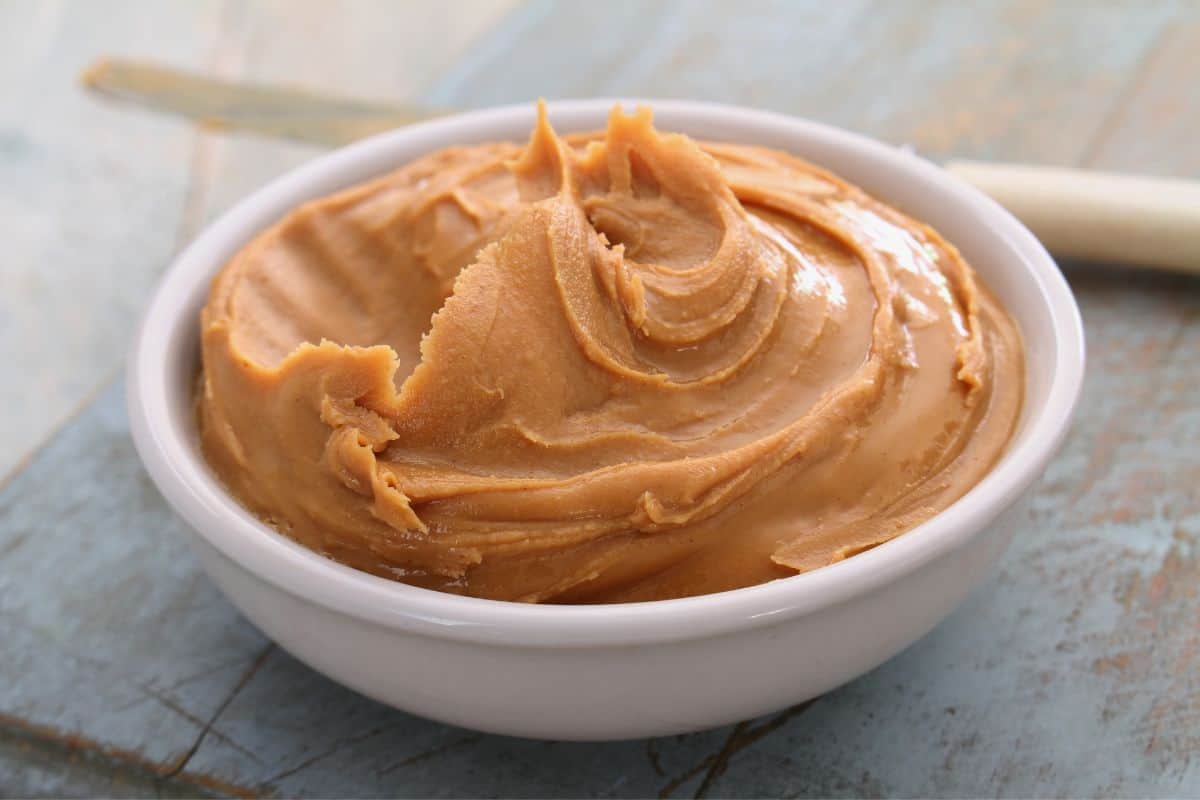 Other Options For Spreads
If you don't require a spread that is a close substitute for peanut butter, consider the following options for your toast, sandwiches, and crackers:
Cream Cheese
Salad Dressings
Bean Dips
Peanut Butter Substitutions For Baking
Peanut butter is used in baking as a binding or thickening agent. The type of peanut butter substitute you select may vary depending on the type of baked good.
For example, I recommend pecan butter, almond butter, macadamia butter, coconut butter, and pumpkin seed butter when baking cookies, while brownie recipes would benefit more from tahini, sunflower seed butter, almond butter, hazelnut butter, or Brazil nut butter.
Peanut Butter Substitutes For No-Bake Recipes
No-bake recipes require ingredients to keep them from falling apart. Almond butter, macadamia butter, hazelnut butter, pecan butter, soy butter, and coconut butter are all great for this purpose.
Peanut Oil Substitutes For Cooking
Sesame oil is a great substitute for peanut oil in cooking, especially if you still want a nutty flavor. Otherwise, you can use canola, grapeseed, or sunflower oil for frying purposes.
Tips For Choosing Peanut Butter Alternatives
When selecting your nut-free alternatives for peanut butter, you should look for a product that is safe for allergies, is similar to the consistency of peanut butter, tastes good, and won't wreck your budget!
Apart from these criteria, always check the labeled information of a product before you choose it as an appropriate alternative to peanut butter. If you have peanut allergies, you'll want to check that the product hasn't been made or stored in a facility that contains peanuts.
FAQs
Are peanuts actually nuts?
No, they are actually legumes!
What is the best peanut butter substitute?
This depends on the reason for seeking a peanut butter substitute as well as a person's taste preferences and allergies.
What tastes the most similar to peanut butter?
Sunflower seed butter and soy butter are said to be the most similar to peanut butter.
Are nut butters healthy?
Generally, yes since they are made from whole nuts although the nutritional value can decrease through the various processes of making the nut butter as well as the additional ingredients included, such as sugar, oil, and salt.
More Cooking Tips And Comparisons
I would appreciate it so much if you left a comment about this post below! Subscribe to join the TYB newsletter and receive free recipes straight to your inbox! Let's connect via Facebook, IG & Pinterest!