Hi! Welcome to my food blog - The Yummy Bowl and thank you for taking the time to read a bit about me.
My name is Julia and I love creating delicious recipes that are easy to make and want to help others to do the same.
I'm the blogger, recipe developer, photographer, and travel junkie behind the scenes here at The Yummy Bowl.
My focus is to share simple recipes that make it easy and quick) to feed your family real and yummy food. The foods you'll find here are packed with flavor, true comfort food recipes made from scratch.
Being gluten-free, you can still eat pasta and baked goods. I don't like to divide food into bad or good, I just believe that everything consumed in moderation and adapted to your dietary needs is the way to go.
And on this blog you'll find many different recipes, of course, all of them in fact, are gluten-free and some healthy (but not all and that is totally fine!).
I always try to give as many substitutions as I could think of in order to adapt the recipe to different allergies or intolerances.
I do not provide medical aid or nutrition advice for the purpose of health or disease nor do I claim to be a doctor or dietitian. I avoid gluten in my life due to health reasons and I'm also sensitive towards gluten.
I am currently working on creating more gluten-free baking recipes, dinners for two (many of you asked for this and soon I will be releasing an e-book with delicious skillet dinners for just two servings), vegetarian and vegan recipes, air fryer recipes, easy skillet, and one-pot meals, and kid-friendly meals.
I totally understand how hard it can be to prepare a healthy wholesome meal at the end of a long working day. I'm always trying to create new recipes having that in mind and making sure that these recipes are EASY and fun for everyone!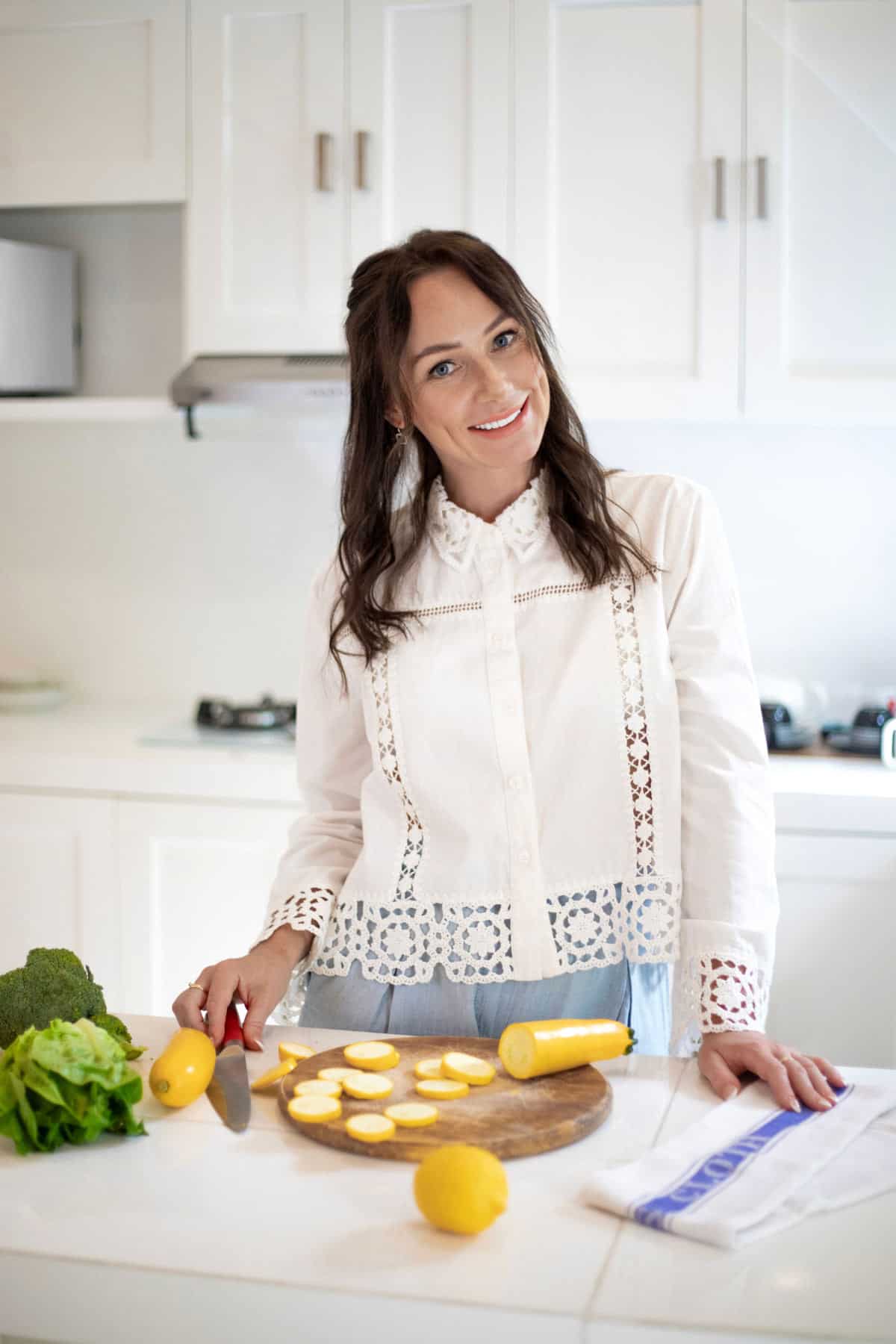 My promise to you:
All the recipes here are gluten-free but your family and friends will hardly ever notice the difference. Especially when it comes to dinner recipes.
Most of the recipes are made with real food and lots of fresh veggies. However, I do love a good healthy amount of cheese in my food, especially casseroles. You'll not find heavily processed and only some canned ingredients.
I provide detailed recipe instructions, process shots, tips, and substitutions so you can easily adapt each recipe to your needs.
You won't find any complex ingredients (unless it is necessary) in those recipes that you have to chase through the whole town to get.
Join our free Facebook Group that we've created with Cookrita to share our favorite yummy one-pot, skillet, and casserole recipes.
I want to point out that I'm not a professional and not trying to be one. But what I absolutely love is trying out a variety of cuisines, techniques, and tools and becoming better at it every time. And I'm always incredibly thankful and happy when you guys share your tips and tricks with me.
Feel free to message me directly or leave your questions in the comment section under posts.
I'd love to help you with any cooking questions you may have!
Few words about my story
Ever since I can remember, I've always been a massive foodie with a passion for photography.
Traveling the world (thanks to me working for years in Hotels in a number of positions (from Front Office to Restaurant Manager and more), that turned out I didn't actually like except the traveling part), exploring new cuisines, and places, and documenting all with my camera - these are my all-time favorite things to do.
Like for many of us, right?
Indeed, it sounds cliche. I know, I know, but that's what I looove!
I started this blog as a hobby, while I had to figure out what to do with myself after leaving a successful career in the hospitality industry and giving birth to my baby boy.
In fact, working exclusively for myself hasn't been easy (It's actually the hardest thing, for real!) but it's definitely worth it!
Nowadays we are so blessed to live in the era of tech where many of our dreams can be achieved and finally come true. And all this from the comfort of your home and laptop (with A TON of work of course!).
Anything is possible if you really want it! Your belief is everything.
I hope that if there is anything valuable that you'll take from this blog is, well, I hope it's the delicious recipes of course, but also the knowledge that you too, can change your life for the better.
Because If I could do it, then you can do it too. I am also always here for any questions you may have about blogging (that I love so much!), where and how to start, and how to make an income that will support you and your family. You can start with this post (a little outdated but I am working on refreshing the info very soon) - How To Start A Blog and Make Money. Check it out!
So whenever you see a chance, grab it and don't let it get away because oh boy, trust me, you'll regret it if you don't!
About The Recipes
So what other recipes you can find here?
Lately, I've been experimenting with some old-school family recipes that I got from my mom and grandma.
These recipes are inspired by Estonian, Ukrainian, and Russian culture, and my own recipes are collected from my travels to different parts of the world.
Be on the lookout for these. I can't wait to share them with you!
Well, I guess that's it, a bit about me!
The Most Popular Recipes On The Yummy Bowl
Don't miss these readers' favorite recipes:
My favorite part of blogging is hearing back from my readers when they've made these recipes.
I love to chat and can't wait to hear from you, so don't be shy and shoot me an email at julia@theyummybowl.com, leave a comment under my recipes or contact me via direct messages on IG or FB.
I read and respond to every feedback I get from you!
I'm so happy that you found this blog and can't wait to connect!
Love,
Julia