Almond flour is excellent for gluten allergies or to reduce carbohydrates, but is it the only gluten-free alternative available? Certainly not!
Nowadays it is easy to use different flours because we've got some options! Not only this creates an array of unique recipe possibilities but it also helps you to get a ton of nutrients from different plants.
Here we will share the best alternatives for almond flour and how to use them.
Before we dive into the almond flour substitutes available to you, it's worth understanding the popularity of almond flour.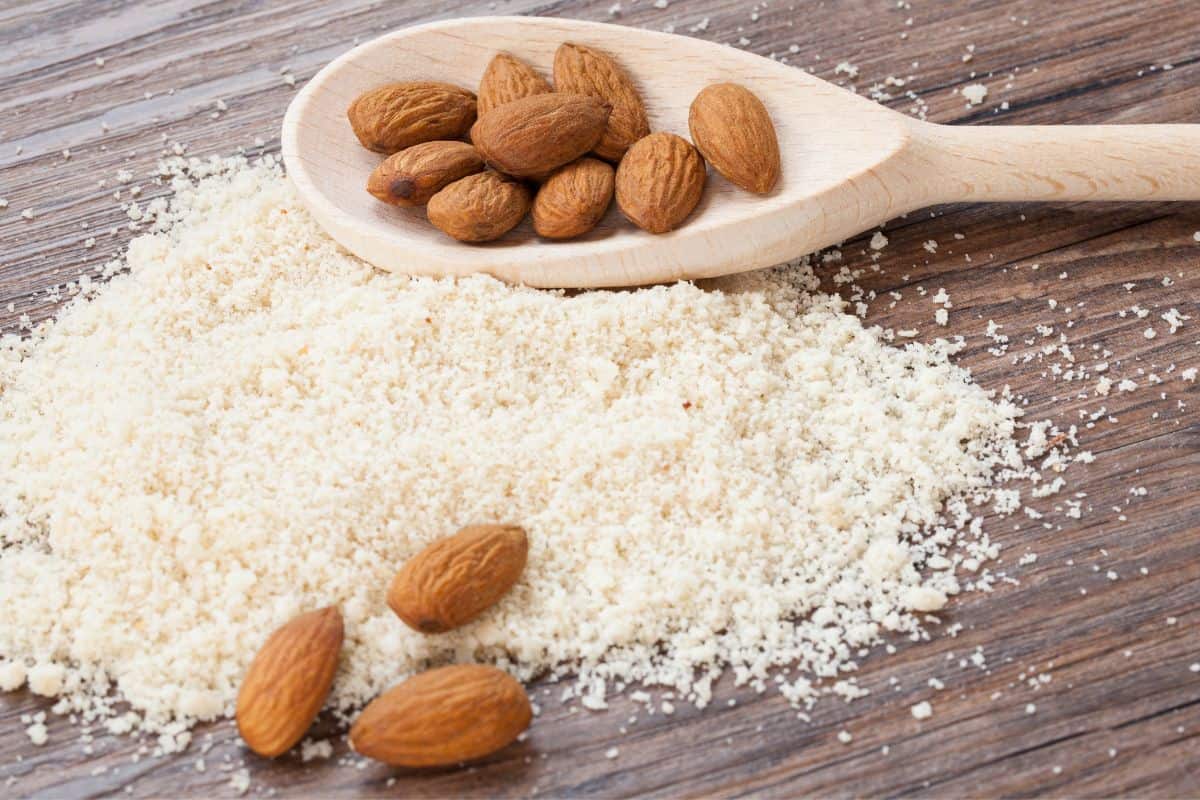 Substitutes For Almond Flour
Cashew Flour
Pecan Flour
Macadamia Nut Flour
Hazelnut Flour
Gluten-Free Flour Blend
Sunflower Seed Flour
Pumpkin Seed Meal
Flaxseed Flour (Flaxseed Meal)
Cassava Flour
Oat Flour
Plantain Flour
Coconut Flour
Wheat Flour
Rice Flour
Soy Flour
To understand what are these flours and how to use them, read on or use our table of contents below to jump to the relevant section.
Table Of Contents
Almond Flour Recipes
Almonds
Almonds, also known as sweet almonds or Prunus, are highly favored nuts due to their rich supply of vital nutrients.
Packed with fatty acids, lipids, amino acids, proteins, carbohydrates, vitamins, and minerals, they contribute significantly to a wholesome diet.
These versatile nuts are not only high in fat but can also be transformed into delightful almond meal, almond flour, almond milk, and almond butter.
What is Almond Flour?
Almond flour, despite being referred to as "flour," is essentially ground almonds processed into a fine powder. However, it possesses a distinctive consistency that sets it apart from regular flours.
As a result, a 1:1 substitution in most recipes may not yield the desired results, and where the addition of binding agents like tapioca starch, coconut flour, or eggs are needed to achieve the right texture and structure.
We love making perfectly moist cakes, quick breads with almond flour, or using almond flour as a healthy gluten free ''breading'' option for roasting veggies such as cauliflower wings and zucchini fries.
Perfect For Keto
Nonetheless, almond flour is an excellent alternative to grain flour, particularly for those following ketogenic diets due to its high-fat content.
However, it should be consumed in moderation for this diet as it is high in net carbs. It is often combined with coconut flour to enhance its low-carb appeal.
Almond Flour vs. Almond Meal
Almond flour and almond meal differ in their production methods and ingredient composition.
Almond meal consists of almonds ground with their skins intact, while almond flour is made from blanched almonds, meaning the skins have been removed prior to grinding.
Despite this distinction, both can often be used interchangeably in baking and savory recipes producing very similar results.
What Does Almond Flour Taste Like?
Almond flour tastes nutty, slightly sweet, and creamy. For savory recipes, you won't feel the almond flavor that much but if used as the main ingredient in baking it gives the sweet nutty aroma and flavor to any decadent dessert.
Overall, the flavor of almond flour isn't overpowering, but will vastly depend on a particular recipe.
What Flour Is Closest To Almond Flour?
We recommend using other nut-based flours as your first option. They are the closest alternative to almond flour.
You can often use a 1:1 ratio as a substitute for almond flour.
Some of these substitutes may vary in strength of flavor and in texture, so it's always a good idea to experiment first.
We will go into more detail about each replacement below.
Which Almond Flour Substitute Tastes Best?
In terms of flavor, nut flours are still the winners. They are suitable for baking and have a great texture similar to almond flour.
But if you have a nut allergy then cassava, sunflower seed flour, and in some cases coconut flour can be one of the best alternatives to almond flour.
However, recipe adjustments are almost always needed if you are using almond flour alternatives.
About Almond Flour Substitutes
In this section, we'll deep dive into different nut-free options, gluten-free, seed flours, and other possible substitutions for almond flour. Read on!
Nut Flours
Swap almond flour with other nut flours like cashew, macadamia, or walnut. If needed, you can easily grind unflavored, unsalted nuts in a food processor.
Plus, nuts provide essential minerals, vitamins, and fiber, and research suggests they may protect against cardiovascular disease.
These nut flours have similar textures and fats to almond flour, making them easy substitutes.
In most cases, you can substitute these ''flours'' with a 1:1 ratio for almond flour. However, depending on the recipe you may need to make slight adjustments.
1. Cashew Flour
If you prefer nut flour with a lighter flavor, go for cashew flour. Cashews have a milder taste and absorb flavors well. It's an excellent option for gluten-free baking that still gives your treats a classic wheat flour taste.
Use cashew flour as a 1:1 replacement for almond flour in a recipe.
2. Pecan Flour
Pecans offer a rich, smooth taste that is perfect for baking and cooking. If you can get your hands on pecan flour, it might work even better than almond flour in some recipes.
Pecan flour is also excellent for binding and thickening, making it a great addition to desserts and creamy sauces.
You can replace almond flour with pecan flour on a 1:1 basis.
3. Macadamia Nut Flour
Macadamia nut flour delivers a distinct and delightful flavor for macadamia nut enthusiasts. With its higher fat and lower carb content, macadamia nut flour is a great fit for paleo or keto-friendly baking.
Use it as a direct 1:1 substitution for almond flour in any recipe.
4. Hazelnut Flour
Hazelnut flour, made similarly to almond flour, has a lighter texture and doesn't bind as well.
Its crumbly texture is perfect for gluten-free pie crusts, scones, and certain cookies, serving as an excellent alternative to almond flour. Swap hazelnut flour equally for almond flour in these recipes.
Good to know: Hazelnut flour lacks the necessary structure for dense cakes and some baked goods. To address this, it is often used with another type of flour for better results.
5. Gluten Free Flours
While almond flour is a type of gluten-free flour, not all gluten-free flour blends can be used as a 1:1 substitution for almond flour.
As almond flour doesn't have binding agents needed in baking, a good quality gluten-free flour does usually have either xanthan gum, guar gum or similar included. This will depend on the specific brand and other ingredients in their recipes. And if it doesn't, you can always add xanthan gum to your recipes.
From our experience, when substituting almond flour (in some recipes) with gluten-free flour, remember the 1:2 ratio rule. So, if the recipe needs 2 cups of almond flour, use around 1 cup of gluten-free flour blend.
Keep in mind that you might need to do some testing as different brands have varying consistencies in their gluten-free flour blends.
Gluten-Free Flour Vs Almond Flour
These flours are quite different in many ways. Here's a short comparison of both:
Gluten-free flour
Typically a blend of gluten-free grains.
The texture is designed to mimic regular flour.
Usually higher in carbs and lower in fat.
Has a neutral flavor.
Already includes binding properties.
Almond Flour
Purely ground almonds.
Texture is usually coarser than other flour.
Lower in carbs and higher in fat.
Slightly nutty and sweet flavor.
Requires a binding agent/ingredient to be added to the recipe.
How To Make Gluten Free Flour
It's easy, and you just need 4 ingredients and 5 minutes.
Follow our recipe for all-purpose gluten-free flour that can be used in both sweet and savory recipes.
If you don't want to make your own, we like to use Schar (it's widely available in the EU but less in the US) or more popular in the states Bob's Red Mill.
Nut Free Substitutions
If you prefer a nut-free option, many seeds can provide a similar taste and texture to almond flour and are readily available.
These substitutions work well in any recipe that calls for almond flour.
6. Sunflower Seed Flour
Sunflower seed flour is a gluten-free option crafted by grinding sunflower seeds into a fine powder. Sunflower seed flour is relatively easy to find in stores or online.
Since it's free from nuts, it's an excellent choice for individuals with nut allergies, as well as those adhering to paleo and keto diets.
Sunflower seed flour is a popular alternative to almond flour since it has a similar texture. It can be used in recipes like cakes, muffins, and cookies.
Good to know: To avoid any green coloration from the chlorophyll in the seeds, some suggest adding cream of tartar to the recipe.
Some adjustments are surely needed, as sunflower seed flour can be more absorbent than almond flour, which could affect the overall texture of the final product.
7. Pumpkin Seed Meal
Its coarse flour-like texture delivers a delightful nutty taste without actual nuts. It's not widely available and it is best to order it online.
Swap pumpkin seed meal for an almond meal in a 1:1 ratio.
8. Flaxseed Flour
Flaxseed flour offers a unique flavor and texture, adding a nutty and slightly earthy taste to baked goods. Flaxseed is rich in fiber, omega-3 fatty acids, and various nutrients, making it a nutritious choice.
📋 Flaxseed flour, flaxseed meal, linseed meal, milled or ground flaxseed are essentially the same product.
To use flaxseed flour in recipes, you can typically replace almond flour with an equal amount. However, due to its high fiber content and absorption properties, you may need to adjust the liquids in the recipe to achieve the desired consistency.
Flaxseed flour works well in various baked goods, such as muffins, bread, and cookies. It can also serve as a binding agent in eggless or vegan recipes.
9. Cassava Flour
Cassava flour is another popular substitute for almond flour due to its being gluten-free and nut-free. Cassava flour has a fine and powdery texture similar to almond flour, making it easy to use as a 1:1 replacement in many recipes.
It can be used in various baked goods such as cookies, muffins, pancakes, and bread. Thanks to its neutral taste it's also suitable for breading meats or vegetables, creating a crispy and gluten-free coating.
10. Oat Flour
Oat flour has a lighter texture than almond flour, adding a delightful nutty taste to baked goods while keeping them fluffy. However, it has more carbs and fewer calories and fat than almond flour.
You can get oat flour either from a store or by finely grinding rolled oats using a food processor or blender.
Although oats are naturally gluten-free, cross-contamination during manufacturing can introduce gluten. So, if you're gluten intolerant, opt for oats explicitly labeled as gluten-free.
11. Plantain Flour
Plantain flour is an excellent substitute for almond flour for several reasons. Its starchier texture is perfect for achieving a denser consistency in baked goods.
Beyond baking, plantain flour can also be used to thicken sauces and soups, adding to its versatility. Moreover, it is seed-free, making it suitable for those with seed allergies.
Lastly, its unique flavor can bring a delightful twist to your recipes. Overall, plantain flour offers a tasty and practical alternative to almond flour in a variety of dishes.
12. Coconut Flour
Coconut flour has a unique, slightly sweet flavor and a fine texture, which adds a delightful taste to baked goods. It is highly absorbent, so it's essential to use it in combination with additional liquids in recipes.
When using coconut flour in recipes, mix it with gluten-free flours like tapioca or rice flour for better texture and binding.
You can try a 50:50 mix of coconut and tapioca flour, and consider adding extra eggs or liquid for the right texture when substituting for almond flour.
Which is Healthier Almond or Coconut Flour?
In short, both almond and coconut flours have their health benefits. Almond flour is rich in healthy fats and nutrients like vitamin E and magnesium, while coconut flour is lower in carbohydrates and contains MCTs.
In terms of our nutrition, coconut flour is slightly healthier than almond flour. Read more on almond flour vs coconut flour.
They are both gluten-free, but almond flour might not be suitable for those with nut allergies. Choose based on your dietary preferences and needs.
13. Wheat Flour
Wheat flour and all-purpose flour have higher carbohydrate content and are devoid of fat when compared to almond flour. As a result, individuals following a paleo or keto diet might find wheat flour unsuitable due to its macronutrient profile.
If you're looking for steady energy and weight management, whole wheat flour's the way to go. It's got slower sugar absorption than refined white flour.
When swapping wheat flour for almond flour in recipes, you might need to tweak some other ingredients to make it work.
Can I Use Regular All Purpose Flour As An Almond Flour Substitute?
Yes, all-purpose flour is more affordable, has a neutral flavor, and works well in a variety of recipes, providing structure and elasticity due to its gluten content.
On the other hand, it lacks the nutty flavor that almond flour has. But an easy trick is to add almond extract to your baked goods.
14. Rice Flour
Substituting rice flour for almond flour is possible, but it's not a straightforward swap.
While a 1:1 substitution is a starting point, you may need to adjust it depending on the results you want. Keep in mind the flavor, texture, and absorbency differences between the two flours, along with the greater elasticity of rice flour.
Rice flour is excellent for making noodles and works well as a thickener in sauces and soups. It can also be used in baking to achieve softer textures, although it may have a slightly sandy consistency.
For baking with rice flour, opt for the finest grain available to get better results.
Almond Flour vs Rice Flour
Here's a short comparison of the two:
Flavor: Rice flour has a very neutral taste, especially white rice flour, making it ideal for dishes where you don't want the flour's taste to be noticeable. On the other hand, almond flour has a nuttier taste, resembling the flavor of almonds, providing a toasted almond essence in cooking.
Texture: Rice flour has a sandy consistency, while almond flour offers a smoother texture. Whether this is advantageous or not depends on the specific recipe being prepared.
Absorption: Almond flour tends to be oily due to its nut content, making it less likely to absorb liquids easily. Conversely, rice flour is starchy and has good liquid absorption properties.
15. Soy Flour
Soy flour can be used as a substitute for almond flour, but there are some differences to consider. Soy flour has a more beany flavor compared to the light almond flavor of almond flour.
Texture-wise, soy flour is finer and lighter, while almond flour contains more moisture. This variance in texture can impact the outcome of baked goods.
If you're using soy flour instead of almond flour in a recipe that originally calls for almond flour alone, you may need to increase the amount of liquid to account for soy flour's relative dryness.
Avoid using soy flour in milder-tasting breads and cakes, as the soy flavor might dominate the overall flavor profile.
What Can I Substitute For Almond Flour On Keto?
Coconut flour, sunflower seed flour, pumpkin seed flour, sesame seed flour, or hazelnut flour can be used instead of almond flour when trying to stick to a low-carb diet.
However, recipe adjustments are needed as some of these substitutes absorb more liquid than almond flour.
FAQs
What is different about almond flour?
Almond flour is a healthier alternative to traditional all purpose flour, it's gluten-free, has a nutty flavor, and is made from ground almonds, providing a deliciously moist texture to baked goods.
Why is almond flour low-carb?
Almond flour is low carb because almonds are naturally low in carbohydrates but high in fat. When ground into flour, it retains this characteristic, making it a suitable option for low-carb and ketogenic diets.
Why almond flour is better than most flours?
Almond flour is often considered better than most flours due to its gluten-free nature, nutty flavor, and higher nutritional content, including fats, protein, and fiber. Like all nuts, almond flour is high in calories and should be consumed in moderation.
What happens if you use regular flour instead of almond flour?
The texture, flavor, and level of moisture will differ in recipes if a switch has been made from almond flour to regular flour. It could also make the recipe unsuitable for dietary requirements.
Is almond flour all-purpose?
No, almond flour is not all-purpose. It is gluten-free, while all-purpose flour is made from wheat containing gluten. To replicate the elasticity of all-purpose flour, almond flour needs to be combined with eggs or xanthan gum in baked goods. Apart from this distinction, almond flour has higher fat content, lower carbohydrates, and generally offers greater nutritional value than all-purpose flour. It cannot be used as a direct substitute without adjusting the recipe accordingly.

Other Cooking Tips and Substitutions
For more tips, head over to our Cooking Tips archives.
I would appreciate it so much if you left a comment about this post below! Subscribe to join the TYB newsletter and receive free recipes straight to your inbox! Let's connect via Facebook, IG & Pinterest!