This fried halloumi salad with beetroot is tender, crisp and nutritious! The light dijon mustard, vinegar, and olive oil dressing adds the perfect cherry on the top and brings all the flavors together perfectly.
A light salad that tasted good on its own with some crusty gluten-free bread, crackers, or croutons on the top. Or serve as a side dish with baked fish, or meats.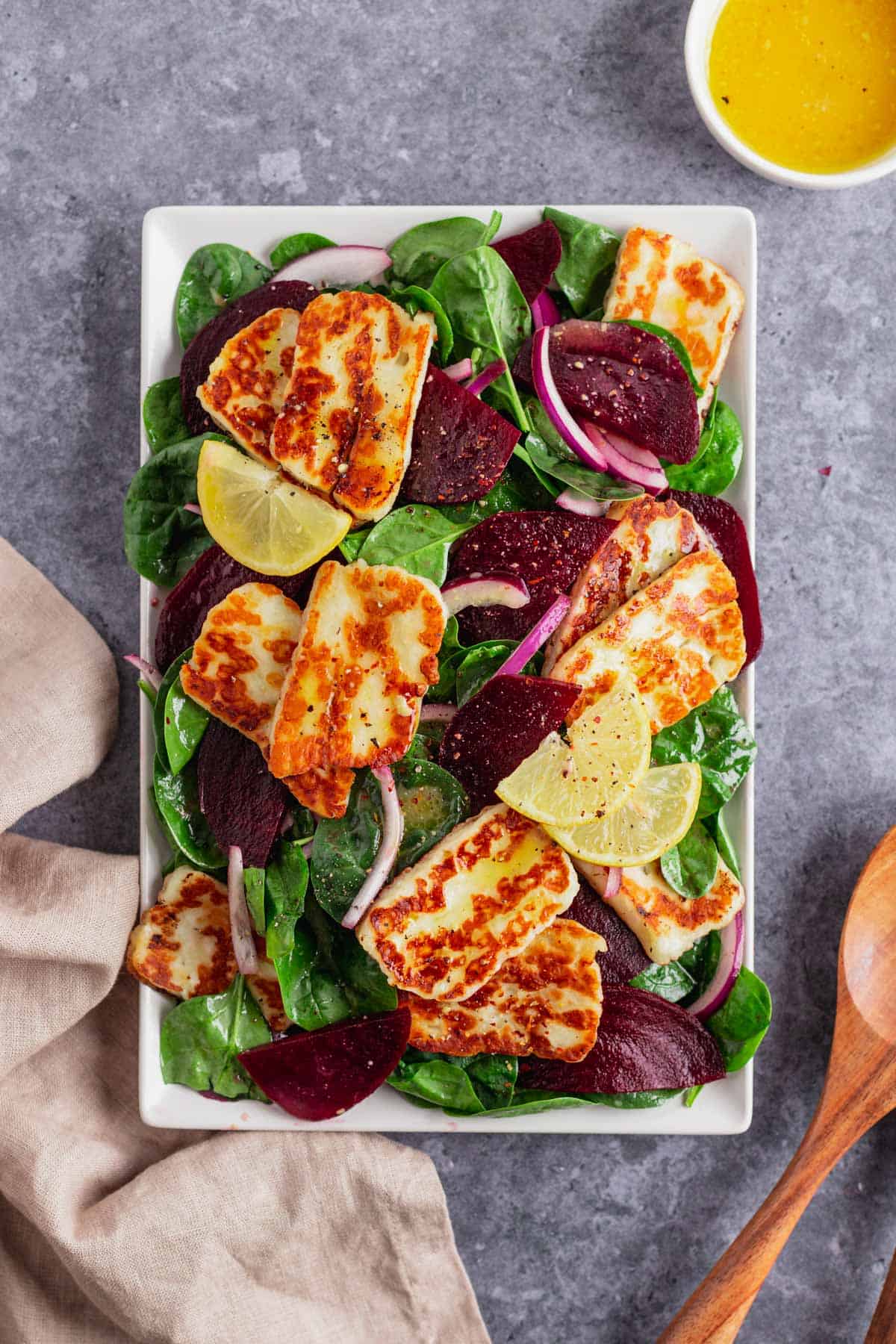 Halloumi is a popular cheese in Greek cuisine and is usually served in a mixed salad with arugula, tomatoes, cucumbers, onion, feta cheese, and olives.
If you haven't incorporated more veggies in your menu, it's about time. Adding more toppings and cheese will make them more tasty for sure.
From my Vegan Sheet Pan Dinner, Beetroot and Feta Salad to Easy Asparagus With Cheese And Tomatoes. This Pan Fried Halloumi and Beetroot Salad tasted absolutely heavenly.
There are so many of you, different readers, here at the Yummy Bowl - some of you like to get straight to the recipe ingredients and instructions, and some of you love reading the full information with tips and tricks that I provide for the recipe.
There is a skip to recipe button in the top left corner along with a clickable table of contents list (just below) that will quickly take you to the part you are more interested in. Enjoy!
Jump To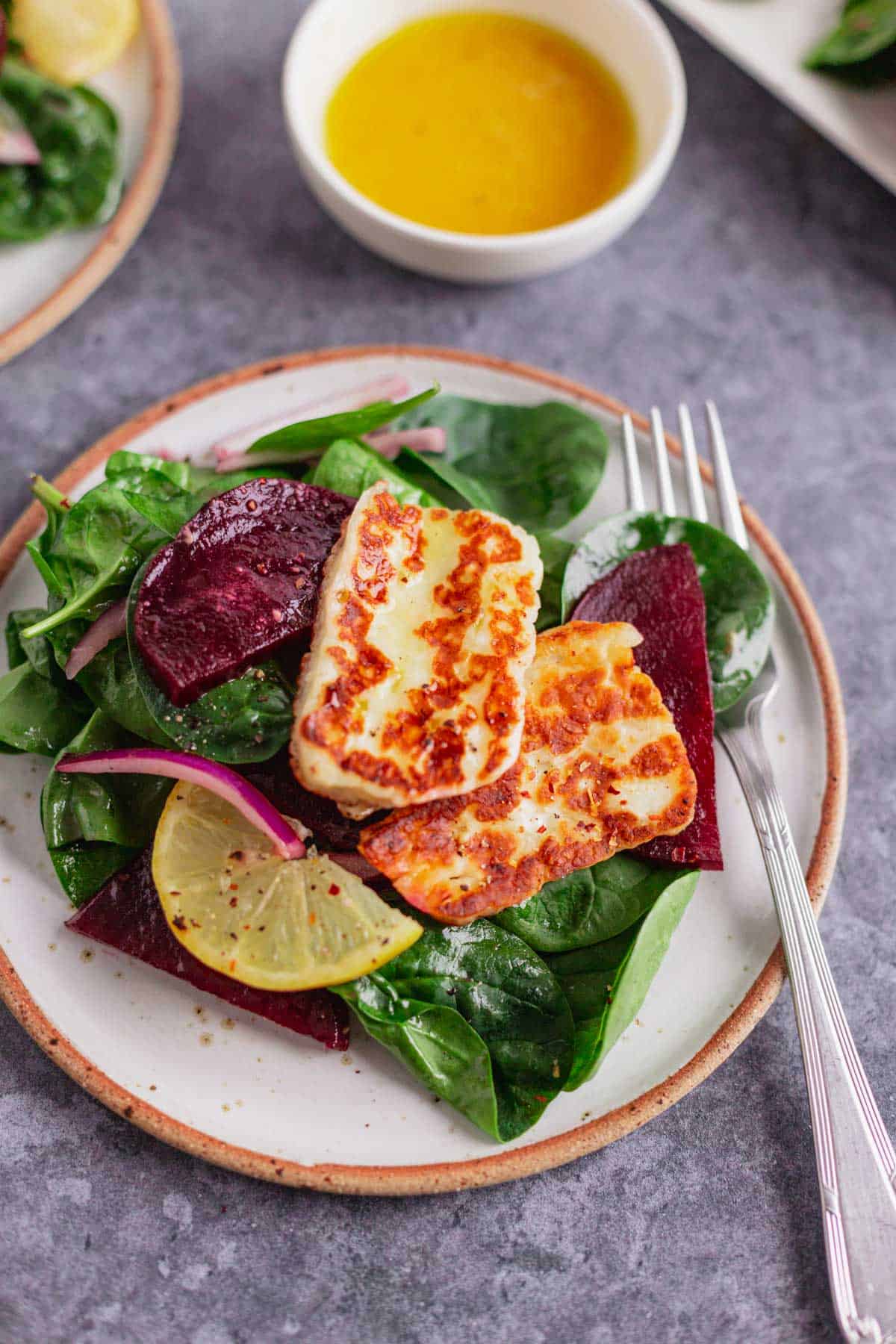 Ingredients
My few comments on the ingredients + don't forget to read the Tips section!
The full recipe and ingredients can be found in the recipe card below this post.
Savory Halloumi cheese - it's a creamy slices of this unripened Mediterranean cheese made out of goat's and sheep's milk, and sometimes also cow's milk. After frying, this soft cheese provides just enough saltiness (and a little crispiness!) to allow the other flavors to shine. Cheese just makes things so much better.
Beets - beets are a nutrient powerhouse root vegetables! For this recipe, prepare the beets as you like - boil, steam, or roast the beets in the oven.
Baby spinach - arugula, romaine, butter lettuce, or other similar vitamin-packed lettuces will be a great choice here. I usually add at least 2 different types of lettuce.
Dressing - Dijon mustard is the key element in this creamy dressing along with a good quality olive oil that just seals the deal. Regular mustard is not a great idea to use, it is too overpowering. To mix things up, even more, add fresh chopped or dried Italian herbs such as thyme, basil, oregano, rosemary, or simple parsley to the dressing. These herbs are the perfect pairing combination when it comes to beets and halloumi cheese.
Instructions
Place all the dressing ingredients in a small bowl or a jar and shake/stir like crazy. Set aside (for best flavor, let chill in the fridge for 30 minutes-1 hour).
Heat up a little cooking oil in a nonstick or similar frying pan over medium heat. Add the halloumi slices (about a ¼-½ inch thick) and cook them until golden brown on both sides (about 2-3 minutes).
Transfer to a plate lined with a paper towel to drain the excess oil. You can keep the halloumi warm in a preheated oven before being ready to serve. If you have a grill, fry the cheese there which will add an appetizing smoky layer to it.
Assemble the salad. In a large bowl, mix the spinach leaves, half of the dressing, and red onions in a bowl.
Gently mix to combine. Arrange other ingredients on a serving platter and add beetroots (I like to add a pinch of salt to the beetroot before serving), halloumi, and top with more dressing right before ready to serve.
You can add a squeeze of citrus juice or a little lemon zest for a pleasing aroma and delicious flavors.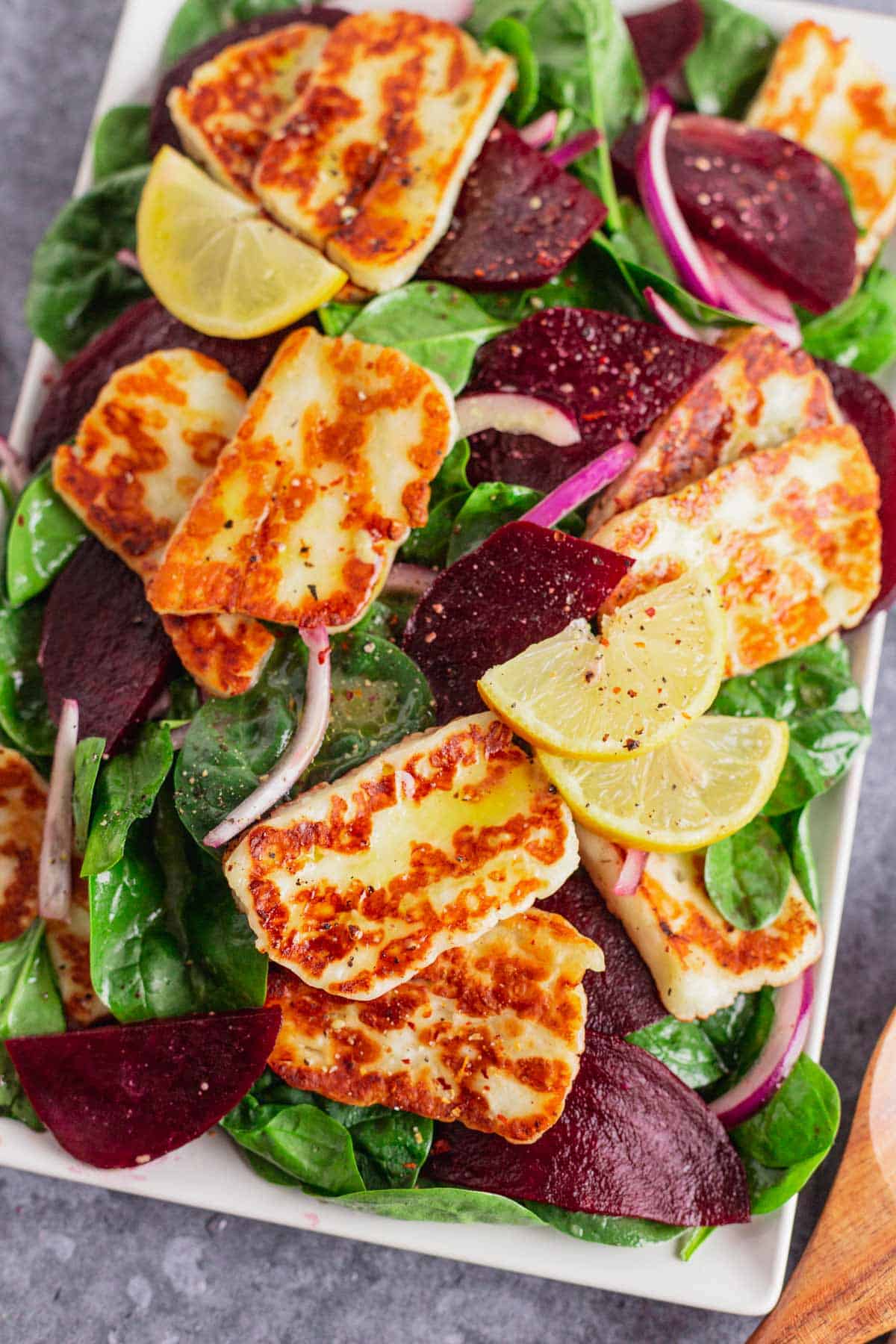 Tips
I prefer minimizing my time handling the beetroot because it gives stains everywhere so I like to cut it in thinner half circles or wedges. You can cut the beetroot into thinner strips using mandoline or julienne peeler.
Customize the salad even further and make it a bigger lunch salad served as a main course. What I like to add: Quinoa, edamame beans, chickpeas (preferably roasted), carrots, avocados, and extra lettuce choices.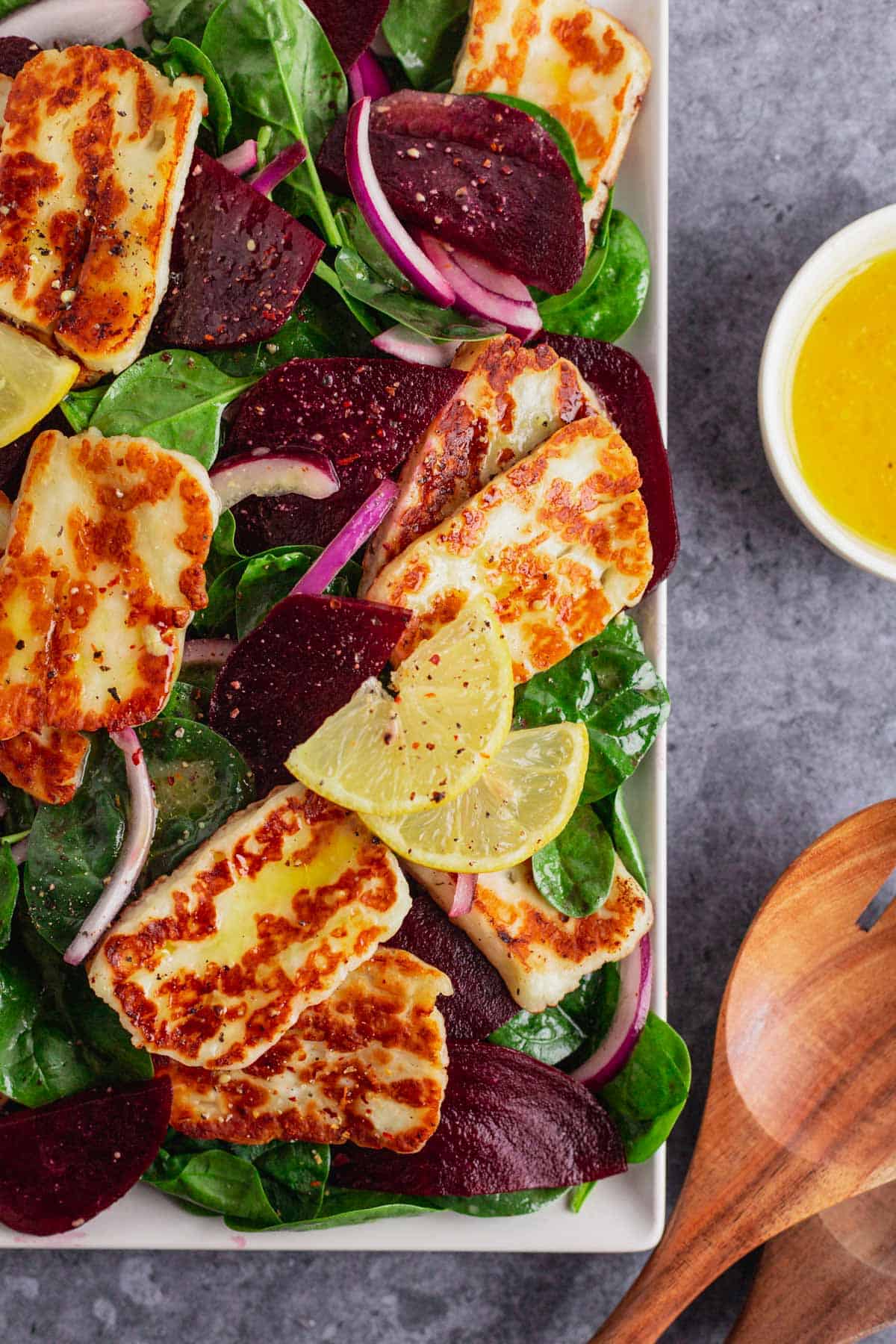 If you have time, marinate the red onion in red wine vinegar for 15-30 minutes. If you don't have time, no worries it will still taste good. Red wine vinegar has a strong flavor that can be used instead of apple cider vinegar for the dressing. The flavor is incredible!
Beetroot - I used boiled beets bought from the store (already packaged). But you can definitely use roasted beets as they retain the most flavor and nutrition value. I love beetroot and describe how to roast beetroot very easily in this recipe.
Things will get messy - Beet juice stains everything very easily and I recommend caution and wearing gloves when handling the veggies. Also, don't use your favorite cutting board as it may get hard to get it cleaned.
Fried Cheese - I like to serve halloumi warm and therefore I cook it at the last minute. Serve as fresh as it comes so it retains its crispy exterior with a soft and a little squeaky texture inside. Alternatively, cook the cheese and keep in preheated oven until ready to serve.
Halloumi bites - Cut the cheese into wider sticks or smaller thin slices or bites. Just keep in mind smaller/thinner cheese sticks will cook faster.
Ways to serve halloumi cheese - My favorite ways to enjoy baked or fried halloumi cheese is as an easy appetizer just as it is or with a dipping sauce or in light lettuce-based salad. Serve this as you would mozzarella sticks!
Freezing And Storing Instructions
The salad is meant to be consumed on the same day. The spinach or arugula leaves mixed in the dressing won't keep fresh for a long time and thus is better to consume right away, as fresh as it comes!
However, this doesn't apply to halloumi cheese!
Once you've fried halloumi, it can be refrigerated for 1-2 days. Reheat in the warm oven for a couple of minutes (preferred method), or in the microwave, or air fryer. No freezing!
FAQ
Is it best to grill or fry halloumi?
Either grilled or pan-fried halloumi tastes better than raw. It has a slightly crisp golden brown exterior and a soft salty texture and flavor on the inside. Grilling gives a little smoky flavor to it and is great for serving as an appetizer with a dipping sauce.
Why is my halloumi dry?
I find that cutting halloumi into very thin slices makes the flavor too dry after frying. Try to get the slices at least ¼ to ½ inches thick, which will help to maintain it's soft snd gooey texture in the middle.
Easy Salad Recipes
ALL SALAD recipes.
I hope you'll enjoy this Pan Fried Halloumi And Beetroot Salad recipe, please leave a rating on this recipe below and leave a comment, take a photo of your food and tag me on Instagram @theyummy_bowl. I love seeing your creations!
Thank you for reading,
Love,
Julia
I would appreciate it so much if you left a comment about this recipe below! Subscribe to join the TYB newsletter and receive free recipes straight to your inbox! Let's connect via Facebook, IG & Pinterest!
Recipe
Pan-Fried Halloumi And Beetroot Salad
This fried halloumi salad with beetroot is tender, crisp and nutritious! The light dijon mustard, vinegar, and olive oil dressing adds the perfect cherry on the top and brings all the flavors together perfectly.
Print
Pin
INGREDIENTS
For Salad
1

packet

(8 oz halloumi cheese (block of halloumi cheese))

4

cups

baby spinach

(washed and dried)

2

medium beetroot

(cooked (boiled, grilled or roasted))

1

small red onion

(sliced into half moon or circles)
Dressing
3

tablespoon

Olive oil

1

tablespoon

Dijon Mustard

1

teaspoon

lemon juice

Salt to taste

Black pepper to taste

2

tablespoon

apple cider vinegar or red wine vinegar
INSTRUCTIONS
Place all the dressing ingredients in a small bowl or a jar and shake/stir like crazy. Set aside (for best flavor, let chill in the fridge for 30 minutes-1 hour).

Heat up a little cooking oil in a non stick or similar frying pan over medium heat. Add the halloumi slices (about ¼-½ inch thick) and cook them until golden brown on both sides (about 2-3 minutes). Transfer to a plate lined with paper towel to drain the excess oil. You can keep the halloumi warm in a preheated oven before ready to serve. If you have a grill, grill the cheese there which will add an appetizing smoky layer to it.

Assemble the salad. In a large bowl, mix the spinach leaves, half of the dressing, and red onions in a bowl. Gently mix to combine. Arrange others ingredients on a serving platter and add beetroots (I like to add a pinch of salt to the beetroot before serving), halloumi and top with more dressing right before ready to serve. You can add a squeeze of citrus juice or a little lemon zest for a pleasing aroma and delicious flavors
PRIVATE NOTES
(Nutrition information is calculated using an ingredient database and should be considered an estimate.)