Guacamole is undoubtedly one of the most well-known and loved dips that can be bought in-store or made from scratch in the comfort of your kitchen with minimal ingredients or effort.
Despite being a very simple dish, we want to enjoy it the right way and it is important to know how long does guacamole lasts in the fridge.
Whether you want to enjoy this nutritious and delectable dip with tortilla chips as a party appetizer or use it as a topping or spread, there're endless ways to enjoy homemade guacamole and to adapt it to suit your taste preferences.
Table Of Contents
How To Store Guacamole
Once guacamole has been made, an enzyme in the flesh of the avocado that is exposed to oxygen reacts and turns that layer a brownish color.
This process is known as oxidation and is exactly the same reaction occurring in apple slices, bananas exposed to oxygen.
So How Long Does Guacamole Last In The Fridge? It makes sense then that guacamole needs to be stored in an airtight container in the refrigerator when not being consumed. Refrigerated guacamole will last for 2-3 days and is still edible even if slightly brown.
PRO TIP! However to limit the discoloring, simply place fresh guacamole into a bowl or airtight container, add lime juice on top of the guacamole and pour a layer of room temperature water on top. Just about 1 inch or 2.
Finish with a layer of plastic wrap over the top so that there is no contact with any air in the storage container. Keep refrigerated. This way your guacamole will remain green (a few brown spots may still occur) for longer.
The next day or when ready to enjoy, simply pour the visible layer of water out, and gently remove the top layer with lime juice. Underneath you'll have perfectly green guacamole to enjoy!
Be sure to make a taste test before digging in. No more brown guacamole!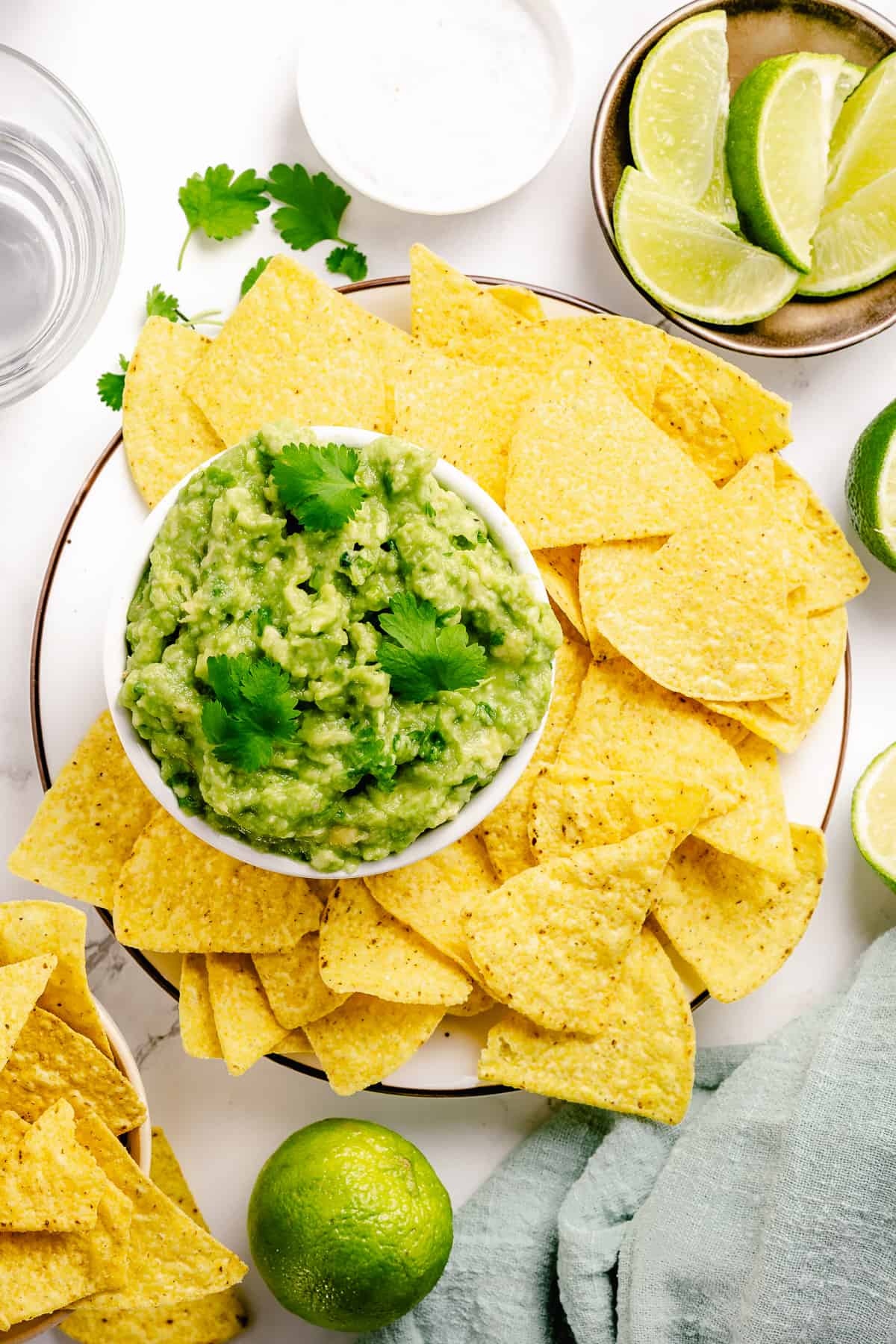 How To Freeze Guacamole
In case you have some leftover guacamole you can freeze it. Although I don't recommend this option due to the loss of nutrients and possibly a change of texture after thawing.
Guacamole can be stored in an airtight container, Ziploc bag, or even in ice cube trays, for up to 3-4 months.
Make sure to squeeze all excess air from the Ziploc or freezer bags used to store the guacamole.
Likewise, to limit exposure to air, press a sheet of plastic wrap against the top surface area of the guacamole that's been stored in an airtight container or ice cube tray.
Proceed to secure the container with a sealable lid or wrap the ice cube tray with additional plastic wrap.
How To Thaw Guacamole
Frozen guacamole should be thawed in the refrigerator prior to use but if you are in a rush, simply place the sealed Ziploc bag, container, or ice cube tray into a bowl of cold water for about 30-40 minutes.
For food safety reasons, do not allow the frozen guacamole to thaw at room temperature without the aid of a bowl of cold water.
When Avocado Goes Bad - How To Tell
Bad guacamole - freshly made guacamole doesn't like warmer temperatures and is prone to quickly developing mold and bacteria inside. In addition, if not handled properly it can lead to foodborne illnesses.
An easy way to tell that avocados are gone bad is when they are too soft to touch. It is a sure sign that the avocado you are holding is overripe and potentially bad inside.
Once opening the avocado, it'll soon become clear that avocado is no longer suitable for consumption if the flesh is mostly discolored, if there is mold present, or if the avocado has a rancid, sour or weird bad smell.
What happens if you eat bad guacamole? Can old guacamole make you sick? It may be a sign of mold present and is unhealthy for consumption.
How To Pick An Avocado
The main ingredient for guacamole - is choosing the best quality and perfectly ripe avocados. When shopping for avocados make sure you choose them with stems attached.
Because if there is no stem anymore and the avocado seems soft, then it's more likely that your avocado will have brown spots inside. These are the two easiest first signs of spoilage that you can spot right away.
Next, do a so-called press test. Gently press your thumb into the skin around the avocado. If the avocado yields to firm gentle pressure, it means it's ripe and you're good to go.
Avoid too soft avocados, as this means they are overripe and the browning process has already started.
What Types Of Avocado Is Best For Guacamole
While you can make guacamole with any type of avocado, most will agree that the Hass avocado strain is the best for making guacamole since it has an intense flavor and the flesh is ultra-creamy. The Hass is one of the most widely grown avocado varieties.
If you don't have Hass avocado available, another way to ensure that you get the best avocados for your homemade guacamole is to carry out a few simple inspections:
Press gently on the outer skin of an avocado. The flesh of a ripe avocado will give way slightly. If it doesn't then the avocado is unripe. If it's too soft then it's overripe.
A ripe avocado will have a darker skin color while an unripe avocado will be a bright green. The skin color should be predominantly dark green with a little black.
Check the integrity of the avocado skin. If an avocado appears to be split or have any lumps, or odd markings then it's best to skip past and select another avocado.
How Long Avocados Last Unrefrigerated
An unripe avocado will last for about 3-5 days before maturing at which point it will last for another few days but is best stored in the refrigerator at the time of ripening.
If your avocados are already ripe then they will only last at room temperature for 2-3 days before use.
What Do You Do With Guacamole
How and What to serve with guacamole?
I think the best way is to go for something light, homemade type and foods with only fresh ingredients.
On toast - egg or salmon avocado toast with creamy guacamole are my favorite! (or with Eggs Benedict or Eggs Royale)
Sandwiches, burgers
Add sour cream to your guacamole and you have a perfect avocado dip for your nachos. Don't forget the Nacho cheese sauce!
Salad dressings
Loaded potatoes - especially with sweet potatoes!
Want more? Here are 9 awesome ways to use Guacamole!
What Are The Benefits Of Eating Guacamole
What is guacamole good for in your body?
Avocado is a super nutrient-rich fresh food! They are delicious and a great source of monounsaturated fat, which can reduce your risk of heart disease.
Loaded with fiber, which helps you to feel full for longer
Contains more potassium than bananas
Good source of B vitamin which helps to fight off the diseases
Contains Vitamin C and E
Contains natural plant chemicals that may help to prevent cancer
FAQ
Does keeping the pit in an avocado keep it fresh?
 Once you open the avocado, the browning process will start as the flesh is exposed to oxygen.
If you're not planning to consume the entire avocado right away, then one way to keep it fresh for longer is to leave the avocado pit inside. The flesh underneath the pit will remain fresh for longer with only a few black spots. For best results, drizzle some lime juice on top and tightly wrap the remaining avocado half in plastic wrap and refrigerate.
 
 
Can guacamole make your stomach hurt?
Like with any food, guacamole should be consumed in moderation. Avocados are a great source of fiber, they are rich in good-for-us fats and are high in carbohydrates. If you eat too many avocados and guacamole in one sitting, you may upset your stomach and cause abdominal pain. It will slow down the digestion process and in the end, may lead to constipation. But this may happen with any other similar high nutrient foods. So everything in moderation, small portions, and washing hands and produce will keep your gut healthy!
Is it OK to eat brown avocado?
Can You Eat Brown Guacamole? Guacamole food poisoning? Fresh avocado flesh has a vibrant green hue and is somewhat soft to touch. These are considered perfectly ripe and ready to eat right away. However, avocados with some brown spots inside are okay to eat if overall the fruit looks fine, without a hint of a smell of fermentation. If you feel uncomfortable, simply cut the black spots out and eat. Brown spots may occur to bruising for example and don't necessarily indicate spoilage.
Always use your best judgment and if the fruit flesh has become darker in color, mushy, and with an off odor, throw it away as it highly likely has some mold present.

Easy Avocado Recipes
Thank you for reading,
Love,
Julia
I would appreciate it so much if you left a comment about this recipe below! Subscribe to join the TYB newsletter and receive free recipes straight to your inbox! Let's connect via Facebook, IG & Pinterest!