The good old classic gluten free peanut butter cookies just became almost effortless if you own an air fryer. These air fryer peanut butter cookies are healthy, gluten-free, and with plenty of creamy peanut butter flavor.
Add in some chocolate chips and you have the ultimate great-tasting gluten-free chocolate chip cookie recipe.
We are smitten by these peanut butter cookies - delightful nutty flavor and soft texture with a crispy golden brown exterior. Wow!
Kids love to help in the kitchen and my son is loving making all sorts of fork decorations on those cookies. Try it for yourself, perfect distraction for a cold rainy day.
I am totally obsessed with air fryer baking now after making my Red Velvet Cookies With Chocolate Chips earlier this month.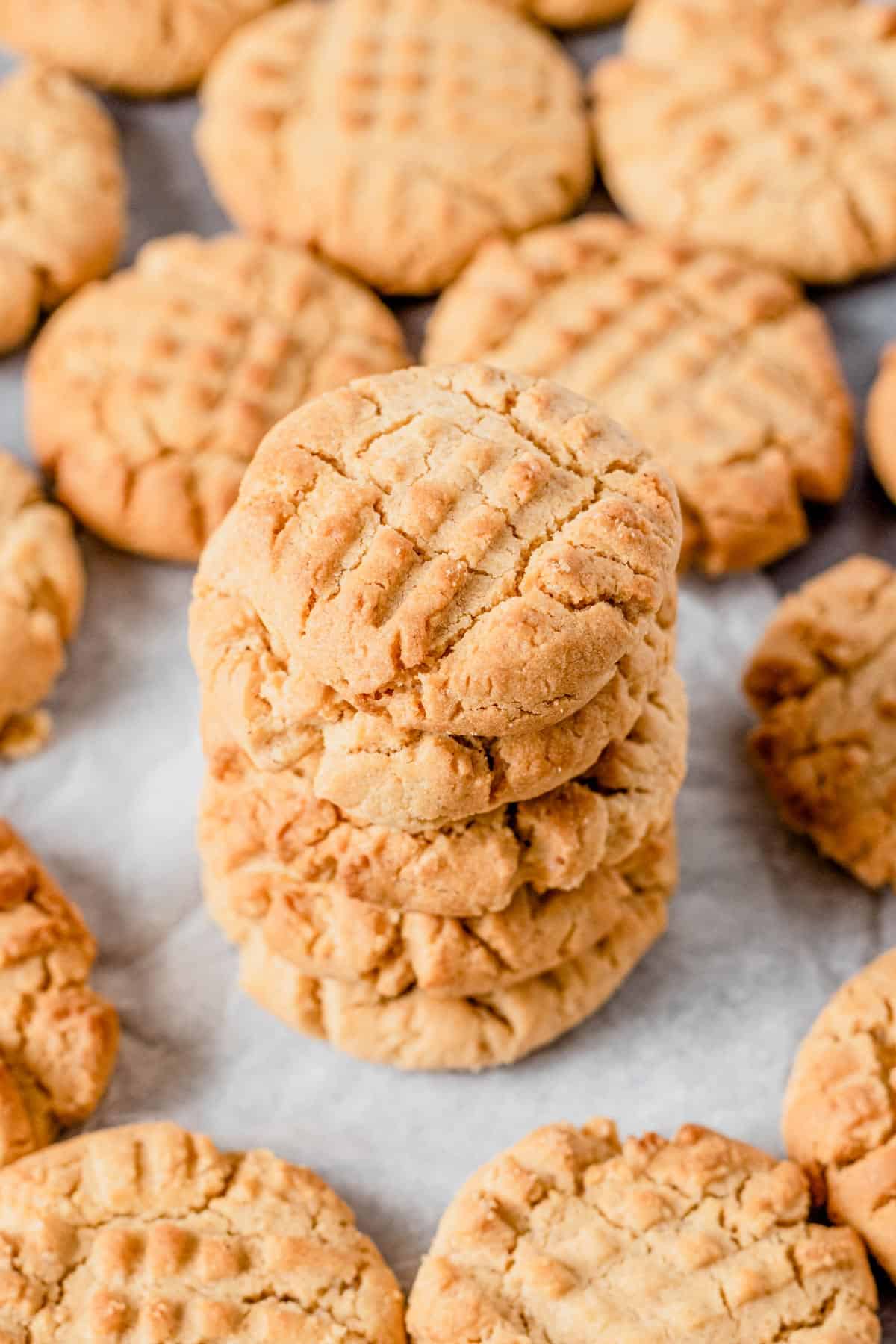 It only takes you 6 minutes to ''bake'' these delicious cookies plus a little prep time. Gotta love the air fryer!
Loving these gluten-free cookies? Try these delicious sweet treats next time: Chocolate Chip Cookies, Thumbprint Cookies, and Chocolate Chip Meringue Cookies.
Table Of Contents
Ingredients
My few comments on the ingredients + don't forget to read the Tips section!
The full recipe and ingredients can be found in the recipe card below this post.
Flour - I recommend for his particular recipe Bob's Red Mill 1 to 1 flour (With xanthan gum). These cookies can be baked with regular all-purpose flour as well.
Smooth Peanut butter all the way - if you're not going after ultra ''healthy'' snacks then the classical peanut butter from popular brands is recommended here. I do like to use all-natural peanut butter (without hydrogenated vegetable oil, sugar and other stuff) once in a while, but the result is not always the best. All-natural butter is difficult to mix and is generally a bit drier and not quite as smooth. Although there are plenty of varieties out there, I just haven't found one yet that will give the same or even better results as the stabilized ones.
The peanut butter should be creamy, with no added sugar, and not too thick. Thick but drippy peanut butter is the best here.
If chunky peanut butter is all you have, that's fine too. It'll need a little extra care when mixing in the batter. I haven't used this one yet, so please if you do, let me know in the comments about the result, thank you 🙂
Vanilla - Use pure vanilla extract, not the artificial kind.
Sugar - Using both white and brown sugar creates the best texture. You can also use raw sugars in place of brown sugar.
Instructions
In a large bowl or a stand mixer beat together softened butter and peanut butter. 
Add the sugars and using an electric mixer mix until all combined well.
Add eggs, beat on low, and follow with milk. Mix to combine.
In a medium mixing bowl, combine together flour and baking soda. Set aside.
Slowly add the flour mixture in small increments.
Mix until just combined. Do not overmix.
Roll the cookie dough batter into 1 tablespoon-sized balls.
Gently flatten the balls with a fork (two times in opposite directions) making a crisscross pattern.
Baking directions. Preheat the air fryer to 350 degrees Fahrenheit according to manufacturer instructions. (Mine was 375 F for 5 minutes, I used a Cosori air fryer 5.8 quarts. You could also use a Ninja Foodi.
Arrange the cookies in a single layer in the air fryer tray.
If you have air fryer basket liners great, if not that's fine, and place the cookies right in the bottom of your air fryer.
Make sure you have enough space between the cookies.
Don't use parchment paper, because cookies need airflow and without breathing holes they will not bake correctly.
Air fry the cookies for 6 minutes (you'll need to do this in small batches).
No need to flip them during baking.
Carefully and slowly remove cookies from the air fryer.
Cookies should rest until completely cool to strengthen. Enjoy with a glass of milk!
We love these for an occasional sweet treat, afterschool snacks, dessert, and adding to ice cream.
When flattening the cookies with a fork, hold the cookies in the palm of your hand. Do not press those directly in the air fryer as it will cause the cookies to break.
Tips
This makes 34 cookies, but you can make a small batch of cookies first and then freeze the leftover cookie dough until later. Thaw first.
Switch up the cookies by adding chocolate chips, raisins, shredded coconut, and chopped peanuts to the mix. Also, a good quality Cinnamon will add a ton of flavor.
If your batter seems too dry (which may happen due to incorrect measuring, and different types of peanut butter) then add some honey, maple syrup, or extra milk to make the batter moist.
These cookies are soft and with a moist crumble. Don't confuse these with soft and chewy cookies.
This recipe also works with most types of nut butters. Especially almond or cashew. I recommend using a nut butter that is stabilized without a thick layer of oil on top. Give it a good stir before mixing it into the batter.
Different brands and varieties of peanut butter can have slightly different consistencies. Due to that, some cookies can come out thicker or thinner.
These cookies are very delicate. When you remove the cookies from the air fryer basket, be gentle and carefully move them out and let them rest for 10 minutes. It will make them a lot more sturdy and they shouldn't crumble once you bite them.
Skip the chilling step. I usually freeze the cookie dough but with this particular recipe, you don't need to do it. The texture is thick and these cookies don't spread as much.
For a very kid-friendly recipe, you'll want to make sure to use good quality pure peanut butter and reduce the amount of sugar.
To satisfy your sweet tooth craving, drizzle cooled cookies with melted chocolate on top. Delicious!
Recommended Equipment
Cosori - I use this air fryer oven for everything, cooking, baking, and reheating food. And for this recipe, the size is good and fits plenty of cookies per batch. For smaller air fryers you can only bake around 4-6 cookies per batch.
Measuring Cups and Spoons - measure all your salad ingredients and seasonings with those superb tools without stress! Easy to wash!
Freezing And Storing Instructions
To Store. Any leftovers can be stored at room temperature for 2-3 days. Cover them with plastic wrap tightly, and keep them in an airtight container or a cookie jar to prevent them from drying out.
Don't store these in the fridge, they will dry out very quickly and it won't make them last longer.
To Freeze. You can freeze the cookies or unbaked cookie dough for up to 2-3 months in a freezer-friendly bag or container. Thaw at room temperature.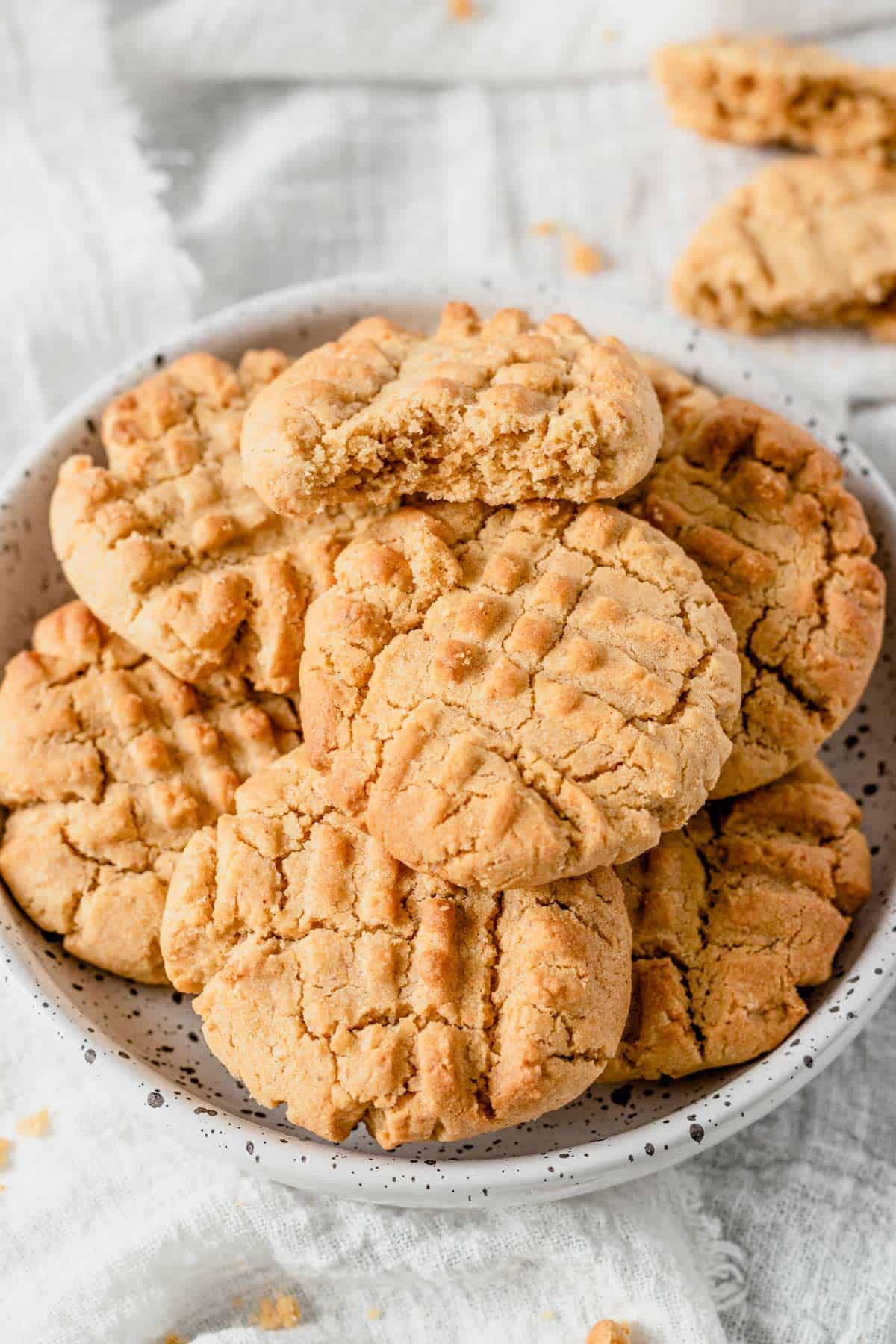 FAQs
Why do you put fork marks on peanut butter cookies?
As peanut butter is quite a dense ingredient, we make the crisscross marks so the cookies can bake evenly. These marks help the cookie to crisp up on the top and the edges leaving a soft texture on the inside.
Why are peanut butter cookies always dry?
It is probably because they were baked for too long or not the best peanut butter was used.
Why can't you use natural peanut butter in cookies?
You can use it but it requires extra care and is difficult to mix. It is generally drier and not as smooth as we need here.
Easy Air Fryer Recipes
ALL AIR FRYER recipes.
Gluten-Free Baking Recipes
If you love this easy cookie recipe, be sure to try these gluten-free baked goods next time.
ALL SWEET & DESSERT recipes.
I would appreciate it so much if you left a comment about this recipe below! Subscribe to join the TYB newsletter and receive free recipes straight to your inbox! Let's connect via Facebook, IG & Pinterest!
Recipe
The Best Air Fryer Peanut Butter Cookies (Gluten free)
The good old classic peanut butter cookies just became more simplified when you own an air fryer. These air fryer peanut butter cookies are healthy, gluten-free and with plenty of creamy peanut butter flavor. Add in some chocolate chips and you have the ultimate great-tasting healthy cookie.
Print
Pin
INGREDIENTS
1 ¾

cups

gluten-free flour blended with xanthan gum

(Schar Mix C, sifted)

¾

teaspoon

baking soda sifted

½

teaspoon

salt

½

cup

butter softened to room temperature

½

cup

peanut butter

(creamy and smooth)

½

cup

brown sugar

½

cup

sugar

1

large

egg

2

tablespoons

milk
INSTRUCTIONS
In a large bowl or a stand mixer beat together softened butter and peanut butter. Add the sugars and using an electric mixer mix until all combined well.

Add eggs, beta on low, and follow with milk. Mix to combine.

In a medium mixing bowl, combine flour and baking soda. Set aside.

Slowly add the flour mixture in small increments. Mix until just combined. Do not overmix.

Roll the cookie dough batter into 1 tablespoon-sized balls. Gently flatten the balls with a fork two-time sin opposite directions making a pattern (crisscross pattern).

Baking directions. Preheat the air fryer to 350 degrees Fahrenheit according to manufacturer instructions. (Mine was 375 F for 5 minutes, I used a Cosori air fryer 5.8 quarts. You could also use a Ninja Foodi. 

Arrange the cookies in a single layer in the air fryer tray. If you have air fryer basket liners great, if not that's fine, and place the cookies right in the bottom of your air fryer. Make sure you have enough space between the cookies. Don't use parchment paper, because cookies need airflow and without breathing holes they will not bake correctly.

Air fry the cookies for 6 minutes (you'll need to do this in small batches). No need to flip them during baking.

Carefully and slowly remove cookies from the air fryer. Cookies should rest until completely cool to strengthen. Enjoy with a glass of milk!
PRIVATE NOTES
Nutrition Facts
The Best Air Fryer Peanut Butter Cookies (Gluten free)
Amount Per Serving
Calories 94
Calories from Fat 45
% Daily Value*
Fat 5g8%
Cholesterol 7mg2%
Sodium 64mg3%
Potassium 28mg1%
Carbohydrates 12g4%
Protein 2g4%
Vitamin A 85IU2%
Calcium 11mg1%
Iron 0.3mg2%
* Percent Daily Values are based on a 2000 calorie diet.
(Nutrition information is calculated using an ingredient database and should be considered an estimate.)