Christmas is just around the corner with holidays approaching, family time and ofcourse, eating delicious food. Especially desserts and sweets, at least in our family, baking plays a huge role during the festive season.
Today I've put together a round-up of some of the best Gluten Free Christmas treats! These are perfect for Christmas Eve munching, holiday gifts for neighbors & teachers, and would be perfect for a Christmas Cookie Exchange.
I hope you enjoy these sweets and let me know which one is your favorite Christmas treat from this list!
#1 Meringue Christmas Cake
If you really want to wow your guest this Christmas - you must make this stunningly sexy Meringue Cake! Dedicated to all my Pavlova lovers...
▶ Recipe here from Super Golden Bakes
#2 Gingerbread Milk Fudge
Gingerbread + Fudge? YES PLEASE! The creamiest and smoothest gingerbread fudge you have ever tried!
▶ Recipe here from Nourish Plate
#3 LINZER COOKIES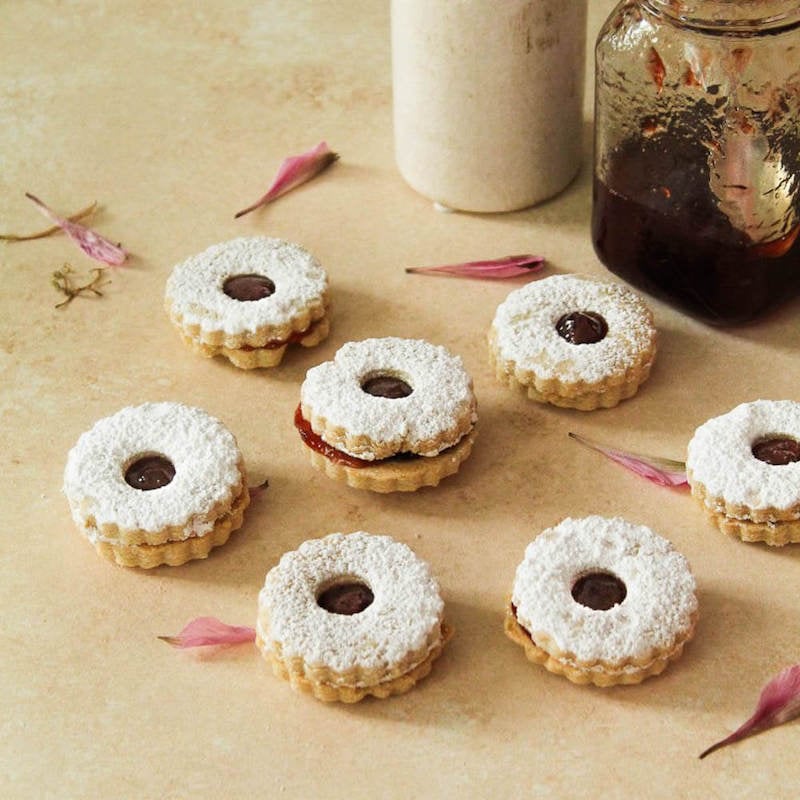 Sugar cookies just got an upgrade! Gluten free, egg free and filled with looooads of jam! We are loving these already!
#4 CHRISTMAS TREE SHORTBREAD COOKIES
Gluten-Free Christmas Tree Shortbread Cookies are perfect for the holidays and easy to whip up. Use a star or Christmas tree-shaped cookie cutter for the festive season or make heart-shaped tender shortbread cookies for the upcoming Valentine's day. Little pieces of cranberries make these cookies even more special! These cookies taste too good to enjoy them only during one holiday!
▶ Recipe here from The Yummy Bowl
#5 PEPPERMINT MOCHA COOKIES
Now, it's time to cozy up on the couch with a warm blanket, cup of tea or cappuccino, Netflix and a bowl ofthese cute mint cookies 🙂
#6 CHOCOLATE PEANUT BUTTER BALLS
4 INGREDIENTS, NO BAKE, CHOCOLATE and PEANUT BUTTER - this is all you need to know to make these tasty chocolate bites. Vegan, Gluten-Free Friendly and made with No Refined Sugar! We are IN!
▶ Recipe here from A Baking Journey
#7 Moscato Truffles
These no-bake treats can be made the night before and kept in the fridge. No one needs to know how little effort they required.
▶ Recipe here from Sula and Spice
#8 Almond flour Vanilla Cake Pops
Can it get more healthier really? You are going to love the ingredients in this recipe. Make a whole cake or cute little cake pops! or both! We won't judge!
▶ Recipe here from A Life Of HappenStance
#9 peppermint bark
Tired of all this cooking? Looking for something easy peasy this Christmas season? Look no further, you gonna love this Peppermint Bark!
▶ Recipe here from Gimme That Flavor
#10 No-Bake Cranberry Energy Bites
These 4-ingredient no-bake cranberry energy bites pack a protein punch. They're gluten-free, taste heavenly, and make an ideal and elegant Christmas treat.
▶ Recipe here from Shahzadi Devje
#11 GLUTEN-FREE VEGAN GINGERBREAD COOKIE BARS
We are loving this great alternative to Gingerbread Cookies with a perfect soft and chewy texture smothered in flavorful cream cheese frosting.
▶ Recipe here from Rhians Recipes
#12 GLUTEN-FREE VEGAN YULE LOG
Have you tried Yule Log yet? A Yule Log is a sponge cake that's rolled and filled and covered with buttercream.
▶ Recipe here from Rhians Recipes
#13 ALMOND CRANBERRY TART
A perfect way to use up that leftover cranberry jam and layer over delicious almond flour crust that makes a perfectly decadent tart! Make this tart as a gift to your loved ones, for Mothers Day, Thanksgiving and Christmas.
▶ Recipe here from The Yummy Bowl
#14 CANDIED GINGER
Candied Ginger is a delicious sweet & spicy treat that's easy to make if you just have the time. Just as perfect on its own as for topping Cupcakes, Cookies, Truffles and more!
▶ Recipe here from Always Use Butter
#15 CRISPY PEANUT BUTTER BALLS (VEGAN, GLUTEN-FREE)
These Crispy Peanut Butter Balls are a healthier spin on a classic peanut butter ball, with natural peanut butter, peanuts, walnuts and brown rice crispy cereal. No powdered sugar or butter!
▶ Recipe here from Crumb Top Baking
#16 WHITE CHOCOLATE PEPPERMINT BARK RECIPE
Guess how many ingredients this recipe has? Only 2! It's a great idea for a homemade Christmas gift or a tasty addition to your Christmas table. Read on to see how easy this recipe is!
▶ Recipe here from Hot Pan Kitchen
#17 Cinnamon Baked Pears with Walnuts & Maple Syrup
If you need an easy and surprisingly healthy dessert recipe to really impress your guests during Christmas and festive season, then these cinnamon baked pears are for you!
▶ Recipe here from Hurry The Food Up
#18 POACHED PEARS IN RED WINE WITH CINNAMON CREAM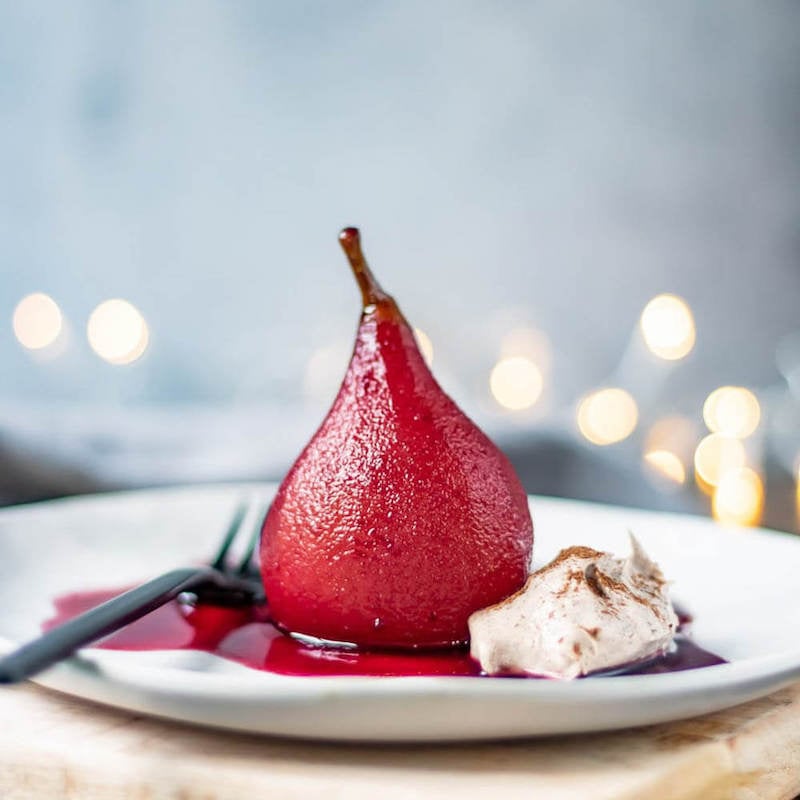 Hosting an elegant festive dinner party this year? This Spiced Red Wine Poached Pears recipe makes one spectacular classy dessert to serve at any Christmas or Thanksgiving party. Guaranteed to be the hit of the evening!
▶ Recipe here from Veggie Desserts
#19 APPLE CRANBERRY CRISP
If your short on time or just not so into all this super fancy cake baking then this delicious crisp pie will become a powerful weapon in your arsenal!
▶ Recipe here from Binky's Culinary Carnival
#20 WHITE CHOCOLATE RASPBERRY TRUFFLES
Truffles aren't the difficult, expensive confection you might think they are! These cuties require only 3 ingredients and are super simple to make. Enjoy!
▶ Recipe here from The Sum Of All Sweets
#21 Chocolate covered cherry bark
If you still have no ideas what to make for sweets during Christmas season, then this you can make for sure. It's easy and a cute little candy gift.
▶ Recipe here from Quiche My Grits
#22 Gingerbread Loaf
Tshhh... you won't believe it! This gorgeous moist Gingerbread Loaf has only 100 calories per slice!
▶ Recipe here from Jar of Lemons
#23 Pomegranate Parfaits and Pistachios
Pomegranates look so beautiful and festive! Pomegranate seeds make everything look Christmassy. Moreover, they give a lovely crunch to both sweet and savory dishes.
▶ Recipe here from Happy Kitchen Rocks
#24 Gingerbread Ice Cream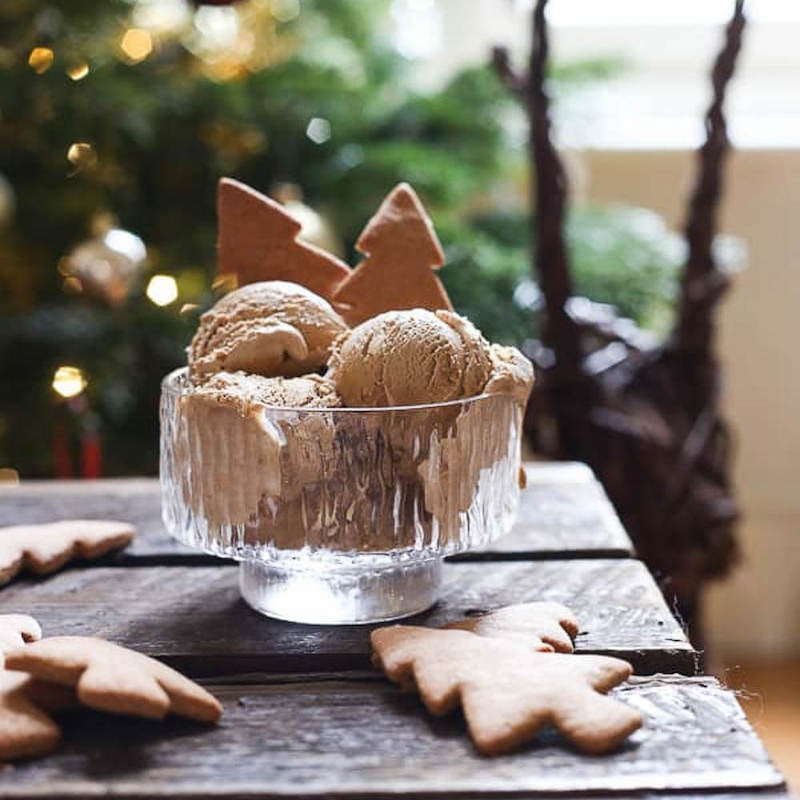 If you're like us craving ice cream during this festive season, then this is for you! Gingerbread Ice Cream is loaded with warm spices, dark sugar, black treacle and some double cream for ultra rich creamy indulgence.
▶ Recipe here from From The Larder
#25 Traditional Gluten-Free Christmas Pudding
Christmas Dinner is NOT complete without the best dessert ever - Traditional Christmas Pudding, which is also gluten free!
▶ Recipe here from From The Larder
#26 No Bake Sugar Cookie Truffles
These festive No-Bake Sugar Cookie Truffles are perfect for the holiday season! Made with gluten-free, vegan edible sugar cookie dough and covered in chocolate, these sweet treats can be decorated with your favorite holiday toppings such as crushed candy canes or sprinkles.
▶ Recipe here from Watch Learn Eat
#27 Pumpkin Pie Spice Mini Pound Cakes
Sticky and sweet, these keto and gluten-free spiced pumpkin baby pound cakes taste as lovely as they look. Make them shine with our super easy cream cheese and whey protein icing recipe!
▶ Recipe here from Like Hot Keto
#28 Santa Strawberries
This strawberry Santa recipe is so delicious and combines cut strawberries and icing or whipped cream for the stuffing. Did we mention that it's VEGAN too?
▶ Recipe here from Wow Its Veggie
#29 The Best Vegan Gingerbread Cookies
Gluten free, gingerbread spices, dairy-free, loaded with almonds and hazelnuts, and are perfect to give as a gift during holiday seasons! What else would you want from these German cookies? Yum!
▶ Recipe here from Vee at Cook Bake
#30 Christmas Amaretti Biscuits
They're soft almond biscuits, flavoured with mixed spices, brandy, walnuts and mincemeat and they are oh so delicious!
▶ Recipe here from Charlotte's Lively Kitchen
#31 HONEY GINGERBREAD CAKE
Dreaming of a perfect Gingerbread Cake? Look no further! This cake may require a bit more ingredients and steps but it's totally worth it, just try for yourself!
▶ Recipe here from Raia's Recipes
#32 Gluten Free Gingerbread Cookies
The classics! There is just something about the rolling, cutting, baking and decorating that is sure to get you in a festive mood. Make the whole experience even better and let your kids join the process!
▶ Recipe here from Sweetness and Bite
#33 CHOCOLATE PEPPERMINT FUDGE CHRISTMAS PUDDING
Shout out to all our Peppermint lovers! Chocolate Peppermint Fudge Christmas Pudding is a fun and easy twist on a traditional festive treat.
▶ Recipe here from Sweetness and Bite
#34 Eggless Eggnog
Do you drink eggnog? This cozy drink can be pretty unhealthy IF bought in the store. You can avoid all the bad ingredients by making your own perfect HEALTHY eggnog at home. Let me show you how!
▶ Recipe here from Elke Living
#35 Easiest Meringue Cookies Recipe
These meringues are so much fun and you can use your creativity to create many masterpieces that will wow your family and friends. We got inspired by the mouse king from the Nutcracker, made little drops and added sparkly sugar, and the classic little puffs with nonpareils.
▶ Recipe here from Adriana's Best Recipes
#36 Cinnamon Star cookies
Don't miss out on those deliciously vegan cinnamon star cookies! One of the most loved German vegan Christmas cookies, which are also known as Zimtsterne!
▶ Recipe here from Aline Made
#37 HEALTHY GINGERBREAD BISCUITS (NO GLUTEN, SUGAR FREE)
Good old favourite gingerbread biscuits but with a healthy twist. Free from gluten, dairy and refined sugar, they are a delicious treat to enjoy over the festive season without excessive calories.
▶ Recipe here from The Fit Foodie Nutter
#38 Chocolate chestnut pots
This Chocolate Chestnut Pots recipe is perfect for using up all that leftover chocolate and it's so easy. You gonna love this CHot Chocolate with a twist!
▶ Recipe here from Emma Eats And Explores
#39 Keto Snowball Christmas Cookies
These Keto Christmas Cookies are the perfect addition to your holiday cookie tray! Buttery shortbread, pecans, with a touch of vanilla… makes for the best pecan cookie ever! Bring this all-time favorite homemade classic recipe back to your keto kitchen this festive season!
▶ Recipe here from Jennifer Banz
#40 VEGAN MOCHA CHEESECAKE BITES (GLUTEN-FREE)
Sometimes I just need coffee...or chocolate...or cheesecake and sometimes I need all three at once! These Vegan Mocha Cheesecake Bites are the perfect healthy treat.
▶ Recipe here from Vegan Huggs
#41 PEPPERMINT CHOCOLATE CHEESECAKE CUPS
These Peppermint Chocolate Cheesecake Cups are the perfect fun and festive dessert recipe! They're easy to make and great for the holiday party season.
▶ Recipe here from The Rustic Foodie
#42 RICE KRISPIE CHRISTMAS PUDDINGS
Let the festive baking begin with these festive Rice Krispie Christmas Puddings. Easy to make, they are a fun Christmas recipe to make with kids. Ready in no time, they make great last minute treats or a cute handmade Christmas gift to share with family and friends.
▶ Recipe here from Crumbs Corks Screws
For more festive recipes be sure to take a look at our Christmas recipes.