This healthy green juice recipe is made with leafy greens, green apples, English cucumbers, lemons, and celery. Making your own fresh juice with anti-inflammatory ingredients is great way to consume those green veggies that you'd normally forget to add to your menu.
Add fresh herbs such as fresh mint, fresh ginger, coconut water, other fresh fruit for natural sweetness, or chia seeds to easily adapt this tasty green juice.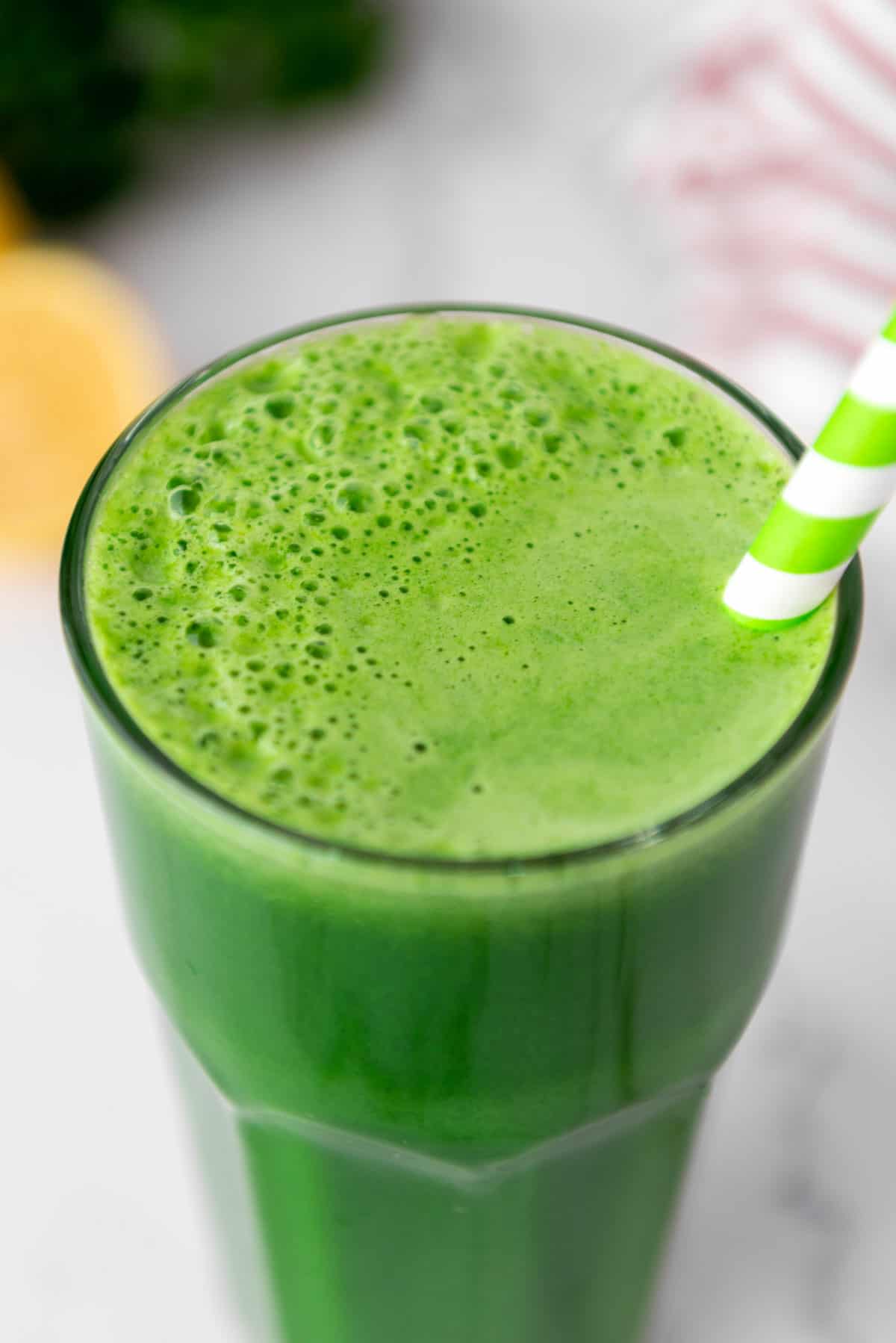 This juice is great for breakfast just like my tropical smoothie recipe.
Table Of Contents
Ingredients
My few comments on the ingredients + don't forget to read the Tips section!
The full recipe and ingredients can be found in the recipe card below this post.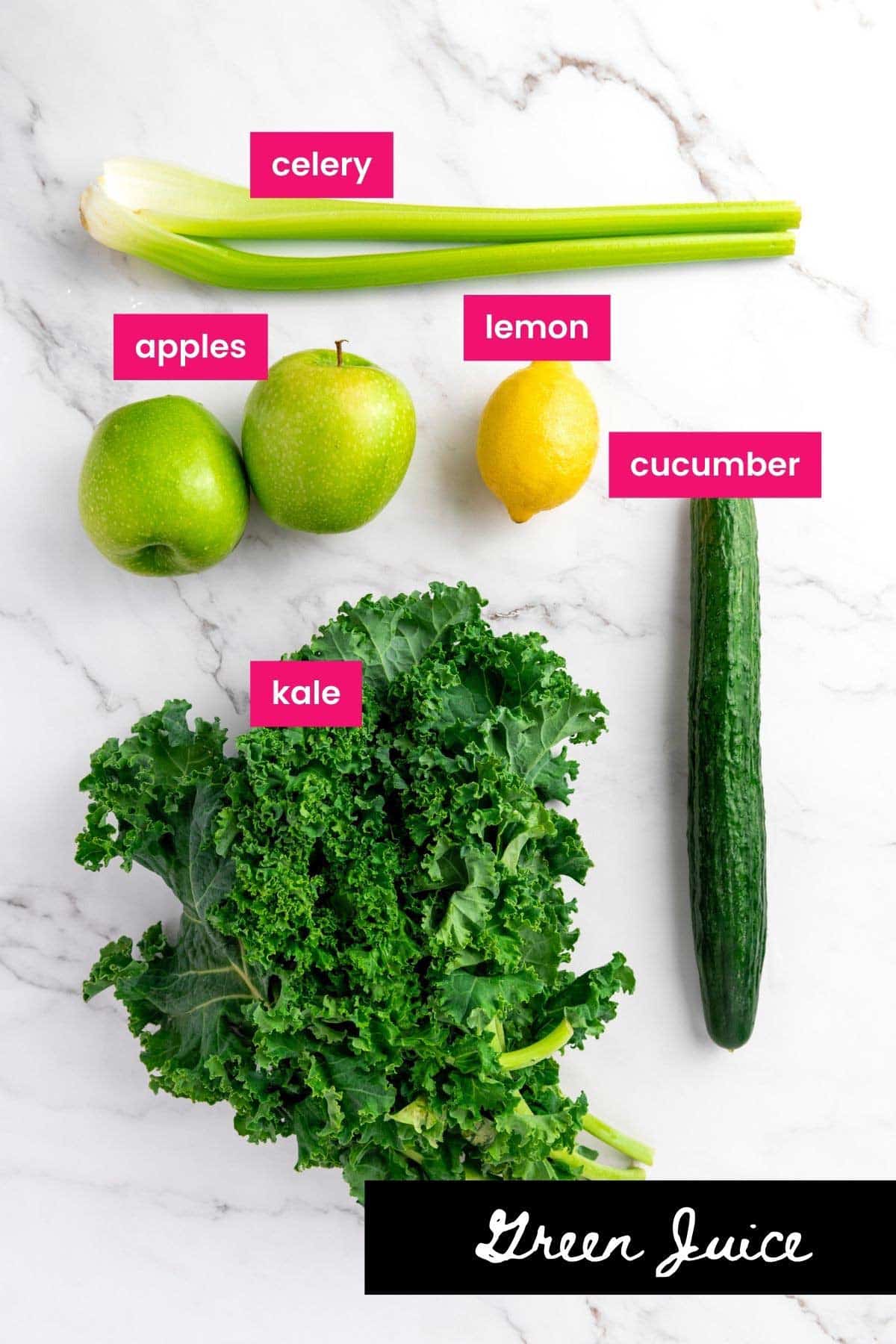 There's no ''right'' way to make green juice. Everyone has their own recipe and veggies they like. And for me, the more the merrier.
Today I'm sharing a super simple, 5 ingredient green juice recipe. Here's what goes in it:
Kale - Dinosaur, curly, or baby kale - any variety of kale will work. This leafy green is known for its super nutrition but Fresh spinach will work here too.
Apples - I prefer Granny Smith apples for their tartness. They are less sweet than all the apple options but still have the right amount of sweetness in them. You don't need to peel the apples as the skin provides extra dietary fiber. If unpeeled, I do recommend removing the wax first. For sweeter apples, you can try Honey Crisp apples.
Celery - Fresh stalks.
English cucumber - The skin is soft enough to leave on, but you can peel these cucumbers if you like.
Lemon - A smaller lemon or you can also use lime instead.
Optional add ons - To add a little more zing to your drink mix in some grated ginger (about 1 inch) or ground ginger, turmeric, or cinnamon. If you feel the flavor is too much for you, you can add a drizzle of good quality raw honey.
Love Kale Recipes? Try These Next!
Blender vs Juicer
In the past, I've used both blender and a juicer for this green juice. They both work and both have pros and cons:
Blender
​Pros - The biggest advantage of using a powerful blender when making green juice is that the fiber from the blended ingredients is not lost through the process. This also means a better concentration of nutrients. Blender can also be used for various recipes and is easy to clean.
Cons - Some people don't like the thicker texture of blender juice made in a high-speed blender. The liquid and the juice pulp also separate over time, requiring stirring.
Juicer
Pros - A juicer produces a smoother texture for the green juice by discarding the pulp and fiber. Eliminating fiber also means faster nutrient absorption by the body. A juicer will also yield a higher quantity of juice compared to a blender.
Cons - The loss of fiber is not always a good thing, especially when considering how fiber aids digestion. The juicing process is also known for introducing oxygen into the juice which can result in oxidation and nutrient degradation. Apart from this, a juicer is a lot more tricky and time-consuming to clean.
Instructions
Wash all your ingredients very thoroughly.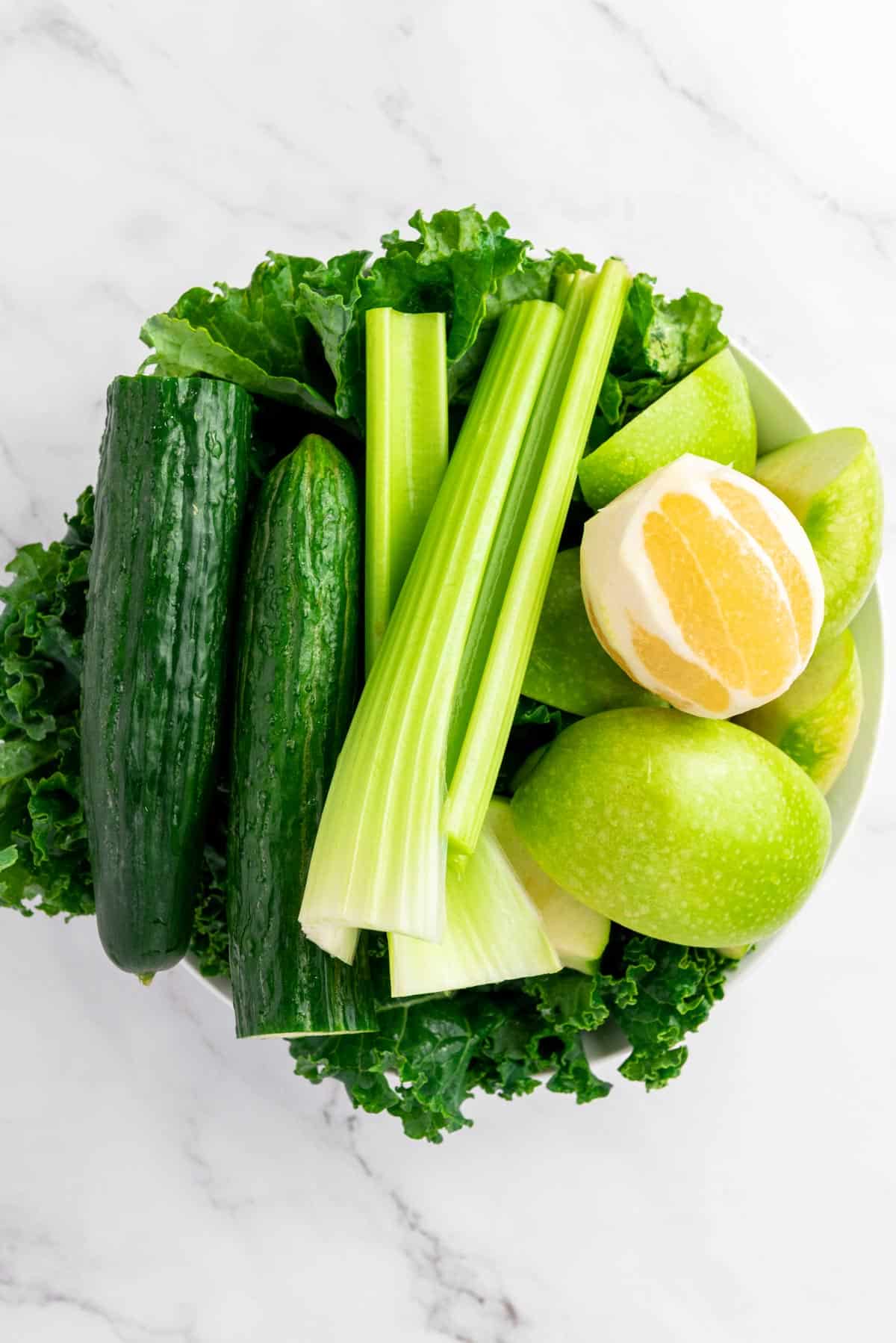 Cut the apple in fours and remove the core.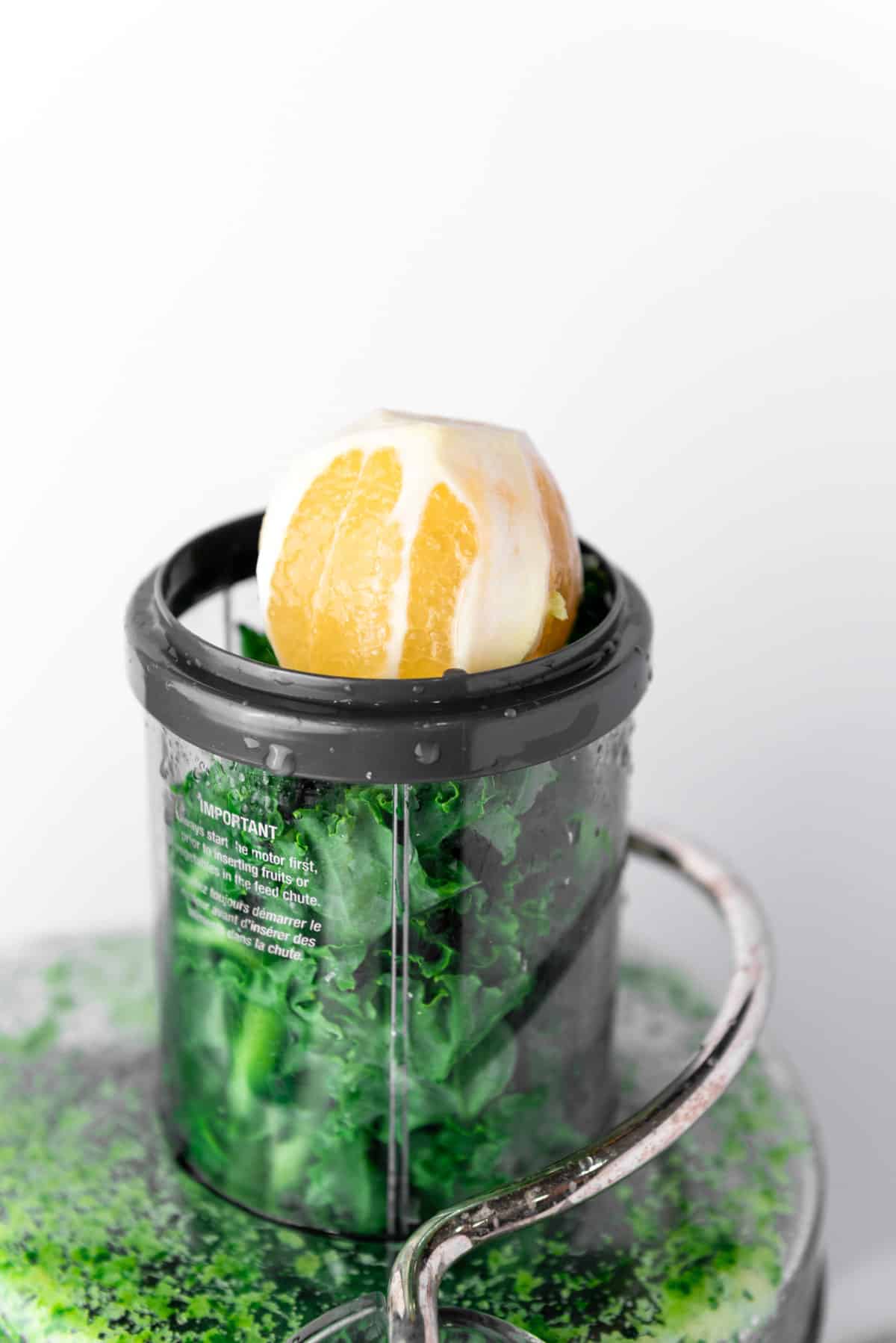 Peel the lemon and discard the peel.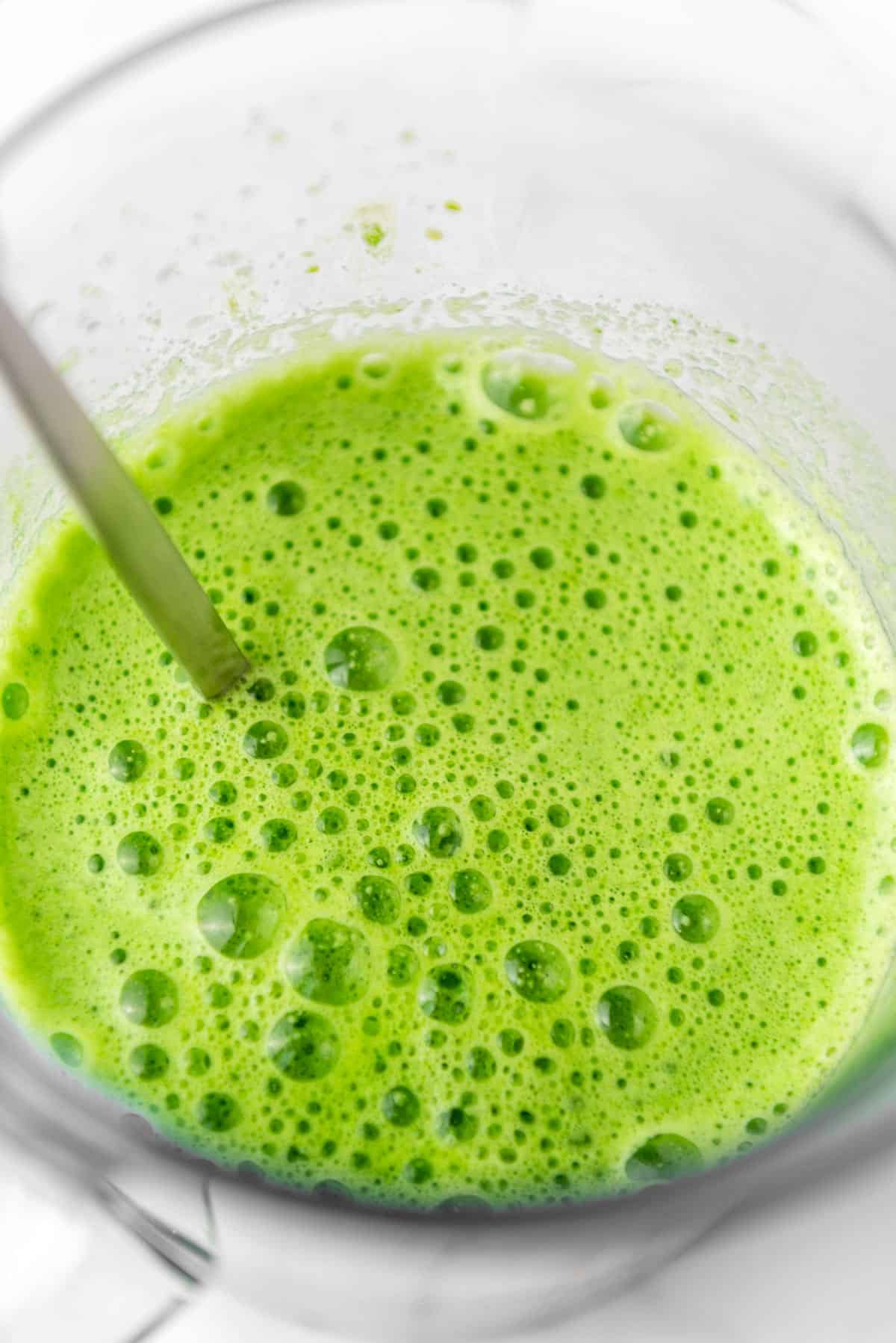 Process the washed and prepared ingredients through your juicer or use a blender.
Enjoy right away!
What to do with leftover pulp?
There are tons of creative ways to use leftover pulp, so nothing goes to waste! Personally, I think the best way is to use it as a compost.
Fresh homemade juice vs storebought
Making your juice or smoothie at home is still better as you'd consume it right away with the most nutrients included. Buy organic veg and fruit whenever possible.
Stay away from the store-bought freshly squeezed juices. These may often include ''added'' sugar which is different from ''total sugar'' which comes from fruits.
Serving Suggestions
I recommend drinking it as it is and not chilling the juice. If you are drinking green juice for health reasons, I recommend enjoying it at room temperature. Cold drinks are not the most helpful for our digestion.
If you don't like the flavor, you can try adding a small ice cube or chilling the ingredients first in the fridge.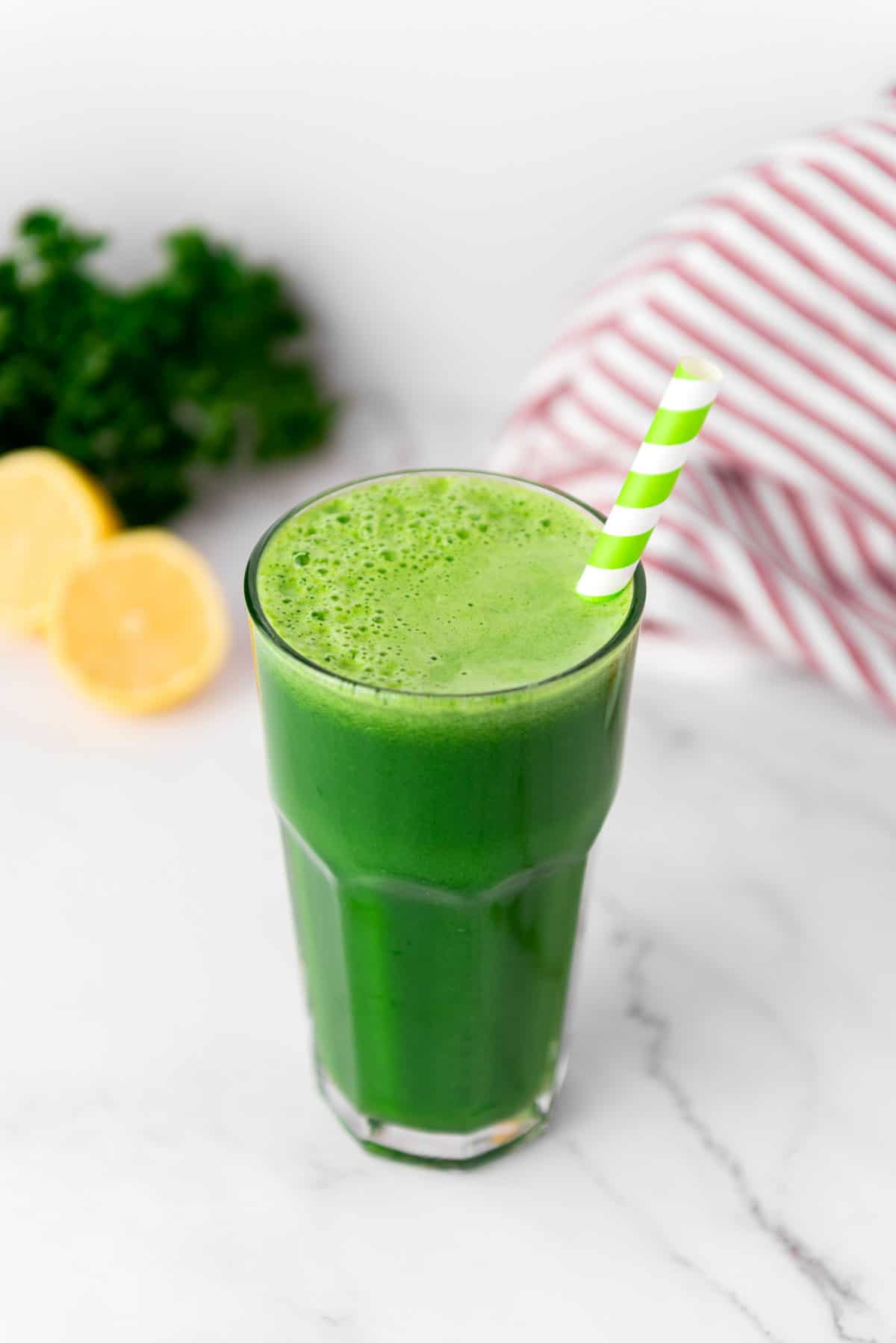 Tips
If you don't like the pulp from this easy green juice recipe, strain it through a fine-mesh sieve.
You can adjust the consistency of a smoothie by adding coconut water to the mixture.
Make sure to wash raw vegetables and fruit before blending.
The juice is best to be enjoyed right away to prevent loss of nutrients. You can still save it for later by refrigerating it for 12 hours or so.
As the juice sits, it will start to separate and it may turn brownish color. It is normal as the apples start to oxidize, but the juice is still drinkable.
Storing
How long are juiced vegetables good for?
I recommend drinking it right away. The longer it sits the fewer nutrients it will have.
The Benefits of Green Juice
Why choose to consume vegetables in juice form? Well, let's set the record straight. The exaggerated claims surrounding the supposed benefits of green juice are just that – exaggerated.
I hate to break it to you but don't expect be shedding pounds or curing diseases by guzzling down a glass of green juice.
In fact, much like the hype around celery juice, the health claims associated with green juices are blown out of proportion. Here's what I've researched:
When you drink green juice, you miss out on the fiber that whole vegetables provide. It's actually more beneficial to consume the entire vegetable itself. How about making a healthy snack with veggie sticks and spinach dip or a fresh kale salad with delicious tahini dressing and lots of protein?
Or make a vegetable or fruit smoothie instead.
When compared to soda and other sugary beverages, green juice emerges as a superior alternative. Instead of consuming empty calories and loads of sugar, reaching for a glass of green juice is undoubtedly a better choice!
Juice cleanses. Research suggests that juice cleanses can lead to disordered eating patterns, mental well-being, and an unhealthy relationship with food.
Sure, kale, celery, and cucumbers are low in calories but rich in nutrients. By drinking their juice, you do get a good dose of vitamins found in these veggies.
All this being said I still love drinking homemade green juice for a couple of good reasons And it is from my own personal experience:
I don't always have the time nor I don't want to eat lots of the same vegetables every day. Making a smoothie or juice with these ingredients fixes the issue and still nourishes my body with essential vitamins like Vitamin K and Vitamin C, fiber, minerals, and iron.
It keeps me full for longer, energy levels are high and it is always a better choice than caffeinated drinks.
Cravings - it helps me to control my craving for unhealthy snacks, especially sweets and I always try to add some extra fiber intake sometime before drinking the juice, such as healthy nuts or crackers.
With all this being said, and given that green juice doesn't contain much fiber, it shouldn't be used to substitute your veggie or fruit intake.
Variations
This is a basic green drink recipe, so feel free to customize it to suit your taste preferences. Here are a couple of my favorites:
Fresh vibrant greens - Choose firm, colorful leaves, avoiding wilted ones. Dino kale works well, but feel free to try other varieties like kale or chard. Experiment with romaine lettuce or collards too for added flavor complexity.
Spices and healthy add ons - Consider adding ground turmeric, cinnamon, matcha powder, protein powder or bee pollen for added nutrition.
A healthy liquid base - Use celery, cucumber, or coconut water for moisture, minimizing fruit and fruit juice to keep sugar content low.
Add herbal accents - Enhance your green juice with parsley and cilantro. Flat-leaf parsley offers a stronger flavor, while curly parsley is milder.
How To Add Protein To This Drink As A Post-Workout Drink
The easiest way to add a boost of protein to your daily green juice is by adding a scoop or two of your favorite protein powder. And there are a few GF options available too!
Other ingredients that can be added to this green juice as a source of protein include Greek yogurt, cottage cheese, nut butter, or silken tofu. Most of these ingredients will add a creamy texture to the green juice, which will make this juice similar to green smoothies.
FAQs
Is it OK to drink green juice everyday?
Absolutely! Drinking green juice every day helps to promote health. That said, an overconsumption of green juice is not healthy. Everything should be enjoyed in moderation and green juice should never replace all of your meals.
Should you drink green juice on an empty stomach?
You can drink green juice on an empty stomach as it's a great source of hydration and fiber.
Does green juice burn belly fat?
Yes! Green juice improves digestion, bowel movements, and overall health, which are all contributing factors for sustained weight loss and weight management. 

Combine this green juice with a healthy and balanced diet and you will have weight-loss success.

What does green juice do for you?
Many things! It helps to promote health, burn fat, and when consumed in moderation aid digestion.
How many calories in a green juice?
This recipe has 106 calories.
Is Green Juice A Healthy Choice?
Homemade green juice is loaded with valuable nutrients that improve overall health and can also allow the intake of certain foods that we wouldn't get around to eating on a daily basis. 

Enjoying fresh produce in liquid form is easy for digestion, easy to make, and can be adapted to suit taste preferences. However, If you can it is better to use a blender and or leave a little bit of pulp in your juice for that fiber. 
And I fact, eating whole vegetables and fruit is healthier than in their juice form as the nutrition profile is lower when in juice form.

Easy Drink Recipes
💗I would appreciate it so much if you left a comment about this recipe below! Subscribe to join the TYB newsletter and receive free recipes straight to your inbox! Let's connect via Facebook, Instagram & Pinterest!💗
Recipe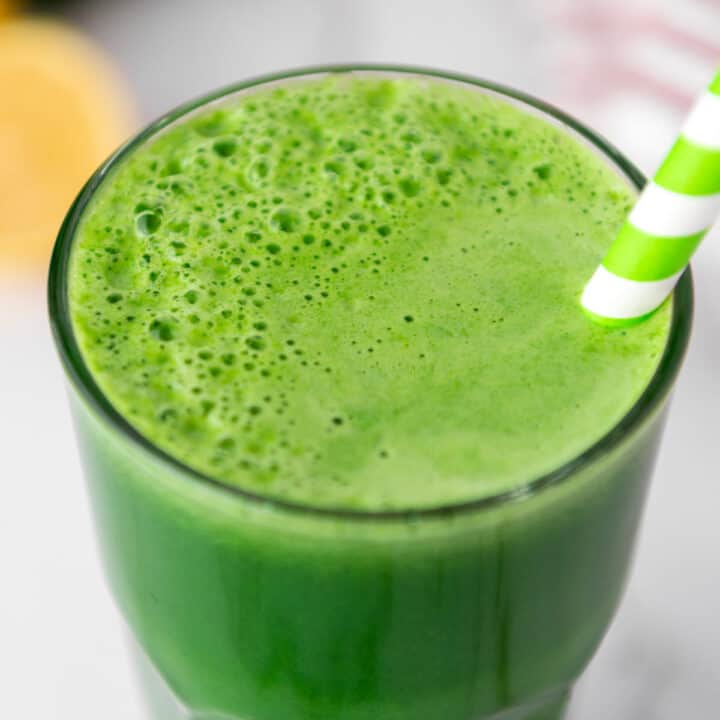 5 ingredient Apple Kale Green Juice Recipe
This healthy green juice recipe is made with leafy greens, green apples, English cucumbers, lemons, and celery. Making your own fresh juice with anti-inflammatory ingredients is great way to consume those green veggies that you'd normally forget to add to your menu.
Print
Pin
INGREDIENTS
1

pound

kale

2

granny smith apples

1

English cucumber

2

stalks of celery

1

lemon
INSTRUCTIONS
Wash all your ingredients very thoroughly.

Cut the apple in fours and remove the core.

Peel the lemon and discard the peel.

Process the washed and prepared ingredients through your juicer or use a blender.

Enjoy right away!
PRIVATE NOTES
Nutrition Facts
5 ingredient Apple Kale Green Juice Recipe
Amount Per Serving
Calories 106
Calories from Fat 18
% Daily Value*
Fat 2g3%
Sodium 65mg3%
Potassium 645mg18%
Carbohydrates 23g8%
Protein 4g8%
Vitamin A 11471IU229%
Vitamin C 127mg154%
Calcium 313mg31%
Iron 2mg11%
* Percent Daily Values are based on a 2000 calorie diet.
(Nutrition information is calculated using an ingredient database and should be considered an estimate.)