Learn how to store cabbage to preserve its crispy texture, delicious flavor, and nutritional value.
While cabbage may be considered a hardy vegetable that can outlast most vegetables, knowing how to store this slightly sweet and tangy vegetable will improve all of your recipes calling for it as an ingredient.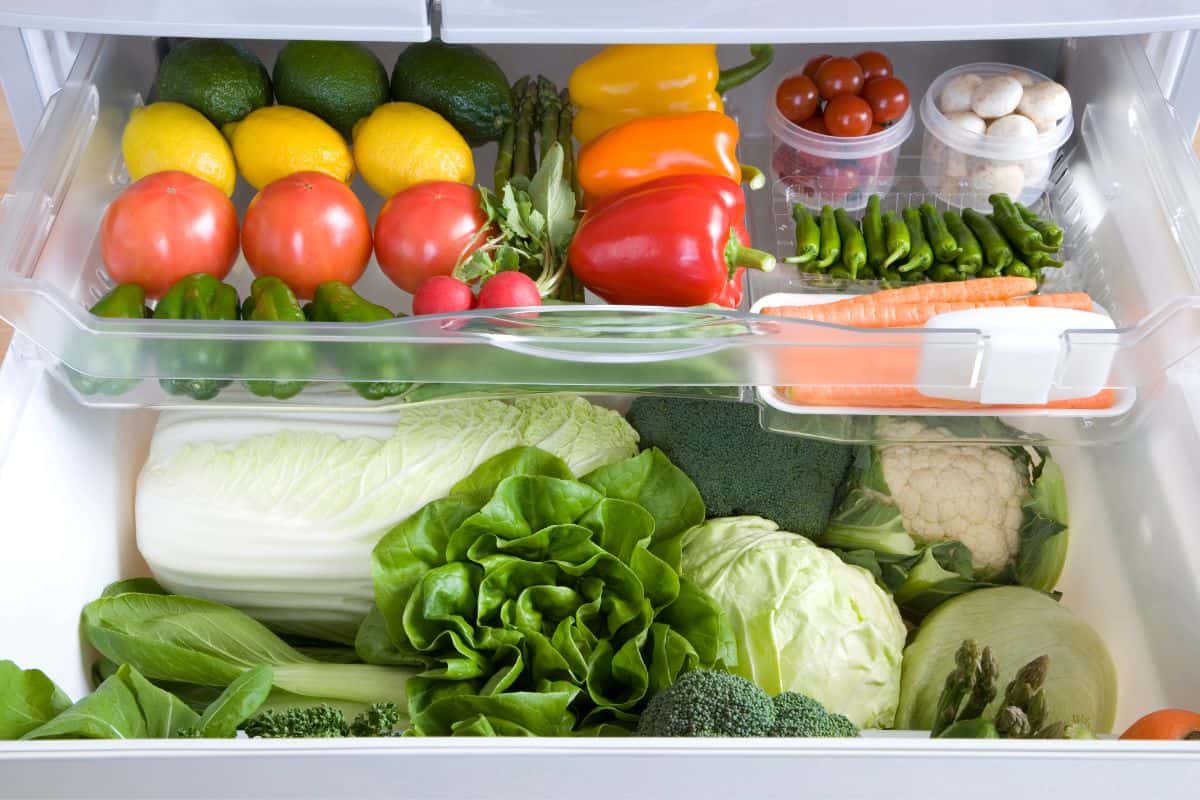 Cabbage is one of those food items that is guaranteed to be found in your refrigerator at any given time.
This leafy green is a common ingredient, lending usefulness to a variety of dishes, from baked goods to savory dinners to fulfilling salads.
It never stops amazing me how long cabbage can last if stored properly. Read on!
Table Of Contents
How To Select A Cabbage?
Selecting high-quality cabbage will result in a better-tasting dish with the best texture.
Here are some important steps to remember when choosing your cabbage in the grocery store:
Look for solid heads and heavier cabbages in size, it should indicate freshness due to higher internal water content. Soft cabbage may indicate decay. 
Choose cabbage that has tightly packed leaves that are free from discoloration and spots. 
Cabbages are generally available year-round but are most flavorful around fall and winter.
How Do I Know If My Cabbage Has Worms?
The most common way to determine whether cabbage contains worms is to do an inspection of the outside leaves and internally.
Holes, brown spots, and bite marks on leaves are a good indication of worms.
You could also soak your cabbage in vinegary or salted water for about 30 minutes which will flush out anything not visible to your first inspection.
Cabbage Recipes
We love green cabbage recipes and these are one of our go-to favorite easy weeknight dinners.
And for more ideas, take a look at this collection of 40+ best cabbage recipes.
What Is The Best Way To Store Fresh Cabbage?
For extended long-term freshness, the best place to store cabbage is in the fridge.
When storing fresh cabbage, it is best to store whole cabbage heads without rinsing them.
Store it wrapped in a perforated bag or in a storage bags in the fridge for a month or even two. 
Pat the cabbage dry before storage and if you notice that the cabbage has subsequently become moist from condensation, remove it from the fridge and pat dry again.
Whole fresh cabbage, when stored correctly, can last for several weeks in the fridge.
Once cut fresh cabbage should be stored in an airtight container and can be used for days as well. But as soon as you've rinsed it, it won't last as long.
Follow the same process when storing different cabbage varieties such as savoy cabbage, napa cabbage, or red cabbage.
Should Cabbage Be Stored Wet or Dry?
Cabbage should always be stored dry as moisture can speed up spoilage, encourage mold growth, and reduce the crunchy texture.
Pat your whole cabbage dry before storing it in the refrigerator. Use a perforated bag or container that allows air circulation to prevent condensation while stored in the fridge. 
Check on the cabbage for any moisture buildup during storage and dry it off if needed.
How To Store Cabbage After It Has Been Cut?
Cabbage cut in half, or large wedges:
With a sharp knife cut the cabbage in half or smaller wedges and place the parts in an airtight container or veggie storage bag and refrigerate for days.
Some sources recommend consuming it within 2-3 days but I personally find it perfectly fresh after a week or so.
Shredded cabbage:
Store the shredded or thinly sliced cabbage in a tightly sealed airtight container in the coldest part of your refrigerator for 3 days.
Once cut into small pieces it will last shorter than storing it in large wedges.
After Cooking:
This will depend on a recipe and some dishes can be easily frozen for later.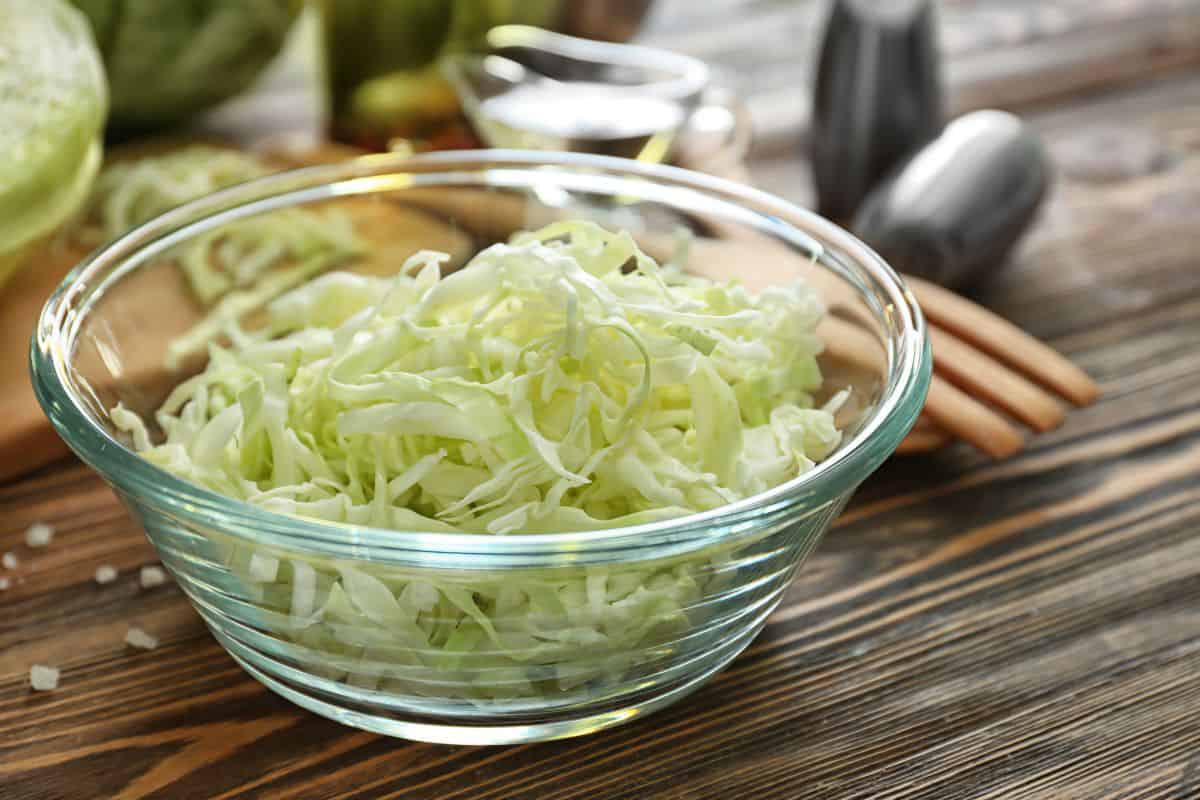 Can I Store Cabbage Outside The Fridge?
Yes, but without refrigerator it won't last for too long, especially if you live in a warmer place.
Cabbage can be stored at room temperature, but for extended freshness, store your cabbage, whole or cut, and unrinsed in the fridge.
How To Store Cabbage In The Freezer
For long-term storage of cabbage, you can keep it in the freezer for up to 8-12 months.
For freezing, it is important to prepare and store it correctly: 
Remove any damaged or loose leaves from the cabbage and run the cabbage under water to remove any debris and dirt.
Next, blanch the cabbage by submerging it in boiling water for 2 minutes, followed by ice water. This cold water will stop the cabbage from cooking, and the purpose of blanching the cabbage is to preserve crispy texture, color, and flavor while in freezer storage.
Dry the cabbage to remove excess moisture and then place the cabbage in freezer bags, containers, removing as much air as possible before sealing.
Frozen cabbage can be used in recipes like soups, stews, and stir-fries. No need to thaw the cabbage.
For crunchy salads, always use fresh cabbage!
How Do You Know If Cabbage Is Still Good?
You can tell whether cabbage is still good for use by its smell, taste, texture, and appearance.
The cabbage has gone bad if it has an unpleasant and pungent odor.
Fresh cabbage should smell mild with a slightly sweet aroma, it should be firm and solid, and free of discoloration, wilted leaves, or spots.
In addition to this, you can do a taste test. Fresh cabbage tastes mildly sweet with a slightly tangy flavor.
Tips For Extending the Shelf Life Of Cabbage
Always remove spoiled or damaged leaves from a whole cabbage head of cabbage before storage, as this can speed up spoilage.
If you rinse it, remove as much moisture as possible before storage. Excess moisture can result in mold growth and rot.
Cut as needed - If you've cut the cabbage, try to use it within a few days to maintain freshness. Cutting exposes more surface area, making it more susceptible to wilting and spoilage.
Avoid cross-contamination - Keep cabbage away from other strong-smelling foods in the refrigerator to prevent flavor transfer.
Store fruit & veg separately - Don't store cabbage near bananas, tomatoes, and apples. These foods release certain gases that can speed up the process of deterioration in other foods. Veggies and fruits should always be stored separately from each other. Here's a simple visual list of what produce should be stored in the fridge and room temperature.
While using single-use plastic wraps is a convenient way for many, I would encourage you to look into more eco-friendly options on how to store produce, using plastic free storage zip-top bags or wraps such as beeswax wraps.
Ferment or pickle - Fermented cabbage like sauerkraut or homemade pickled cabbage has a longer shelf life than raw cabbage. These methods can help preserve the cabbage and add a unique flavor profile.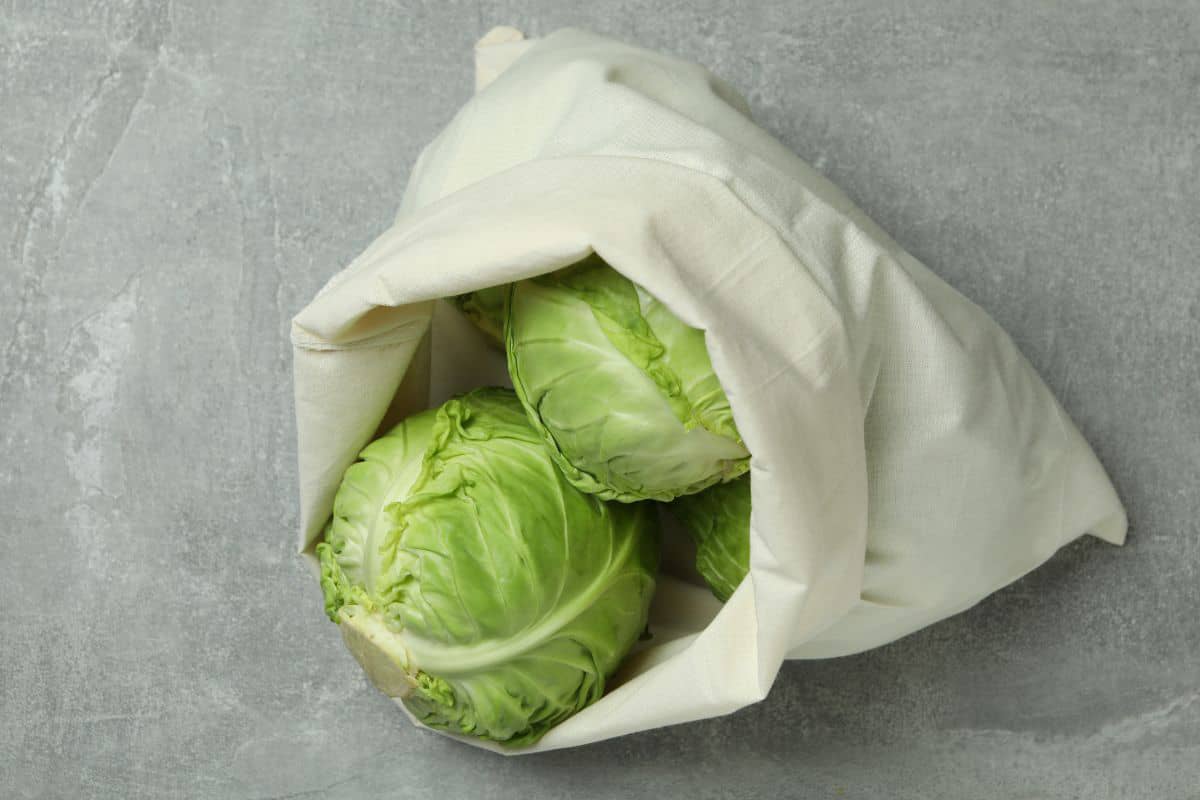 FAQs
How long can you store raw cabbage?
Raw cabbage can be stored in the fridge for several weeks as a whole head of cabbage and for a few days as cut or shredded cabbage.
Is cabbage gluten free?
Yes, cabbage is naturally gluten-free. Gluten is a protein found in certain grains like wheat, barley, and rye, but it is not present in cabbage or other vegetables.
Why does cabbage last so long?
Cabbage is a hardy vegetable with naturally protective outer leaves. It also contains natural compounds that fight against the growth of bacteria.
Do I store cabbage in water?
No. Storing cabbage in pure water will lead to rotting.
Does cabbage go bad if frozen?
Frozen and thawed cabbages will be softer in texture and may have reduced flavor and nutritional value. Frozen cabbage is a great addition to use in stews, soups, and stir-fries.
Does cabbage need to be refrigerated?
Refrigeration is the best form of storage for cabbage. While you can store cabbage at room temperature, it will last for a much shorter period compared to it being refrigerated. 
The chilled temperature of the fridge slows spoilage and preserves its nutritional value. 
Can dogs eat cabbage?
Cabbage in small quantities can be relatively safe for dogs, but I encourage you to read more about this in detail.
More Useful Cooking Tips and How-Tos
Thinking About Dessert? Try These!
For all baking recipes, hop on to our Desserts collection.
I would appreciate it so much if you left a comment about this post below! Subscribe to join the TYB newsletter and receive free recipes straight to your inbox! Let's connect via Facebook, IG & Pinterest!