Worried about your asparagus' shelf life? Don't toss it just yet! Find out how long it lasts and enjoy this delicious treat from your fridge. Keep reading!
In this article you'll discover the secrets to storing asparagus like a pro, ensuring it stays fresh longer. No matter how you cook it – be it in the oven, stove top, or air fryer – make the most of this nutritious veggie year-round!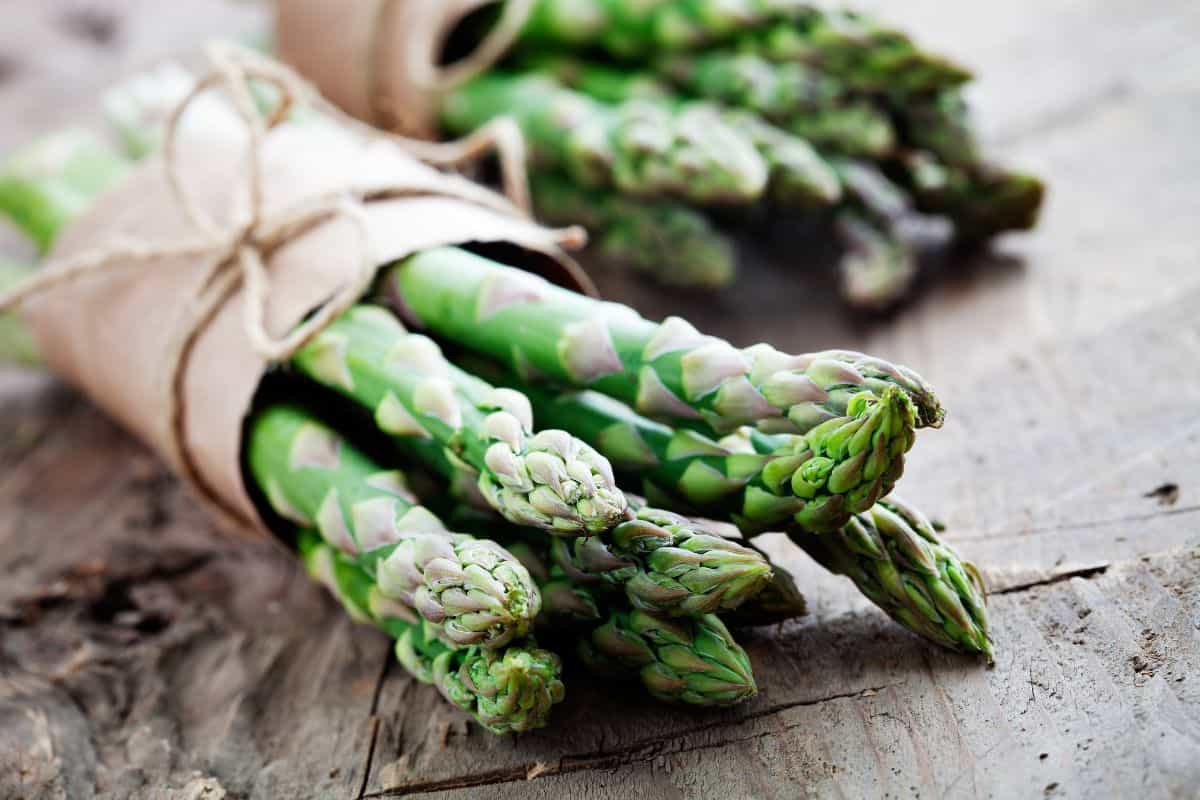 Table Of Contents
Short Answer
Fresh asparagus usually lasts 3 to 5 days in the fridge. To extend its shelf life up to 10 days, store it in a glass jar with water.
How to Extend the Shelf Life Of Asparagus
Keep your asparagus fresh for longer with these proper storage tricks:
Before storing, trim the tough ends of the asparagus stalks to keep them at their freshest.
Avoid the top shelf. Skip placing it on the top shelf to prevent potential freezing due to older fridge settings.
Keep it separate! Avoid storing asparagus next to fruits like apples or bananas, as they release ethylene gas that can speed up spoilage.
If you can't finish your asparagus in time, blanch it quickly in boiling water, then plunge it into ice water. Pat it dry, place it in a freezer bag, and freeze it for future use. More on freezing instructions in the next sections.
If your asparagus starts to wilt, give it a quick refresh by soaking it in cold water for a few minutes before using it.
Treat it like a bouquet of flowers. Stand the asparagus upright in a glass jar with 1 to 2 inches of water, ensuring the base of the stalks is submerged. Loosely cover the tops with a plastic bag and store it in the fridge. This can keep it fresh for up to 10 days!
Monitor water clarity. After 3 days, check the water and change it if it appears cloudy. Also, inspect the spears for any signs of spoilage and ensure there's no unpleasant odor.
Avoid overcrowding. If you have a large bunch or multiple bunches, use separate jars/glasses to avoid overcrowding.
Paper towel hack! This trick works on most veggies and is excellent with herbs such as fresh peppermint, parsley, and coriander. Wrap asparagus stalks with a damp paper towel and secure them with a rubber band. Slip the bundle into a storage bag or wrap it in plastic wrap before refrigerating. This nifty trick adds a couple of extra days to the shelf life of asparagus.
📋Universal tips: These storage tips apply to all types of asparagus, whether it's white, purple, thin or thick spears or green asparagus
How Long Does Asparagus Last?
Typically, fresh asparagus lasts 3 to 5 days in the fridge. For an extended shelf life of up to 10 days, refrigerate it in a glass jar with some water.
Discard asparagus when the ends turn dark green and mushy.
How To Store Fresh Asparagus
There are several methods to store fresh asparagus but I find that it keeps for longer when you treat it like a bouquet of flowers!
This way it will last the longest up to 10 or even 14 days.
Here's how:
Wash and trim. Rinse asparagus, and trim 1 inch from the bottom.
Container method. Use a Mason jar, add water, place asparagus-like cut flowers, and cover with a sealed bag.
Store in the refrigerator's crisper drawer and use within a week or when the stalk ends turn mushy.
How to Store Cooked Asparagus
For safe storage, cool leftover asparagus to room temperature before refrigerating, but do so within 2 hours.
Place leftovers in a shallow, airtight container or wrap tightly in foil or reusable storage wrap.
Refrigerate to prevent bacteria growth.
Enjoy within 3 to 4 days.
Although cooked asparagus may not taste bad after four days, it becomes unsafe to eat. Leftovers typically remain okay for consumption for 3 to 4 days, but detecting early spoilage signs is needed.
For meal prep, cook enough asparagus for the next 3 to 4 days, or freeze the extras if you make more. This way, you can enjoy them later without compromising freshness.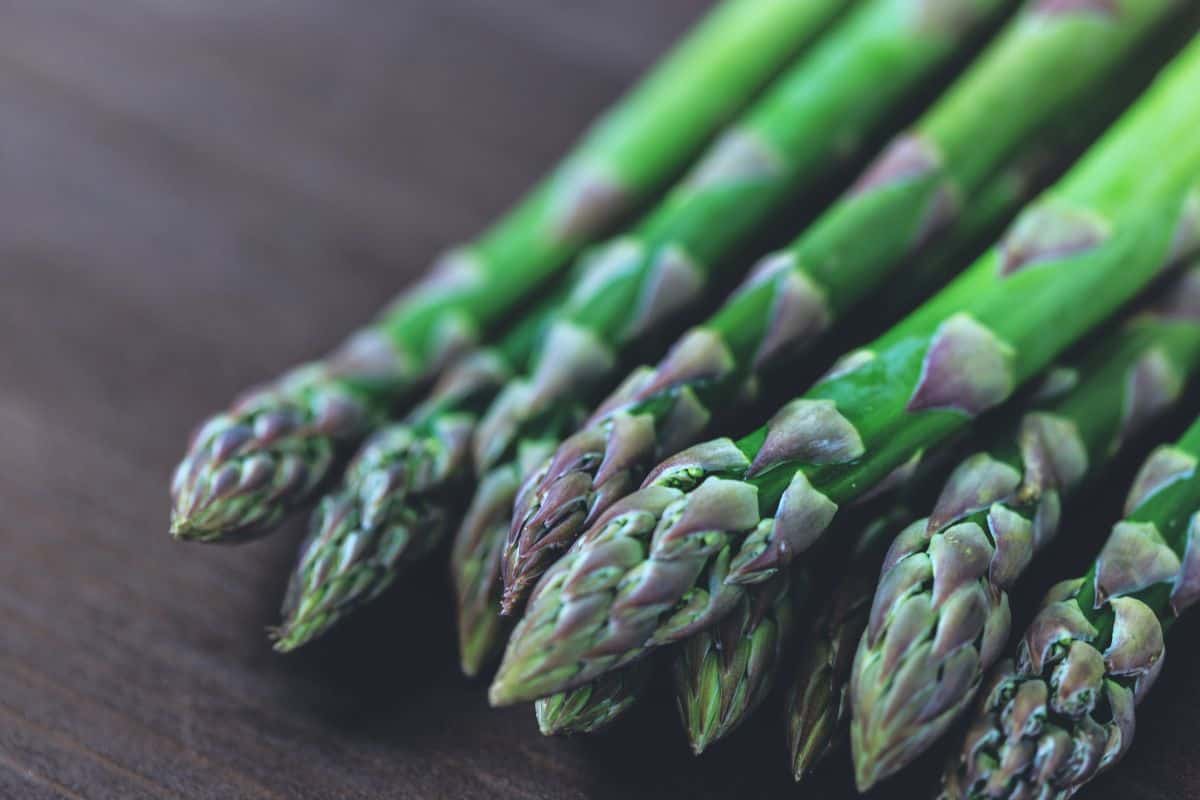 How To Freeze Asparagus
The best way to store asparagus in the freezer is to blanch it first.
Blanching helps to retain the asparagus' color, texture, and nutrients while preventing the enzymatic activity that can lead to deterioration.
Blanching
First, trim the asparagus by removing the woody ends.
To blanch, bring a pot of water to a rolling boil and carefully add the asparagus spears. Blanch the spears for 90 to 180 seconds, depending on their thickness. It's essential to avoid overcooking, as this can result in mushy asparagus.
Once blanched, immediately transfer the asparagus to a large bowl of ice water. This will stop the cooking process and cool down the asparagus quickly.
Drain the water and let the spears dry for 10 to 20 minutes. Pat them dry with paper towels.
Flash Freeze
To prevent the asparagus spears from sticking together in the freezer, you'll want to flash freeze them individually.
Take a baking tray or sheet and line it with paper towels to absorb any excess moisture. Lay the blanched asparagus spears in a single layer ensuring they have some space between them. This will prevent them from freezing together in clumps.
Place the tray in the freezer for about 1 to 2 hours or until the asparagus spears are frozen solid.
Storage
Once the asparagus is flash frozen, transfer the spears to airtight containers or freezer bags.
Make sure to label the container or bag with the date, so you know when it was frozen.
Properly labeled and stored, frozen asparagus can remain good for 8 to 12 months.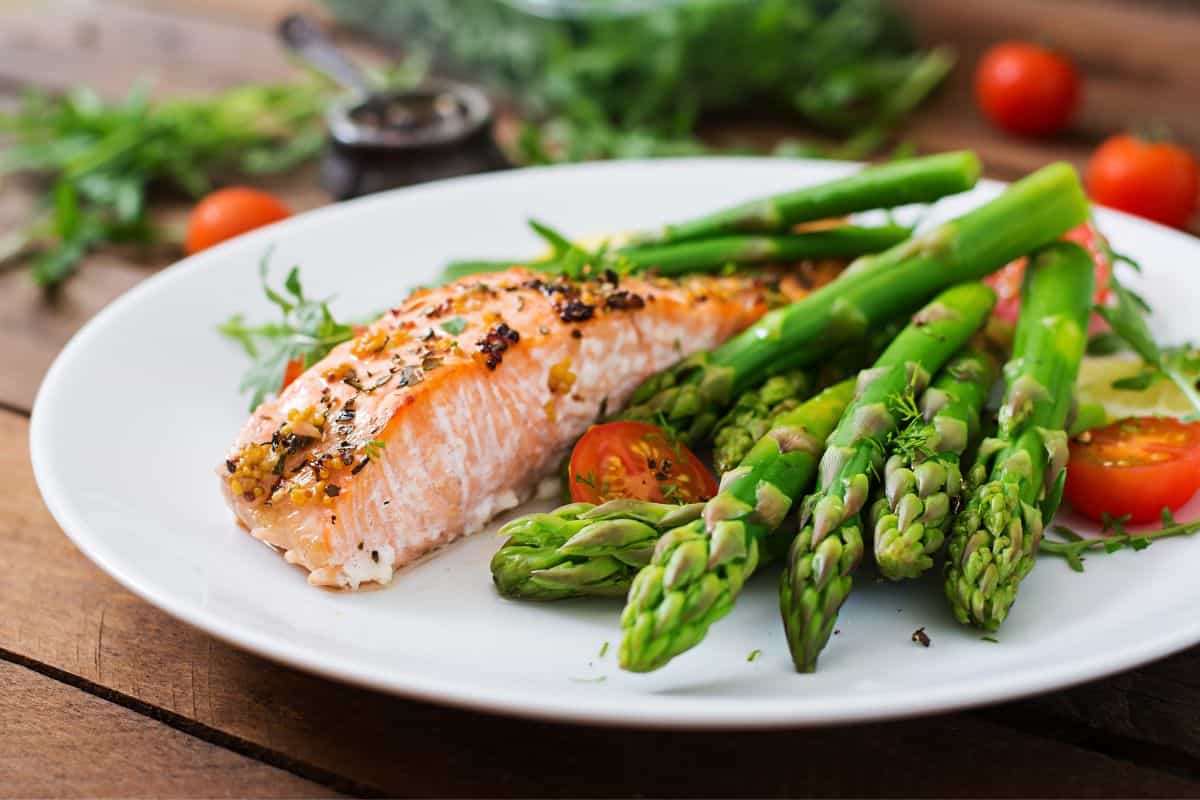 How To Reheat Asparagus?
It will depend on the recipe but if you've cooked asparagus on it's own you can easily reheat it in microwave in 30-second increments or in the oven at about 300 degrees F for 5-7 minutes.
To keep it crisp and fresh I like to wrap it in foil before placing in the oven.
How To Choose Fresh Asparagus
When buying asparagus in the grocery store (although I prefer farmers' market for seasonal produce), opt for spears with vibrant green or violet tips and avoid any that appear limp.
Although asparagus is best when in season, it is still available all year around.
When selecting fresh asparagus, keep these simple steps in mind for the crispest bunch:
Look for straight, plump, and firm stalks with vibrant green color.
Check that the asparagus crowns (decorative tips) are sharp and snappy.
Avoid any signs of wilting or black spots.
Ensure the ends are moist and tender, not dry or split.
Check that the bottom of the stalks are crisp and fresh.
When Is Asparagus Season?
In the US, asparagus reaches its peak season in April and May (in Southern California the asparagus season runs from Feb-May).
Generally, it starts around late February and continues until the end of June.
How Do You Know If Asparagus Has Gone Bad
When assessing the freshness of your asparagus, pay attention to specific indicators to determine whether it's still suitable for consumption or should be discarded:
Check the color - Asparagus is renowned for its green color, but it also comes in purple and white varieties. When it begins to spoil, the heads or tips may darken to a shade of dark green or black. If there are any black spots or even mold present, it has exceeded its shelf life and consumption is not a good idea.
Texture test - Gently feel the stalks for any soft or mushy spots. Such areas indicate that the asparagus is old and may no longer be suitable for consumption, particularly focusing on the ends of the stalks, which tend to deteriorate first.
Smell it - Typically, fresh asparagus should not emit a strong smell. Cooked asparagus might have a slight aroma, but it should not be overpowering.
If you detect a strong and foul odor from the asparagus, it's likely gone bad. When combined with other signs of spoilage, it's best to avoid consuming it.
Ways To Prepare Asparagus
There 7 ways you can prepare asparagus:
Cook the asparagus and add it to salads, risotto or pasta dishes.
We also love making asparagus soup that tastes great both warm or cold.
What To Serve With Asparagus
Asparagus pairs well with a variety of dishes from main courses with poultry, veggies, meat to seafood.
Serve asparagus with:
FAQs
Do I need to wash asparagus before storing in the refrigerator?
No, like with cabbage storing and other veggies, it is best to wash it only before using.
Can dogs eat asparagus?
It is considered safe for dogs but can be difficult to chew and digest. Please refer to this guide for more info.
What goes with sauteed asparagus?
Sauteed asparagus complements dinners of any size. Pair it with turkey, ham, chicken, beef, or starchy sides like mashed potatoes, rice, and pasta for a delicious combination.
When is sauteed asparagus done?
Sauteed asparagus needs about 4-5 minutes of cooking. For full instructions, try my recipe for sauteed asparagus and peas.

Is asparagus healthy?
Asparagus is a nutritious vegetable that serves as a valuable source of antioxidants, such as Vitamin A and Vitamin E. These antioxidants play a crucial role in combating harmful "free radicals," which are oxygen particles produced by cells as waste. By neutralizing free radicals, asparagus aids in safeguarding nearby cells' DNA, reducing the risk of conditions like cancer, heart disease, and other health issues. It also has some great natural probiotics!
How long does asparagus last in the fridge?
The shelf life of fresh asparagus ranges from 4 days to two weeks in the fridge, depending on the storage method. Simply refrigerating it will keep it fresh for about 3-5 days. However, if you store the spears upright in an inch of water and cover them with a plastic bag, they can stay fresh for up to two weeks.
Does asparagus need to be refrigerated?
If you plan to cook asparagus on the same day you purchase it, refrigeration isn't necessary. However, for extended freshness, store it in the fridge. Refrigerated asparagus can last between 4 days and 2 weeks, depending on your chosen storage method.
How to tell if asparagus has gone bad?
To gauge asparagus freshness, check for discoloration (dark green, black spots, or mold), texture issues (soft or mushy spots), and unpleasant odors.
You Might Also Enjoy These
I would appreciate it so much if you left a comment about this post below! Subscribe to join the TYB newsletter and receive free recipes straight to your inbox! Let's connect via Facebook, IG & Pinterest!