Pumpkin bread is probably one of the most popular pumpkin recipes to make during fall! It's subtle in pumpkin flavor, loaded with warm spices such as pumpkin pie spice and ground cinnamon, is moist with a fluffy texture, and can be enjoyed plain or made more decadent by adding chocolate chips to the pumpkin bread batter and topped with cream cheese frosting, a simple sugar glaze, or a crumbly streusel topping!
Whether you want to make homemade pumpkin bread ahead of pumpkin season or have leftovers, knowing how to properly store your pumpkin bread loaves will extend the shelf life of pumpkin bread and keep it tasting great for longer!
In today's post we are going to learn all ins and outs on how to store Pumpkin Bread, the right way!
We love pumpkin recipes this season, from our Gluten Free Pumpkin Bread With Chocolate Chips, Pumpkin Cream Cheese Dip, Pumpkin Chocolate Chip Muffins.
Table Of Contents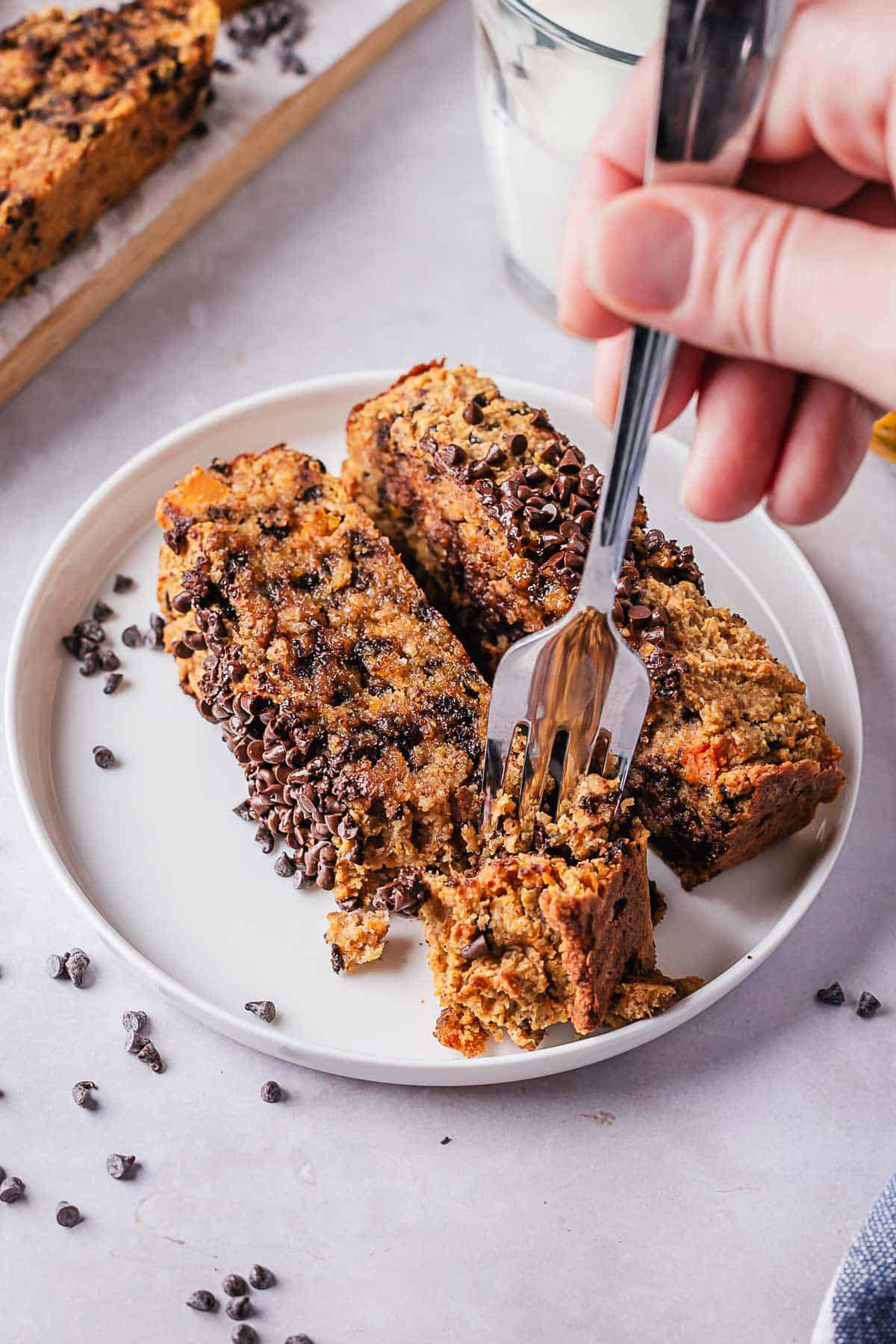 How To Store Pumpkin Bread
Pumpkin bread is a naturally moist and dense bread made from pumpkin puree, which makes storing it correctly even more important. After all, the last thing you want is leftover pumpkin bread to become tough and dry!
Storing Pumpkin Bread Ahead of Time
If you are making pumpkin bread ahead of time, first allow the freshly baked loaf to cool completely on a wire rack. Once cool, wrap the entire loaf tightly in plastic wrap and store it at room temperature for up to 2-3 days or in the refrigerator in an air-tight container for up to 4-5 days.
Storing Leftover Pumpkin Bread
If you have leftover pumpkin bread, it can be stored in the same way as bread made ahead of time, except that any slices should be wrapped individually with plastic for maximum freshness.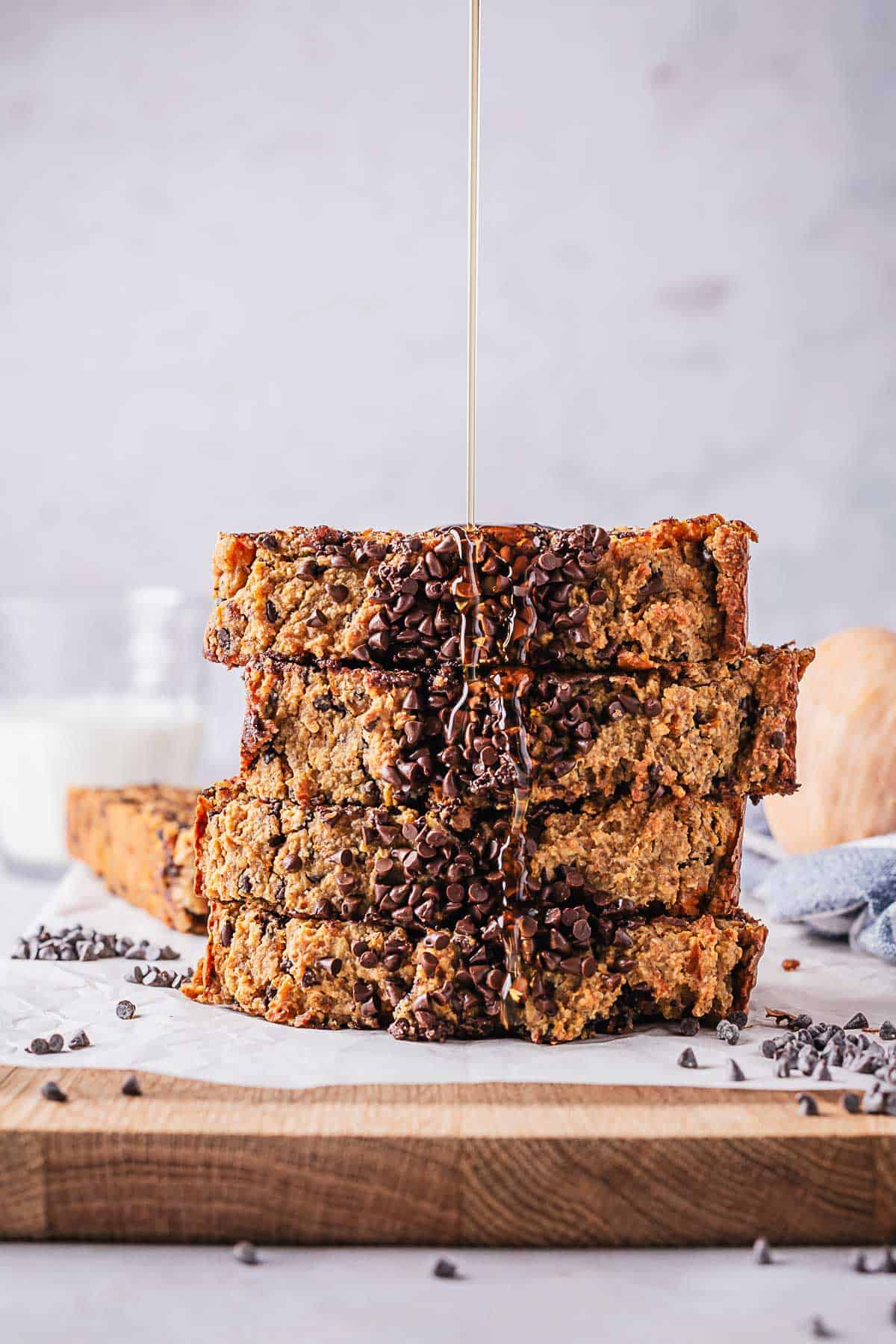 Other considerations for Storage
Another factor you should consider when choosing the right storage method is whether the moist pumpkin bread recipe calls for a particular topping, such as a cream cheese frosting or a streusel topping.
Pumpkin bread with a cream cheese frosting will need to be stored in the refrigerator, not at room temperature; otherwise, the frosting can go off. A streusel topping, however, is much more forgiving and will allow you to choose between storage at room temperature and refrigeration.
Remember that crunchy toppings, such as a crumble streusel or chopped nuts, can soften over time when the bread is stored in the fridge.
How To Freeze Pumpkin Bread
Pumpkin bread should be cool before being stored in the freezer for up to 3 months. I recommend wrapping the pumpkin loaf tightly with plastic wrap and then with heavy-duty foil before transferring it to an airtight container or resealable plastic bag for freezing.
You can wrap and freeze individual slices too.
When making your pumpkin bread ahead of time for storage in the freezer, consider leaving off any frosting, icing, or glaze. This will make it much easier to wrap and store without the risk of the topping sticking to the plastic wrap and looking like a mess. Once thawed at room temperature or in the refrigerator, top the pumpkin bread with freshly made frosting, icing, or glaze, and any other toppings you desire for the most flavorful bread.
How To Reheat Pumpkin Bread
There's nothing quite like a warm slice of pumpkin bread! Leftover pumpkin bread or pumpkin bread made ahead of time can be reheated in three ways:
Reheat in the Microwave
Add single slices of pumpkin bread to the microwave for about 30 seconds on high.
Reheat in the Oven
First, preheat the oven to 350F. Take the entire loaf or individual slices and wrap them in aluminum foil to protect the crust of the pumpkin bread from burning and the bread from drying out. Heat the pumpkin bread slices for about 5 minutes and the entire loaf for a little longer.
Reheat in an Air Fryer
Believe it or not, reheating bread in an air fryer can often lead to better results than in the oven and microwave, but only if you reheat it on a low temperature for a short time (about 1 minute).
Don't reheat individual pumpkin bread slices at an oven temperature higher than 320F otherwise, you will be recooking the bread instead.
FAQs
Can I substitute brown sugar for white sugar in pumpkin bread?
Most pumpkin bread recipes call for white granulated sugar and brown sugar. The white granulated sugar adds sweetness and a crispy crust around the baked bread, while brown sugar creates moisture and depth of flavor. I don't recommend using just one type of sugar in this recipe, as it could affect the texture.
Can you substitute butter for vegetable oil in pumpkin bread?
Yes, you can! You can substitute butter for oil using a 1:1 ratio. This ratio works when the recipe calls for vegetable oil, canola oil, olive oil, and coconut oil. 

When it comes to using butter, first melt the butter and then allow it to cool before combining it with the rest of the wet and dry ingredients. If the recipe calls for ½ cup of oil, use ½ of melted and cooled butter, preferably unsalted.

Why is my pumpkin bread so moist?
There are a few factors that can lead to overly moist pumpkin bread. More commonly than not, not measuring the wet ingredients accurately and adding more than required will result in overly moist bread. 

Other factors include not baking the bread loaf for long enough, letting the bread batter sit for too long, not adding enough baking powder and/or baking soda, or not removing excess liquid from canned or homemade pumpkin puree. 
Since all ovens differ, conduct a "toothpick test", inserting a cake tester, wooden skewer, or a paring knife into the center of the loaf. The skewer or knife should come out clean. If there is moist batter attached, then the bread should be baked for longer, and you may need to cover the bread loaf with aluminum foil so that the top and edges of the bread do not burn.
How do you fix undercooked pumpkin bread?
Fixing undercooked pumpkin bread is pretty simple. Return the undercooked loaf to the oven at 350F and bake for an additional 10-20 minutes. An undercooked pumpkin bread can even be salvaged after the loaf has been removed from the oven and cooled. 

Depending on how brown the top crust of the bread is, you may want to cover the loaf with aluminum foil so that it doesn't burn. 

Favorite Baking Pumpkin Recipes
ALL BREAKFAST recipes.
The Best Pumpkin Bread Recipes
For great flavor and texture pumpkin bread, try these non-gluten-free breads at my mom's blog.
Pumpkin Banana Bread With Chocolate Chips - This healthy pumpkin banana bread recipe is made with sweet overripe bananas, pumpkin puree, and decadent chocolate chips! The banana flavor isn't overpowering but provides natural sweetness in this moist pumpkin banana bread.
I hope you'll enjoy this tutorial on how to store pumpkin bread. And please share a photo of your food and tag me on Instagram @theyummy_bowl. I love seeing your creations!
Thank you for reading,
Love,
Julia
I would appreciate it so much if you left a comment about this recipe below! Subscribe to join the TYB newsletter and receive free recipes straight to your inbox! Let's connect via Facebook, IG & Pinterest!